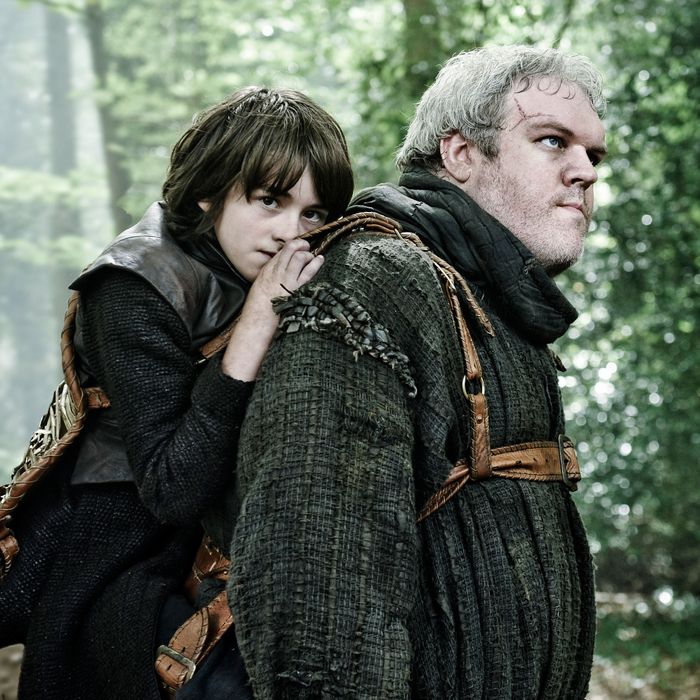 Most people were in shock when Jaime Lannister pushed poor little Bran Stark out of a window in the very first episode of Game of Thrones — but it sure has made life easier for the showrunners, who otherwise might be more worried about actor Isaac Hempstead-Wright's recent growth spurt. "I'm happy Bran is a cripple," executive producer D.B. Weiss told Vulture at the show's recent New York premiere party, when discussing the challenge of the show's child actors growing up too fast. "The fact that Isaac is now almost as tall as me, it would make things more difficult if he were not hidden under blankets on a sledge."
Of course, Bran sometimes uses his gigantic servant and friend Hodor like a pack mule, which requires Hempstead-Wright to hold onto actor Kristian Nairn's neck for dear life in some scenes. ("I think I've broken his back by now!" laughed the 14-year-old Hempstead-Wright.) But Nairn says not to worry about the two being strapped together, even as the piggyback load gets larger each season. "He's only 14! And he's a good guy, so we have a lot of fun together."
Joking aside, it's a problem for any television show when child actors start outgrowing their parts. And this is especially true of Game of Thrones, which enters its fourth season on April 6 and features a number of young actors in pivotal roles, including Maisie Williams as Arya and Sophie Turner as Sansa. The characters from George R.R. Martin's book series "A Song of Ice and Fire" were aged up for the HBO program — Joffrey, for example, is roughly 13 in the books at this point in the story, but on the show he's an older teen — which also presents its own challenges: If they were younger, they'd have more time to grow and allow Martin's ongoing series to catch up to the show; if they weren't older, the sexual situations would be more questionable.
"It's a complicated question, and there's no simple answer," Weiss said. "I would say that there are a lot of factors at play, and we keep them all in mind. Ideally, of course, we would like George's books and the show to hit at the same time, but we just kind of make the best show that we can, based on this amazing road map. I think Sophie's already taller than I am, but what are you going to do? It just comes with the territory, where you buy it that people are aging at a different rate on the show than they do in the real world. You kind of buy into that."
And when it doesn't seem like people are matched right for their characters anymore, you recast — at least for some parts. Joffrey's younger brother Tommen, for instance, who is supposed to be about 8 at this point in the story and  was previously played by child actor Callum Wharry, has been replaced by teenager Dean Charles Chapman for season four. At least it won't seem as strange if or when he's forced into a political marriage, too!