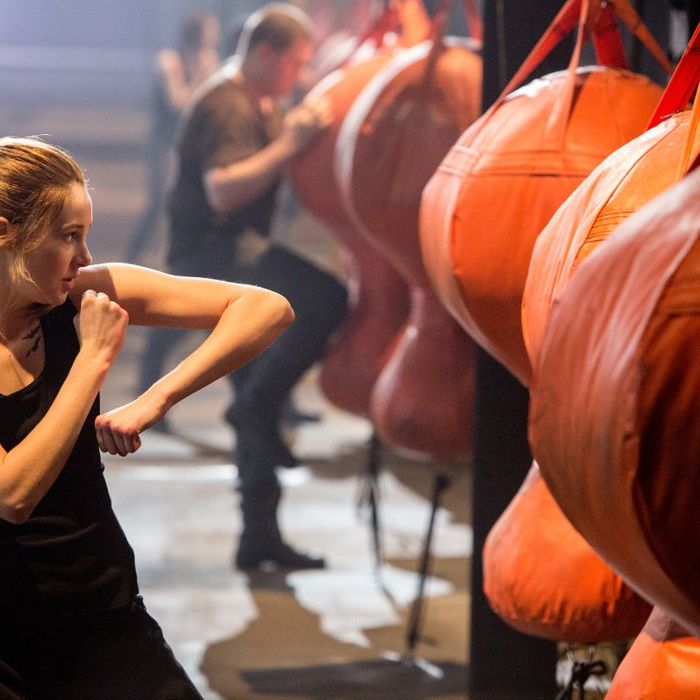 Photo: Summit Entertainment
Tris, the heroine of Divergent, is used to being underestimated. There's a key scene near the end of the film where Tris aims her gun at a baddie she's taken hostage, even as her captive confidently predicts that she won't shoot him, since the girls in these movies never do. An over-it Tris, who's more than proved her mettle with a firearm, replies, "Why do people keep saying that?" And then she shoots the bastard in the leg.
I kept thinking of that crowd-pleasing scene after Divergent bowed to a truly terrific $56 million, notching the highest live-action debut of the year so far, even as many pundits continued to temper that box-office victory by noting, "Divergent is no Hunger Games." Why do people keep saying that, I wondered? Yes, Divergent's $56 million can't come close to the truly behemoth $152 million The Hunger Games earned in its first frame, but it's still a sizable victory on its own.

By many metrics, Divergent actually did better than its femme-oriented forerunners when it came to transcending its YA origins. As Box Office Mojo's Ray Subers noted, Divergent enticed far more viewers who hadn't read the book — 50 percent of its opening weekend audience, to be exact — than either Twilight (26 percent) and The Hunger Games (24 percent) when they opened. Perhaps that's why Divergent wasn't as front-loaded at the box office as those two films: It dropped a mere 12.7 percent from Friday to Saturday, compared to the 25.1 percent fall for The Hunger Games and 40.8 percent plummet for Twilight, suggesting that it will hold well in the weeks to come.

Divergent also managed to woo more men and more older audience members than either of those two films, a testament to Lionsgate's ability to sell the movie as a major event. Much was made last year of all the YA adaptations that ignominiously flopped — Beautiful Creatures, The Host, and The Mortal Instruments, we hardly knew ye — but none of those projects truly seemed to capture the public's imagination, and the middling marketing spends reflected it. Divergent, on the other hand, has employed a flood-the-zone approach on its way to full-blown pop-culture domination: Its star Shailene Woodley was everywhere, from billboards to magazine covers to talk shows, and no other film out this month made nearly as much noise.

Most important, the success of Divergent gives us another blockbuster action franchise with a teen girl as the lead character. For too long, studios have maintained that men wouldn't pay to see a female-fronted action movie, but Divergent's 41 percent male audience proves that thinking wrong. It helped, perhaps, that Lionsgate put Woodley's co-star Theo James on those billboards with her, and it also didn't hurt that Divergent eschews the increasingly tiresome teen love triangles that are often associated with this genre and can prove a turn-off to men. But make no mistake: This is Woodley's movie through and through, and after so many people turned out this weekend to see a teenage girl kick some ass, it makes Marvel's reluctance to green-light a movie with a female lead all the more galling.

So attach no asterisk to Divergent's debut. Note that it actually bowed better than recent summer entries like Rise of the Planet of the Apes, Ted, and The Wolverine, all of which were quickly sequelized. It could even top the box office two weekends in a row, since Friday's big entry Noah is projected to earn around $35 million. Divergent may not have hit the stratospheric heights of The Hunger Games, but the movies shouldn't be pitted against each other: Instead, they're emblematic of a new way forward for Hollywood, one where women can lead in the movies and at the box office. Underestimate a gun-toting Tris, and the movie that showcases her, at your own peril.