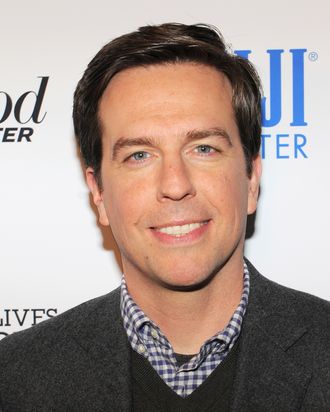 Actor Ed Helms attends the "Jeff, Who Lives at Home" screening hosted by The Hollywood Reporter and FIJI Water at the Sunshine Landmark on March 12, 2012 in New York City.
Photo: Larry Busacca/Getty Images
Ed Helms already picked up Leslie Nielsen's deadpan police doofus mantle (DPPDM) when he was cast in the Naked Gun remake, and it looks like he has signed up more of the same with the upcoming Epic Fail. The Office actor is set to star in the Lionsgate comedy, currently in development, as a part of "an elite but unorthodox Special Forces team that takes their dysfunction and excessive firepower on a desperate mission to save America," possibly as a character named "The Walrus." Hopefully the film will be at least a moderate success. If not, critics are going to pack a lunch, ask their moms to sign their permission slip, charter a bus, and have a literal field day with that title.