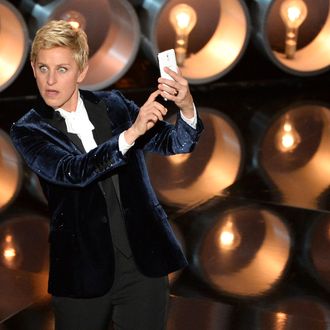 Photo: Kevin Winter/2014 Getty Images
Ellen DeGeneres didn't just break Twitter records Sunday: Her Oscar broadcast was the most-watched Academy Awards show in a decade. Per Nielsen "fast national" ratings, Sunday's three-and-a-half-hour telethon was seen by 43 million viewers, up 6 percent from 2013's audience of 40.4 million viewers when Seth MacFarlane hosted. Among viewers under 50, the Oscars notched a 12.9 rating, down a tick from last year's 13.0 rating; among those under 35, the show was up a tick to an 11.4 rating (vs. 11.3 last year). The strong performance by the awards also boosted tune-in for Jimmy Kimmel's annual post-Oscar show: It averaged 7 million viewers, up a whopping 22 percent from last year. It was Kimmel's biggest audience ever, either in prime time or late night.
While the numbers were nothing but positive for ABC, it's worth noting how the Oscars — like most big TV events — have declined over the years. Sunday's show was watched by 37 percent of the homes watching TV last night. By comparison, in the 1970s, the Oscars regularly pulled in over 70 percent of TV homes. As late as 1983, the Oscars could still command a 59 share with a snoozer of a film such as Gandhi, while in the 1990s, shares in the mid- to upper-40s were the norm. But thanks to DVRs and exploding viewing options, the Academy Awards hasn't broken the 40 share mark since 2004.