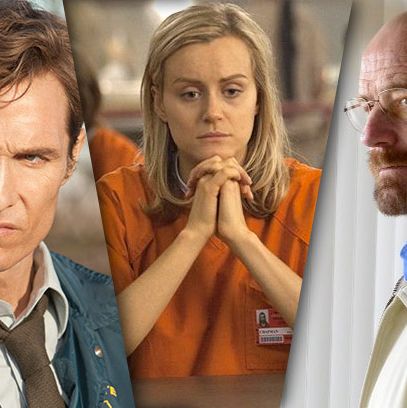 Photo: HBO, Netflix and AMC
When FX submitted American Horror Story into the Emmy race as a miniseries two years ago, some accused the network of trying to game the system. FX argued that the show was an anthology, with each season telling a different story with a rotating cast, but critics said the real motivation was simple: AHS had a better shot of winning if it didn't have to go up against shows like Mad Men and Homeland. (The show wound up getting tons of nominations but ultimately beat out by HBO's Game Change in 2012 and Behind the Candelabra in 2013 for the top prize.) Still, yesterday's news that True Detective, an anthology like AHS, would compete as a drama series took many by surprise. Had AHS not set a precedent?
Hollywood has barely caught its breath following a crazy-competitive Oscar season, and now it looks like TV will be giving it a run for its money. Mostly because the Emmy attitude toward rules for submission seems to be "Anything goes!" and networks are scurrying like mad — because they can — to get their shows in the race. The Television Academy is also making several big changes to the categories, the biggest of which leaves potential for seven shows to be nominated in the drama and comedy categories (up from six). Here's a rundown of how things are already getting weird:
— Many expected the Matthew McConaughey–Woody Harrelson murder mystery True Detective to compete as a miniseries, but HBO executives must believe it has a very good shot at besting the final season of Breaking Bad, so poof! — it's a drama series. This despite the fact that next season's True Detective will tell a completely new story with a completely new cast and director. The network is probably champing for a win in the drama category after being shut out post–The Sopranos (and perhaps sensing AMC's momentum fading with Breaking Bad gone and Mad Men going home with zero awards last year).
— Making the True Detective classification all the more strange: FX's upcoming reboot of Fargo, which, like True Detective, will shed both its cast and tell a different story in season two, will compete with AHS as a miniseries. Which of its anthology shows FX will spend more money to campaign for is anyone's guess.
— Letting True Detective in does make the drama race more interesting. The show could pose problems for the final season of Breaking Bad across the board, and especially in such technical categories as directing and cinematography. HBO might even submit Harrelson as a supporting actor to give McConaughey a chance to duke it out with Bryan Cranston in the lead acting category. And True Detective potentially makes it harder for the glut of dramas fighting to get in the main race. Breaking Bad, Mad Men, and Game of Thrones will probably hold on to their positions, with House of Cards also likely to hang on. Some have written off Downton Abbey, but ratings are higher than ever and the show has been nominated every year it has been eligible, and CBS could have a very tough time trying to get The Good Wife, which is in the middle of a banner season, back in. Showtime and FX will push hard for the critically hailed Masters of Sex and The Americans, respectively, and there's also the third season of Homeland, which lost traction with critics, but finished as its most watched run yet. And a perceived drop in quality has never stopped voters from picking the same shows again and again (see: seasons six and seven of The Office).
— Netflix will enter Orange Is the New Black as a comedy, likely because Netflix executives did not want to have Orange face off against House of Cards, which last year won Emmys for directing, cinematography, and casting, and got nominations in the series and acting races. Historically, one-hour dramedies like Desperate Housewives have gone the comedy route, and even though Orange got heavier and darker as it went along, it's tonally similar to shows like Nurse Jackie and The Big C, which have competed as comedies.
— Showtime's Shameless also jumps to the comedy category after submitting in drama for the past three years. A nomination in the series race still seems like a long shot, but the move will probably work out very well for William H. Macy, whose Showtime colleagues — House of Lies' Don Cheadle and Episodes' Matt LeBlanc — are perennials in the acting categories.
Is it time for the Emmys to get stricter about their taxonomy? Sure, some rules are still enforceable. British programs Sherlock and Luther, for example, have been submitted in the miniseries/movie category (which will be split into two this year) because neither has enough episodes to compete in the series races (which require a minimum of six). And it's not as though CBS could enter Mom as a miniseries to increase that show's chances for an award. Still, it's worth noting that PBS got away with entering Downton Abbey as a miniseries its first year because the public broadcaster said the show was originally conceived as a miniseries, and now it competes as a drama. The rules are so flexible that HBO could conceivably submit True Detective as a miniseries next year if, say, the reviews for season two are less than glowing and it stands to fare less well against the final episodes of Mad Men.