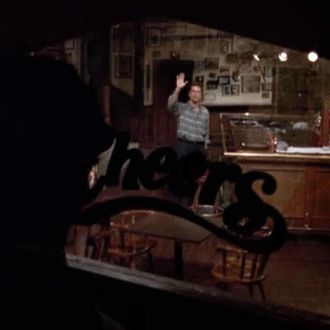 It is with misty eyes and throbbing, blog-induced-RSI-plagued wrists that I say goodbye today after just over four years here at Vulture. It's amazing how much has changed since I started here: Back in November 2009, everyone was talking about Precious: Based on the Novel "Push" by Sapphire, dancing to "Meet Me Halfway" by the Black Eyed Peas, and saying, "Hey, only three months until season six of Lost starts!" Were we ever so young? I'm off to new adventures at Yahoo, but I leave you in the safe, brilliant hands of the Vulture team, the smartest, funniest, most delightful buncha writers, editors, designers, and photo editors a guy could ever hope to surround himself with. Just know that as much fun as it is reading their work, it is even more fun listening to them mock you for your love of Cheers, Billy Joel, and America's Funniest Home Videos.
I was considering signing off with a list of my favorite posts by all the Vulture writers, but it would be impossible to know where to stop. So just keep reading Vulture — I sure will — because every day that list of favorites gets longer.
Thank you all for reading and commenting. And now, please indulge me with a quick question I've been pondering for over a year and I need closure on: Why weren't you people more amused by a picture of Hamburglar wearing a Bane mask?