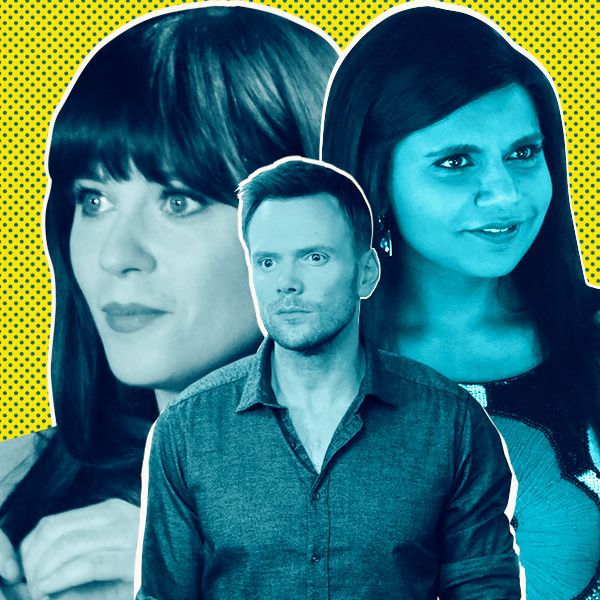 Photo: Maya Robinson and Photos by FOX and NBC
Fans of the struggling The Mindy Project, Brooklyn Nine-Nine, and New Girl could not have been blamed for being pessimistic about the shows' odds for survival: New Girl had seen huge ratings drops since its breakout debut, Mindy has never improved over its soft season one numbers, and Brooklyn hasn't broken out despite Andy Samberg's cachet. But then last week, Fox surprised viewers and other network execs alike by not only announcing that all three comedies were getting early renewals, but also by bragging that the shows were "core assets" — a term usually reserved for giant, wide-appeal hits. Some industry insiders worried Fox was sending the wrong message, that it looked like the network had given up trying to find big comedy hits. But at a time when even broad, old-school sitcom stabs are striking out (NBC's Sean Saves the World, Fox's own Dads), and in an era where there hasn't been a blockbuster sitcom success since Modern Family, networks may need to start figuring out how to survive in a world where niche appeal may be their best option: Better a small, highly devoted fan base than an indifferent audience the same size. "You can't count on there being another Big Bang Theory," one longtime network development suit says. "You need to bring back what people are responding to, and stick with those shows." Last year, after NBC unveiled a slate of generic family comedies to replace The Office and 30 Rock, and Fox unleashed Dads, comedy snobs worried about a future without broadcast comedies they could embrace. But Fox's new philosophy, combined with NBC's January decision to stick by Parks and Recreation (and probably Community) gives reason for optimism: If ratings aren't ever going back up, then maybe doing smart, niche comedies is the best bet to keep network comedy alive.
The shift toward small-but-good comes during a major sitcom depression for broadcasters, at least in terms of ratings. It's not just that this season has been devoid of any big, breakout comedy hits, though that's certainly the case. It's not even that big names both in front of the camera (Michael J. Fox, Robin Williams) and behind it (Chuck Lorre, whose Mom — while just renewed for a second season — has been meh on Mondays) failed to hit home runs, or even triples. What's most disturbing is how even shows that seemed to be hits one or two years ago have seen their audiences vanish. Take New Girl: At this point in the season two years ago, the show was averaging around 6.5 million adult viewers under 50. So far this year, the show is averaging less than 3.9 million viewers in that demo, down 40 percent in two seasons — even when counting the significant gains New Girl gets from delayed DVR viewing. CBS's 2 Broke Girls, the other big new hit of the 2011–12 season, has lost half of its under 50 audience, dropping from 7 million to around 3.4 million this year. One veteran showrunner says that not too many years ago, it was common to see a show's ratings go up as buzz around it increased: That's certainly what happened with How I Met Your Mother and The Office, as well as older icons such as Seinfeld and Cheers. "But I don't know of any comedy that's premiered in the last five years that's done that. Now it's just decline, decline, decline." The casualties are everywhere. Four-year-old Mike & Molly has fallen off 50 percent among viewers under 50 the past two seasons, even as star Melissa McCarthy has seen her popularity explode. Modern Family, not quite five years old yet, has lost a quarter of its under-50 audience since 2012.
Critics can make a case that any of these shows aren't as "good" as they were a couple years back, and that viewers are fleeing as a result. But it's hard to chalk up erosion of this magnitude to quality control; something else is going on. All network ratings are shrinking, but industry observers believe that the reason sitcoms are suffering more than dramas is that it's tougher for network sitcoms — or at least new and relatively new ones — to stand out as event programming in the same way that dramas can. "Scandal grew and became a huge hit because people had to watch it the second it aired. They needed to know what was going to happen, and to talk about it," our development exec says. "Nobody is rushing home to watch" most network comedies. Put another way, newer sitcoms aren't must-see TV, at least on the night they air, or sometimes even the same week they air. It's easier to rationalize catching up on sitcoms weeks or months into the future: They're half the length of dramas (making them easier to binge on), and there's much less risk of key plot points being spoiled. With the explosion of original programming and the ease of time-shifting, viewers have to make tough choices about what to watch when. And for the most part, it seems they're making dramas a priority. 
TV comedy has gone through up and down cycles before: The sitcom has been declared "dead" before Modern Family debuted on ABC in 2009, or before The Cosby Show arrived in 1984. But today's shrinking doesn't seem to be the same thing — certainly not when The Big Bang Theory remains a destination for nearly 24 million viewers every week, a number that is actually up versus two years ago. But Bang has the advantage of being an older show, entrenching itself as a habit before the biggest explosion of eyeball competition. When Bang premiered in 2007, barely 15 percent of TV homes had a DVR, Netflix didn't offer unlimited streaming, and Hulu was still in beta testing. It was dramatically easier for new comedies to become regular viewing, or to find a critical mass. How I Met Your Mother similarly had time to get viewers hooked, as did Two and a Half Men. Now DVR penetration is close to 50 percent, and watching TV content on demand has become as simple as hooking up a Roku box or Apple TV (or even simpler if you have a "smart" TV). "These new shows aren't just competing with each other," one top TV agent says. "It's now just as easy to click a button and watch an old episode of something else, or a new movie, as it is to watch a [network] series." Older shows have a leg up: They've already gotten viewers hooked. Says the agent, "It's such a wider canvas now, that if you don't get those eyeballs immediately, there's a chance you'll never get them."
Still, while it's harder than ever for broadcast networks to grow ratings for sitcoms that struggle out of the gate, there's reason to think that it's not impossible, even in today's environment. Cable has shown the way: First with It's Always Sunny in Philadelphia and more recently with Archer, FX has spun tiny numbers into Nielsen gold by sticking with shows it likes. Archer, for instance, ended its first season with barely 500,000 same-day viewers under 50, but began its most recent year with over 1.2 million. It's also massive with men under 35, allowing FX to charge advertisers a premium for a hard-to-reach demographic. Cable nets, of course, have advantages broadcasters don't when it comes to building hits: They can repeat shows endlessly, and because they usually program fewer shows, they can better focus their promotional energies. But in an on-demand world, having old episodes of a comedy on Netflix or Amazon can serve the same purpose as an all-day marathon of a show on a linear network. It's harder for networks to boost ratings for struggling sitcoms, but it doesn't have to be impossible, particularly if a network senses a passionate core audience.
It's against this backdrop that Fox and NBC's patience the last few years with low-rated comedies seems less desperate and far more strategic. Bill Lawrence, the writer-producer behind shows such as Scrubs, Cougar Town, and Fox's upcoming Surviving Jack, wonders if network TV isn't very close to "reaching a tipping point where Nielsens cease to really matter," at least not in the way they have for decades. "I hope there's a realization that with this many options [for viewers], getting that big rating again isn't going to happen. I don't even see how it's possible to have a show that's a 'mass appeal hit' when the shows they label 'mass appeal hit' now wouldn't be even in the top 20 five or ten years ago … My hope is that TV becomes more and more about quality, and less about an arbitrary ratings system." Lawrence is quick to say that he's not giving up on the idea of sitcoms reaching lots of viewers, at least relative to other shows on TV. "I'm hoping a comedy comes along that knocks it out of the park," he says. (Hopefully his own!) But he doesn't think networks can keep cycling through shows, yanking them after one or two seasons because they don't live up to some artificial standard for success. "There are ways to find value in smaller shows," Lawrence says. "Content is still king."
Networks have already proven adroit at finding new revenue streams to make up for the lower ad revenue that follows lower ratings, and not just with comedies. All broadcasters are now raking in hundreds of millions from cable operators, who once balked at compensating nets for "free TV," but now have reluctantly agreed to pay up. That makes broadcasters more like cable networks, which have long enjoyed such a dual revenue stream — and have cited that extra source of revenue as a reason why they can afford to succeed with lower-rated shows. Being "like cable" might sound scary to broadcasters used to dominating the marketplace. But cable's niche strategy has paid off handsomely, especially in comedy. The narrowly focused comedy programs on Comedy Central, FX, and Adult Swim now frequently outperform broadcast comedies in certain key demographic groups, particularly viewers under 35 — even if broadcast comedies reach two or three times as many viewers of all ages.
You can see how a demo approach works on a network sitcom, too. Last week's Parks and Rec drew just 2.9 million viewers, less than a third of the audience watching American Idol at the same time. But among men under 35, Parks and Idol drew the exact same rating. If you were a Warner Bros. marketing exec trying to get dude-bros to check out the opening weekend of 300: Rise of an Empire, an ad in Parks was just as valuable as one in Idol. (Or, you could've gone with that night's episode of Ridiculousness on MTV, which did the same number as the NBC and Fox shows among young men.) Over at Fox, New Girl and Mindy Project, for example, both do very, very well with highly educated women under 35. "That gives Fox's sales staff a strong argument to make to certain advertisers," the agent says.
In addition to getting more revenue from cable operators, networks are making smaller comedy ratings work by tapping into revenue from online streaming. While Netflix and Amazon's originals compete for eyeballs, the streaming services have also turned into ATMs for broadcasters. It used to be that networks and studios needed to produce 100 episodes of a show to start making any syndication money. But streaming makes syndication an option after just one or two seasons, allowing production costs to be defrayed much sooner. And smaller, more niche shows are often the kinds of shows streamers are most interested in: Netflix made a deal for New Girl after it was on for just two seasons, and even though its ratings decline had already started.
Some industry insiders vehemently disagree with the idea of accepting low ratings, as Fox and NBC seem willing to do. They argue that it puts broadcasters at risk of waking up one day and finding their once-mighty networks indistinguishable from cable outlets. But such complaints ignore just how quickly the TV universe we've known is collapsing. Just two years ago, the Big Four broadcast networks could boast ten series that averaged above a 5 rating among viewers under 50 (around 6.3 million viewers). So far this season, only two shows — Big Bang and Modern Family — break that barrier. Networks can choose to keep chasing the brass ring of "broader" comedy hits if they want, but there's a real risk that each new show they try will just end up doing worse than the last. There's nothing funny about that.