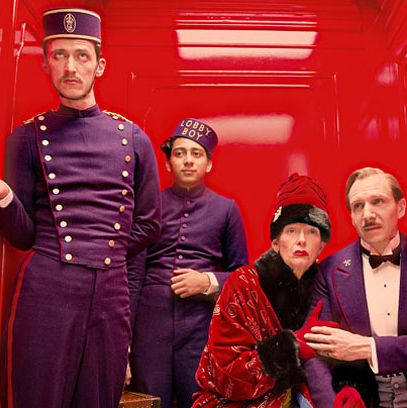 Set in the fictional Republic of Zubrowska located somewhere in Eastern Europe, Wes Anderson's eighth feature film, which he actually shot on location in the tiny German town of Görlitz, is a rollicking caper comedy cementing his oeuvre for the witty, whimsical, and visually delightful. Largely happening circa 1932, the story starts with Gustave H. played by Ralph Fiennes, a dashing, heavily perfumed concierge, who is particularly fond of "entertaining" ladies of a certain age.
Unfolding in the movie's titular Grand Budapest Hotel, a dizzying bastion of old-world opulence and high society, the plot is set in motion when one of Gustave's octogenarian paramours named Madame D played by Tilda Swinton dies suddenly, leaving him a priceless painting called "Boy With Apple." This turn of events enrages her family and Gustave is soon framed for her murder and arrested. Ever wily, Gustave manages to break out of prison and team up with the hotel's new lobby boy, Zero, to prove his innocence.
His quirky storytelling, hypersaturated sets, and elaborate costumes all make for a wild ride with his frequent collaborators and A-list cast, including Bill Murray, Willem Dafoe, Adrien Brody, Jeff Goldblum, and even Harvey Keitel. But one can't talk about an Anderson film without mentioning the soundtrack. He once again enlisted Oscar-nominated composer Alexandre Desplat, who also worked on Moonrise Kingdom, for a soundscape that keeps the momentum whirring forward at a madcap, but intoxicatingly fun pace.