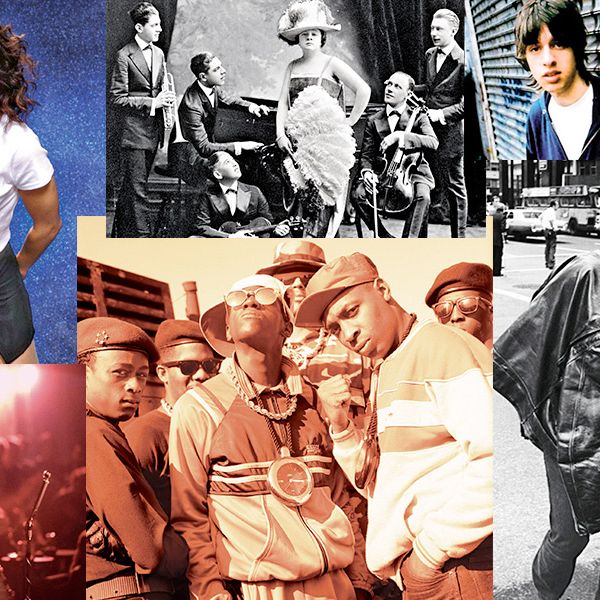 This playlist doesn't pretend to be the Ultimate New York mixtape, or anything like that. No list that lacks a song written by Carole King or one performed by Eric B. and Rakim could possibly make that claim. Nor does it pretend to be a representative New York playlist—a list that takes in the full range of sounds and styles the city has produced. Even in the age of streaming media, that's an impossible task. I was limited by the puzzling holes in Spotify's celestial jukebox. (Not enough pre-1925 acoustic-era music, no "Positively 4th Street.") So I focused on songs about New York, and about archetypal New York folkways and experiences, and I aimed for a nice blend: iconic New York anthems and obscure ones, legendary artists and little-known ones, old songs and songs recent enough to name-drop Kinkos and "some kid from F.I.T. There are a hundred of 'em, and they're all great. Yes, even the Barry Manilow jam.
1928: Sophie Tucker, "My Yiddishe Mama"
1929: Fats Waller & His Buddies, "Harlem Fuss"
1930: Fred Astaire, "Puttin' on the Ritz"
1932: The Mills Brothers, "Coney Island Washboard"
1935: Johnny Green and His Orchestra, "She's a Latin From Manhattan"
1936: Noble Sissle & His Orchestra featuring Sidney Bechet and Billy Banks, "You Can't Live in Harlem"
1936: Benny Goodman, "Stompin' at the Savoy"
1937: Winifred Shaw, "The Lullaby of Broadway"
1937: Paul Whiteman and His Concert Orchestra, "Slaughter on Tenth Avenue"
1939: Duke Ellington and His Orchestra, "Take the 'A' Train"
1946: Louis Prima and His Orchestra, "Chinatown, My Chinatown"
1947: Charlie Parker Quintet, "Scrapple From the Apple"
1947: Lead Belly, "New York City"
1949: Al Jolson, "Give My Regards to Broadway"
1952: Cab Calloway, "There's a Boat Dat's Leaving Soon for New York"
1952: Billie Holiday, "Autumn in New York"
1953: Babs Gonzales, "Manhattan Fable"
1954: Sarah Vaughan, "Lullaby of Birdland"
1955: Xavier Cugat, "Mambo at the Waldorf"
1956: Ella Fitzgerald, "Manhattan"
1957: Earl Bostic, "Harlem Nocturne"
1959: Leonard Bernstein and the Columbia Symphony Orchestra, Rhapsody in Blue
1959: Charles Mingus, "Nostalgia in Times Square"
1960: John Coltrane, "Central Park West"
1960: Ornette Coleman, "The Tribes of New York"
1962: The Crystals, "Uptown"
1962: Bob Dylan, "Hard Times in New York Town"
1962: Connie Francis, "Does Ol' Broadway Ever Sleep?"
1963: Mel Tormé, "Sidewalks of New York"
1963: The Drifters, "On Broadway"
1963: Bob & Earl, "Harlem Shuffle"
1964: The Ad Libs, "Boy From New York City"
1965: Tito Puente, "Carnival in Harlem"
1967: The Velvet Underground, "I'm Waiting for the Man"
1968: Ray Barretto, "New York Soul"
1970: The Last Poets, "On the Subway"
1970: Joe Bataan, "It's a Good Feeling (Riot)"
1971: Aretha Franklin, "Spanish Harlem"
1971: Bill Withers, "Harlem"
1972: Bobby Womack, "Across 110th Street"
1972: The Joe Cuba Sextet, "Do You Feel It?"
1973: New York Dolls, "Subway Train"
1974: Bobby Short, "I Happen to Like New York"
1975: El Gran Combo, "Un Verano en New York"
1975: Bee Gees, "Nights on Broadway"
1976: Billy Joel, "New York State of Mind"
1977: The Ramones, "Rockaway Beach"
1977: The Rolling Stone, "Miss You"
1977: Odyssey, "Native New Yorker"
1978: Ace Frehly, "New York Groove"
1978: Willie Colón and Rubén Blades, "Pedro Navaja"
1978: Barry Manilow, "Copacabana (At the Copa)"
1978: Neil Diamond, "Brooklyn Roads"
1979: Kid Creole & the Coconuts, "Dario"
1979: Talking Heads, "Life During Wartime"
1980: Tom Browne, "Funkin' for Jamaica (N.Y.)"
1980: Frank Sinatra, "Theme From New York, New York"
1981: Fear, "New York's Alright If You Like Saxophones"
1982: Grand Master Flash & the Furious Five featuring Melle Mel & Duke Bootee, "The Message"
1982: Chic, "City Lights"
1982: Grace Jones, "The Apple Stretching"
1985: MC Shan, "The Bridge"
1985: Tom Waits, "Downtown Train"
1985: Village People, "New York City"
1987: Beastie Boys, "No Sleep Till Brooklyn"
1987: Boogie Down Productions, "South Bronx"
1987: The Pogues featuring Kirsty MacColl, "Fairytale of New York"
1987: Run-DMC, "Christmas in Hollis"
1988: Hall & Oates, "Downtown Life"
1988: John Zorn, "Broadway Blues"
1989: Lou Reed, "Halloween Parade"
1990: LL Cool J, "Around the Way Girl"
1990: Dion, "King of the New York Streets"
1991: Public Enemy, "A Letter to the New York Post"
1993: Wu-Tang Clan, "C.R.E.A.M."
1994: The Notorious B.I.G., "Juicy"
1994: Nas, "N.Y. State of Mind"
1995: Ol' Dirty Bastard, "Brooklyn Zoo"
1996: Jay-Z featuring the Notorious B.I.G., "Brooklyn's Finest"
1999: The Magnetic Fields, "The Luckiest Guy on the Lower East Side"
2001: Andrew W.K., "I Love NYC"
2001: Ryan Adams, "New York, New York"
2001: The Moldy Peaches, "NYC's Like a Graveyard"
2002: Jennifer Lopez featuring Jadakiss and Styles, "Jenny From the Block"
2002: Cam'ron featuring Jay-Z and Juelz Santana, "Welcome to New York City"
2004: Nellie McKay, "Manhattan Avenue"
2005: Madonna, "I Love New York"
2006: Busta Rhymes featuring Swizz Beatz, "New York Shit"
2007: LCD Soundsystem, "New York, I Love You But You're Bringing Me Down"
2008: Santigold, "L.E.S. Artistes"
2009: Jay-Z featuring Alicia Keys, "Empire State of Mind"
2010: Gil Scott-Heron, "New York Is Killing Me"
2010: Nina Hagen and Karl Rucker, "New York New York"
2010: Phosphorescent, "The Mermaid Parade"
2011: Fountains of Wayne, "Richie and Ruben"
2012: Parquet Courts, "Stoned and Starving"
2012: Azealia Banks, "212"
2013: Vampire Weekend, "Step"
2013: A$AP Ferg featuring A$AP Rocky, French Montana, SchoolBoy Q, and Trinidad James "Work" (remix)
2014: Angel Haze, "New York"
*This article appeared in the March 24, 2014 issue of New York Magazine.