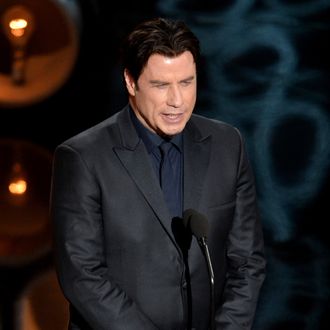 John Travolta, actor.
Photo: Kevin Winter/2014 Getty Images
There were a lot of winners at Sunday's Oscars, but there was one clear loser: John Travolta's mouth, which flubbed the hell out Idina Menzel's name. Travolta gave the internet some time to mock and meme the moment, before releasing this statement: "I've been beating myself up all day. Then I thought … what would Idina Menzel say, She'd say, Let it go, let it go! Idina is incredibly talented and I am so happy Frozen took home two Oscars Sunday night!" As statements go, it's a pretty silly one — though, to be fair, it was a pretty silly offense. See you next year, Gin Trotalla.