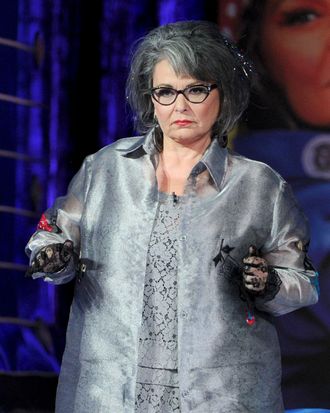 Roseanne Barr speaks onstage during the Comedy Central Roast of Roseanne Barr at Hollywood Palladium on August 4, 2012 in Hollywood, California.
Photo: Kevin Winter/Getty Images
It seems the goal of reality show judge selection is to put contestants in a position to be dressed down by the very people who are their real-life personal idols. With that in mind, Last Comic Standing has done very well for itself. Roseanne Barr, Keenen Ivory Wayans and massively successful Canadian stand-up Russell Peters will join new host J.B. Smoove when Last Comic returns to NBC on May 22. Being of a generation that grew up listening to Roseanne's dry barbs, it sounds like a wonderful idea to bring them back to TV and hurl them into 100 comics' hopeful faces.