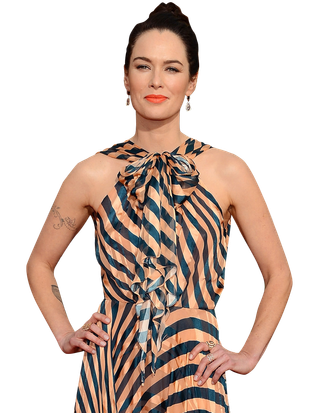 Lena Headey.
Photo: Ethan Miller/2014 Getty Images
Lena Headey is fast becoming the reigning queen of genre stories. She's played Queen Cersei in Game of Thrones and Queen Gorgo in 300 and its follow-up, 300: Rise of an Empire (out today). The latter isn't a sequel in traditional terms: It's not just about what happens next; it's also about what was happening at the same time that the original took place, only from a different location. This allows us to know before Gorgo does that her husband, King Leonadis, and his 300 Spartans failed to fend off the Persian army. Although Headey's two queens couldn't be more different, Cersei and Gorgo both know what it's like to wait for the love of your life to come home. Headey chatted with Vulture about training to fight, Cersei's sword-envy, and the crazy things grief might make you do.
When we last talked, you mentioned your son Wylie joined you on set, and was so excited that his mommy was fighting "ninjas."  Now that I've seen the film, I know what he's excited about — you're full-on fighting in this one!
Yes! [Laughs.] He was very excited. It was amazing. I love all the physicality. I love the chance to train with someone like Mark Twight. And now, when I'm play-fighting with my son — obviously, my son is 4, and he hasn't been fight training, so I have to remember. Because I kind of get into it. I mean, he's pretty tough, and I'll think, I'll show you! And I have to remember where I am, and what I'm doing. I have to snap back into reality, and realize I'm in the kitchen.
There's a cool moment in the movie where Xerxes becomes a god-king. Who knew all you had to do was step into a pool, and when you emerge, you could have all your makeup and piercings magically, perfectly in place? If you could take a dip in the god-pool, and you could have all the tattoos, piercings, whatever you want, would you? Or do you prefer to have the actual tattoo session?
No. God, no. That takes away the whole point of them. I enjoy the journey of them. Having the tattoo itself is not really for the end result for me. I like having them done. But it'd be cool to have a god-pool! I'd probably come out of it with a six-pack and some longer legs instead.
Have any Game of Thrones fans come up to you to show you their blue rose tattoos?  A lot of female fans have been getting them to signify Lyanna Stark, if they believe she's Jon Snow's mother.
No! No one's done that yet. The show is endlessly intriguing. I like all the theories that are going on. Usually, with the cast, we're all kind of too in it to ponder it, you know what I mean? It's been five years, but we don't all work together. It's the strangest thing. I can see them at a premiere or something, like, "Oh, hi!" and we kind of catch up. So I usually just theorize with fans, who are really kind of intrigued and committed to the story. I like those moments, when they get really into it, and then I go, "Oh, yeah? Maybe!"
Besides both being queens, Gorgo and Cersei have a lot in common: They're both widows, they've both gone through a period of grief or loss, and they both wear armor. They're both incredibly strong women, but in very different ways. And I would imagine Cersei would rather be in Gorgo's position.
Yes. Gorgo is pretty straightforward in that she's committed to her husband, even through death. And she's kind of dictated by her culture, and her strength is drawn from that. From birth, she's known what's required of her, and nothing really changes. And then Cersei is … My whole theory of Cersei is, with her and Jaime [Lannister], he is kind of her ideal of herself somewhere along the lines. Gorgo's allowed to, for want of a better word, be a man. She's allowed to exercise things she needs to. And Cersei faces more expectations from society where it comes to women. She, at her core, is just fear and paranoia. And that's where she behaves from. And Gorgo doesn't come from that place at all. She's very simple, in the best way.
She's able to think about, "What do my people need? What should I do for my people?"
Gorgo's for the people. Cersei's incredibly selfish. I find her pretty delightful, Cersei. And I kind of understand why she does what she does. And yeah, yeah, this season is pretty much the beginning of her downfall. She's on her way, she's really climbing the stairs, and then she will eventually fall off the edge. Which is exciting! It's endlessly exciting to me. She is just constant change.
All of her relationship dynamics change, too, starting with Jaime being back in King's Landing as a different man …
He arrives back, and he's the most important relationship she's got, aside from her children, and everything's changed! Because she loves the one thing that she's held in admiration. She thinks, I have everything, but I don't have that. She never learned how to execute a sword and all of that stuff. And it's a very complicated relationship, obviously for many reasons. And it's quite heartbreaking, their journey.
Well, you were spared one of the most heartbreaking moments in the books, because they sped up Jaime's story line, in terms of the timing of his return to King's Landing. So their reunion wasn't marked by the consummating grief scene, which I'm keeping intentionally vague for viewers who haven't read the books.
Oh! Well, I can tell you that will, uh … that's in there. It's horrendous. It's kind of crazy. Interesting to film, because we were …  she's in deep pain, and he wants her, because he missed her, and he needs to know she wants him. It's just a weird, fucked-up moment. It's quite mad! [Laughs.] Quite mad. And it's a great transition for him, the loss of someone he doesn't particularly like, but that he's connected to, on a deep level.
I know you have a crush on Ron Swanson, but did you know that Amy Poehler has a matchup for everyone on Parks and Rec to someone on Game of Thrones?
She's Khaleesi, of course. But I would love for Cersei to be Amy Poehler! Obviously, because I love her. And I think Cersei could have a lovely affair with Ron Swanson. How about that? Maybe he could arrive and be her confidant. She really is going to need one. And sadly, she's kind of fucked up rather a lot. She's not got many willing to be her friend, but she doesn't really understand how to be a good friend. That's the trouble.