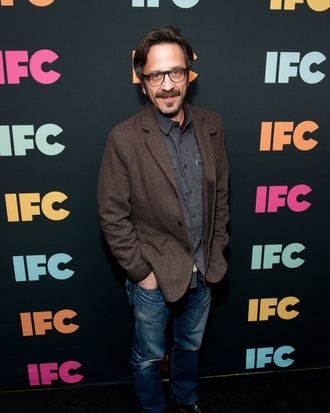 Marc Maron.
Photo: Noam Galai/WireImage
Marc Maron hosted Lena Dunham on his "WTF" podcast this week, and he's already thinking about a sequel. "She wants to come back on," he told Vulture last night during IFC's upfront event at Roseland Ballroom, where he later strapped on a guitar to perform alongside Fred Armisen and others. "I was in touch with her because a lot of people seemed to enjoy it, so maybe in a few months we'll do another one." Still, although Maron has hosted nearly everyone in comedy on "WTF," one celeb you won't be hearing live from Maron's garage is Jerry Seinfeld, who's currently hosting his own comic-interview series, "Comedians in Cars Getting Coffee."
"I don't think Jerry Seinfeld likes me or really gives a shit about me," said Maron candidly. "He's certainly not asking me to do his show, and I heard that he doesn't really want to do mine." Maron publicly asked Seinfeld to appear on the podcast in an August 2012 tweet and has since reached out to some intermediaries to no avail. "I asked a mutual friend, and that guy said he's like, 'Eh,'" admitted Maron. "I don't think he's here nor there with me. I'd be surprised if I was even on his radar, really."
Jerry! What gives? If Maron could entice Louis C.K. to appear on "WTF" after a years-long falling-out, surely Seinfeld could break bread with the man? Stay tuned.