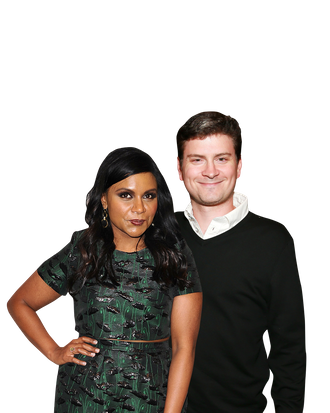 Mindy Kaling and Mike Schur.
Photo: Imeh Akpanudosen and Jason LaVeris/Getty
Former Office colleagues Mindy Kaling and Mike Schur say they haven't seen much of each other lately. He's been busy with Brooklyn Nine-Nine and wrapping Parks and Recreation; she's editing the season finale of The Mindy Project. On Tuesday, NBC Universal hosted a press luncheon in West Hollywood's Soho House and the two used the opportunity to catch up. Vulture had just sat down to talk with Kaling when Schur came over demanding to know why Kaling was wearing pajamas. (For the record, she was wearing gorgeous silk separates.) What follows is a slightly edited and condensed transcript of their conversation, which spanned wardrobe, drunk texts, life on The Office, and the many hot dudes Kaling gets to make out with on her show. Schur is especially fond of Timothy Olyphant.
Mindy Kaling: I want to just sit here and drink. [To Schur, a few feet away] Stop bullying me!
He's going to come over and bully you now.
Mike Schur: How are you?
Kaling: Good, how are you?
Schur: I'm excited for your show to return. Although I could do without the fucking countdown on Twitter. 
Kaling: Because you're so busy.
Schur: Because I'm so busy. I don't want to look at tweets that say, "Five." Oh, and here's a picture of the guys in tuxedos. Twitter is important to me. Listen to me, Twitter is important.
Kaling: Listen, I miss you —
Schur: Do you like the way I'm screaming at you from over here?
Kaling: Denise, can you do an interview with me and Mike Schur?
Yeah!
Kaling: Here's the thing, I never get to see Mike.
Why don't you guys get to see each other?
Schur: He's very busy.
Kaling: He created and runs two shows, has 11 children —
Schur: Two children.
Kaling: He's married to –
Schur: Just tell me if you're wearing pajamas, I have to know.
Kaling: This is a look. It's called pajama chic. [laughs]
Schur: Really?
Kaling: No. It's like an outfit. I'm surprised that you're not wearing, like, five hoodies.
Schur: Why would you be surprised about that? How long have you known me?
Kaling: You've actually dappered up. [Editor's note: Schur was in jeans, a collared button-down shirt, and a black sweater.]
Schur: Have I?
Kaling: I met Mike, he was 27. He had quit smoking, but it was a tenuous kind of quitting where you have smoker's desire in your face. I felt like an addict was barely —
Schur: Where is this going?
Kaling: All I'm saying is that he'd wear an oversize hoodie and then a regular-sized hoodie and then a short-sleeved hoodie and then a T-shirt.
Wow. All at once?
Schur: Mindy and I used to do a bit which was my wife sending me off to work in the morning. And the bit was like, "Oh, you look so cute in your button-down and your pants. Go. Go to work, honey." And then I would go to work and become a monster with, like, four hoodies — remember? 
Kaling: Yes.
Schur: It was really funny.
Kaling: I did not see a patch of skin besides his face for like three and a half years. Since then, he's created his own show and all of a sudden, it's like, tuxedo shirt —
Schur: Now it's like skin central.
[Kaling and I laugh.]
Schur: Just half-shirts and tank tops.
Kaling: It's Miami —
Schur: Dress shorts.
Kaling: Yeah. That's just his look now.
What do you miss about seeing him all the time?
Schur: Yeah, what do you miss?
Kaling: A couple things. One is that when I knew Mike and we were both writers on a show, we had a lot of specific but very — there's a very tiny group of people who I know who can complain about being show writers, and nobody wants to hear that except other show writers.
Schur: That's what you miss about me? I don't understand.
Kaling: Fine, it's your dizzying Connecticut intellect. I don't know, what am I supposed to —
Schur: No, that's fine. That's perfect.
Kaling: But he's so busy now and Brooklyn's so good and funny. I'm obsessed with Stephanie Beatriz.
Schur: Are you?
Kaling: I tweet at her sometimes.
Schur: Have you met her?
Kaling: Yes, and she's bubbly and cheerful.
Schur: She's the opposite of her character.
Kaling: Yeah, she has a Kinsey thing going on where she's so different from her character. And she responds with, like, really cute emojis to me. Could she be my friend?
Schur: She'd definitely be your friend.
Kaling: You think so?
Schur: I've never watched your show, but I imagine there's a great cast of characters in there as well.
Kaling: You're obsessed with my show. You love —
Schur: I am obsessed with your show. I've seen every episode of your show.
Kaling: That's adorable to me that you have any time to catch any of them, but it's cute that you have — here's what I think is really interesting. You created Brooklyn Nine-Nine and I created The Mindy Project after The Office, and both shows are really different from The Office. My show is so me, and I feel like Brooklyn is a good mix of you and Dan Goor. Don't you find it interesting, the shows that —
Schur: I don't know, you haven't said anything yet. So I don't know if I find it interesting. You literally haven't said anything.
Kaling: I was thinking that they reflected how we were different from The Office —
Schur: Ah. They're both office comedies.
Kaling: Okay. You know what? You know what?
Do you often check her like this?
Schur: Constantly.
Kaling: It's so mean. All I said was that you look nice.
You started it by saying that, yeah. 
Schur: Here's how I would agree with you. I would agree with you that you — we both came from the office-comedy world. You took the office-comedy world and said, "I'm going to be a boy-crazy, high-achieving goofball, and the show is going to be like a second Office but the subject material is going to be much more about romantic life." And then [with Parks and Recreation], I took the office-comedy world and just went into things that I was interested in, like government, public service, and high-minded achievements. It was a joke. But we took the same setting and put our own spin on it.
Kaling: To me, Parks and Rec has so many nonsense names, and as high-minded as you think it is, it's only a vehicle for your characters —
Schur: That's all I care about.
Kaling: … to download nonsense characters.
Schur: That's literally all I care about. We had a character recently, Janet Zappos, like the website, and we were like, "We can't do that because it's a trademarked name." So we reversed Zappos and made it Janet Soppaz. And then I took that entire thing and did it again. So the character's name is Janet Soppaz Zappos Soppaz Zappos. It's one of my highest achievements. The guy who does post-production for us came in and fact-checked it and was like, "This is her name?" It was like this long on the screen. It was all zs and ps and ss.
Kaling: And you never laughed so hard in your whole life. If Mike and did a show together, you'd have Janet Soppaz Zappos — would she find love with some guy named Graham Grendelman? You also like ones that are just like "Tonk Mac."
Schur: Well, Ed Truck was one of the early ones. Remember Ed Truck? 
Kaling: Yes, yeah.
Schur: That was an early one. That was a joke pitch, and then Paul just put it into the script. Listen, you have to get to sleep, it's time for you to head to bed. 
Kaling: Okay. You have to go back to structure.
Mike, what did you think of Danny and Mindy's kiss in the last episode?
Schur: Loved it. Loved it.
Kaling: The only text he sent me after that was, "Does your character think that Osama bin Laden has not been murdered?" 
Schur: Well, because the joke in the script was she thought he looked like Osama bin Laden. And I was like, "Does Mindy Lahiri not know that Osama bin Laden is dead?"
Kaling: And you were like, "Does Mindy Kaling not know?"
Schur: And her response was, "I think she just got confused about him and Saddam Hussein." To which I wrote back, "You know we got Hussein too, right?" And then I got nothing. Silence.
Kaling: And then I quickly went on Wikipedia. I know Saddam Hussein was caught and hanged. One joke in The Office that we never did that I loved was Andy Bernard camped with Hussein's son. They were like friends from summer camp, like preppy summer camp, and Andy was very sad that he couldn't talk that much about it.
Schur: Oh, yeah! I'm going to find this text, because it really makes me laugh.
Kaling: I was also thinking the other day — not to reminisce — about the finer-things club.
Schur: Yes! You wrote that in. [Schur shows me his phone] There's Mindy calling me a dirtbag. There's that.
Kaling: Oh, can I say, Mike went to the WGAs and all he did was text me, drunk, the entire evening.
Schur: Yeah. But look at this. Here's me: "I loved your episode, but how on earth do you not know that Osama bin Laden's dead?" "Mike, thank you! I think she confused Saddam Hussein with Osama bin Laden." And then was like, "They are so wily they're probably still alive." Me: "You know we got Hussein too, right?" And then nothing.
Kaling: Okay, he's not scrolling down, because later it's all just like, "I'm sooo drunk, I miss you soo much. Being in New York drunk makes me sentimental." He's kind of like a sentimental drunk. 
Schur: "I miss you," is what I wrote. "I miss you."
Aww.
Kaling: He was sitting next to a lot of my staff members at the WGA, and was telling them terrible, untrue things about me.
Schur: Yes, I was doing that, and then also taking pictures of them and texting Mindy and saying that they liked me more than her now.
Kaling: It was my greatest fear come alive.
Schur: Which was not in any way true, but which was driving her crazy. It was really delightful.
Kaling: I saw Dan Goor when he came to edit. Dan and Mike are so funny, they're so brave, they're the best. Dan is very similar to me in that we're super-opinionated.
Schur: Yes. You feel like you and Dan share that in common, is that what you're saying?
Kaling: Yes. I don't know. I thought we were —
Schur: What are you saying? He's married.
Kaling: I'm not into him! 
Schur: I'm just saying he's married.
Kaling: I'm not interested in him romantically. You know, as a feminist, it's hard to talk to a man because Harvard-educated men like Mike Schur turn it into a romantic thing, and I'm just trying to have a colleague in the business.
Schur: Let me ask you this: How many hot, white dudes are you going to make out with per season? Is there a limit? Or is it, "As many episodes as I have, that's how many hot men I'm going to make out with"?
Kaling: This is the only question I ever get asked, actually.
Schur: Some of the guys you've made out with are so hot, I wish I were making out with them.
Kaling: You're only talking about Timothy Olyphant.
Schur: Timothy Olyphant, definitely.
Pastor Casey.
Schur: Yes. He's pretty hot. Cliff is super hot.
Kaling: Let me say this: Anders Holm and Glenn Howerton played sociopaths on your show, so I believe until our show, where they play fun, comedy-writer, Mike Schur-y, Dan Goor-y type guys who are funny and self-effacing but not necessarily widespreadly considered to be —
Schur: Yes, you've done a lot for them, yes. Have you seen the clip of It's Always Sunny called "The Implication"? It's one of the funniest things I've ever seen, by the way. And when you watch it and see Glenn Howerton do that, and then you watch him on your show, you're like, "Oh, okay, good, he's not a crazy person." 
Kaling: It's disconcerting because I think you start thinking, "Okay, when is the attorney going to murder Mindy and put her in the trunk of a car?" or whatever. Right?
Schur: [Laughs] A little bit, yeah.
Kaling: With Ders, if you watch Workaholics and you watch my show, you feel like he's gonna pants me.
Schur: So just to be clear, the answer is: hundreds.
Kaling: That is not the answer. It's been interesting seeing how people are really fixated on this. Randall Park is on the show, Utkarsh [Ambudkar] plays my brother. They're not on the show a lot, but people are only interested on, like, who's literally in [my character's] bed. 
Schur: It's not unique to you. That's a facet of the entertainment business. People want to know who the main characters are sleeping with.
Kaling: But these other characters on the show were a big part of my character's life. I don't know, I find it a little lurid actually.
Schur: You find it lurid that America is interested in sex?
Kaling: [Laughs] A little bit, in a very specific way. Do you get questions about —
Schur: Yeah, we tied Leslie off in a little bow with Adam Scott very early on.
Kaling: I guess then if Leslie had been single for longer …
[At this point, a publicist asks if she can steal Schur away for another interview.]
Schur: I'm just torturing Mindy.
Kaling: Bye, Mike.
Schur: She wore pajamas! That's so bold.
Kaling: All Mike did, for the record, is come over here and say "You're wearing pajamas, and you're a racist. Don't wander off and don't steal Dan Goor from his wife." It was the worst.
Schur: You need people to keep you in line.
Kaling: Okay. Great to see you, by the way.