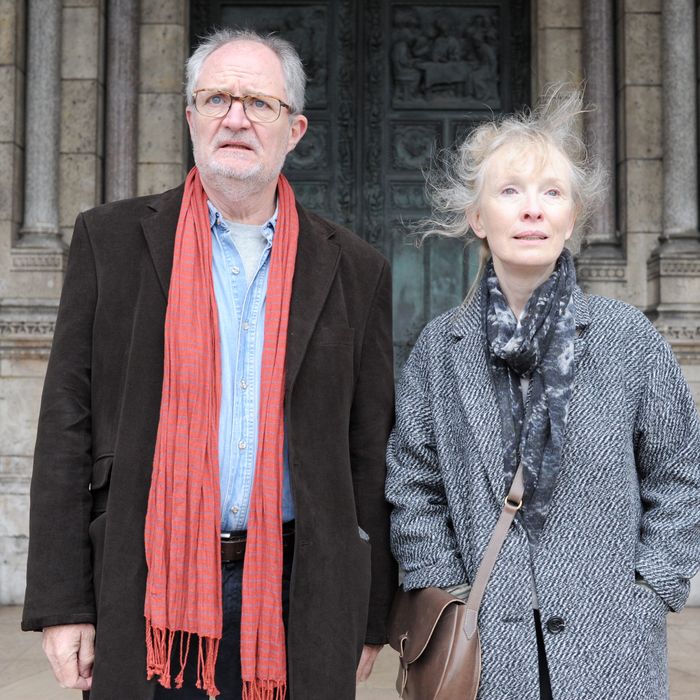 Photo: Courtesy of Music Box Films
Le Week-End is a marital ­disintegration–reintegration drama that opens with a dose of frost and vinegar and turns believably sweet—and unbelievably marvelous, in light of what had seemed a depressing trajectory. Jim Broadbent and Lindsay Duncan play an aging, not-affluent British couple grabbing a fast weekend in Paris. Their tatty hotel appalls her so much she impulsively checks into a luxury one—which appalls her husband, who has yet to reveal he was forced to resign his professorship over a run-in with a student. He would like to touch her, but she quivers with displeasure when he tries. ("I'm a phobic object," he concludes.) The not-so-sub subtext is that love doesn't last. She sees his weakness and inability to get out of himself and truly care for her; he sees a still-beautiful woman who's moving beyond his grasp.
Hanif Kureishi wrote it, Roger Michell directed; they collaborated on the creepy drama The Mother, and neither is a squishy humanist. But they're working with actors whose firm masks yield glimpses of desperate, capacious souls. Jeremy Sams's modest jazz score takes the edge off the severity, mellows it, signals a middle ground between hope and despair.
The wild card of Le Week-end is the guy they bump into: the superb Jeff Goldblum (as a solicitous American academic with enviable crossover success). At first he seems creepily intimate, a phony. Gradually you realize he's just madly ­insecure—a Goldblum-esque blurter. At a party, they meet his young second wife, for whom he's unsuited, and a son from a first marriage whom he loves but barely knows. They see what pathetic, lucky souls they are. I don't know how Kureishi pulled the last act out of his hat. But then, true artists don't always know where the magic comes from, either.
*This article appeared in the March 10, 2014 issue of New York Magazine.