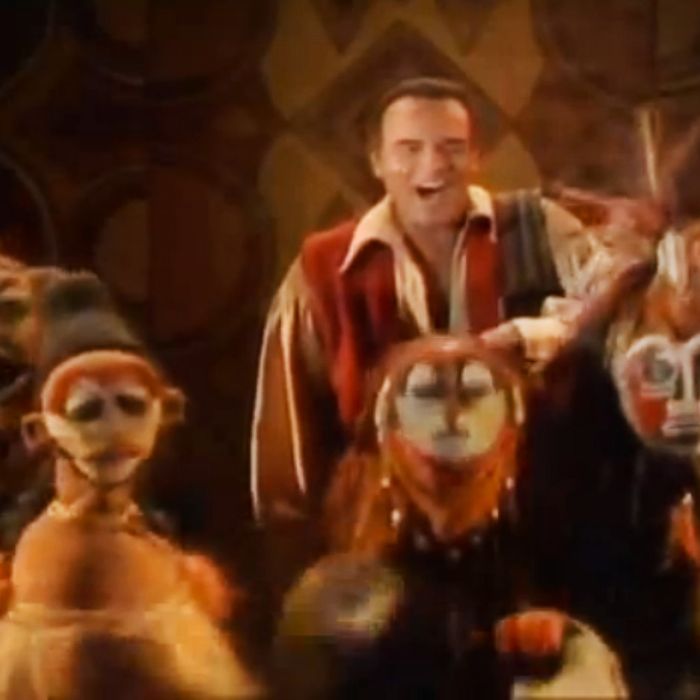 Muppets Most Wanted opens this weekend, which means it's the perfect time to dig back through the vast Muppet archives for some classic gems. Over its five seasons, The Muppet Show solidified itself as a cultural landmark not just through the jovial, pun-heavy gentle humor of the Muppets and the broader Henson universe, but also through some iconic musical numbers. Ranking these feels is anathema to the all-in-this-together spirit of the Muppets, so we'll instead simply say these are 20 wonderful segments. Some are original Muppet songs, some feature celebrity guests, and all poke at that part of your heart only Kermit and pals have access to.
Harry Belafonte, "Turn the World Around," season three, episode 14
Belafonte co-wrote this song, which has become iconic separately from its Muppet Show origins. Apologies: This will be stuck in your head for weeks.
Joan Baez, "Will the Circle Be Unbroken," season five, episode 3
Bonus points for the swirly 1980 vibes.
Rita Moreno, "Fever," season one, episode 5
Moreno won an Emmy for this episode, which is how she completed her EGOT.
"Six String Orchestra," season four, episode 17
The Harry Chapin original is great, of course, but there's something even more endearing about Scooter's version.
Petula Clark, "Tomorrow," season two, episode 20
This is a perfect example of The Muppet Show's ability to rearrange songs and give them a different spin. "Tomorrow," Annie-style, is sort of brash and brassy; here, it's almost tender and poignant.
Judy Collins, "Send in the Clowns," season two, episode 5
Bringing in literal clowns could have turned this into a joke, but instead, it retains that resigned misery that makes the song a classic in the first place.
Lena Horne, "Sing," season one, episode 11
"Sing" is a go-to Muppet song and has been on Sesame Street dozens of times. But Horne's version is still gentle and beautiful.
John Denver, "Grandma's Feather Bed," season four, episode 1
Denver has a fabled history with the Muppets, but he only hosted TMS once. Still, it's hard to imagine this song not with the Muppets as backup singers.
"Comedy Tonight," season two, episode 2
The Muppets do good covers. They just do! Even though this is the Zero Mostel episode, this number doesn't even need him.
Bernadette Peters, "Just One Person," season two, episode 12
This one takes on additional weepiness if you remember that it was also performed at Jim Henson's memorial service.
Danny Kaye, "Inchworm," season three, episode 16
Another one that's just a perfect marriage of the musical style of the show, its persistent can-do idealism, and the fact that everything sounds special when the Muppets sing it.
"I'm My Own Grandpaw," season one, episode 13
These guys are known as the Gogolala Jubliee Jugband. Use that at your next Muppet trivia night.
Steve Martin, "Rambling Man," season two, episode 8
This isn't even that notable a performance; it's just deeply memorable for the shot of all the Muppets in the audience gleefully watching Martin onstage.
"In the Navy," season five, episode 24
Again, good at covers.
"Halfway Down the Stairs," season one, episode 11
If you can watch this without getting choked up, you are a monster.
Gilda Radner, "Pirates of Penzance," season three, episode 4
This is a long, long way to go for this joke. But that does not stop The Muppet Show.
Madeline Kahn, "The Wishing Song," season two, episode nine
Gonzo is usually the most lovelorn of the Muppets, and here that's used to full effect. The Muppets can be sad, too!
"Do Re Mi," season three, episode 10
This here is the quintessential simple-but-impossible-task sketch.
Rudolph Nureyev, "Top Hat, White Tie, and Tails," season two, episode 13
Rudolf Nureyev is a really talented guy — but he's not much of a singer. And it doesn't matter at all! Such is the power of the supportive world of Jim Henson.
Ben Vereen, "Mr. Cellophane," season one, episode 17
And at the other end of the spectrum, here's Ben Vereen – who really can sing, and gets to just let it all out in this number. Not everything has to be wild production and elaborate stagecraft: Sometimes people just sing and dance.