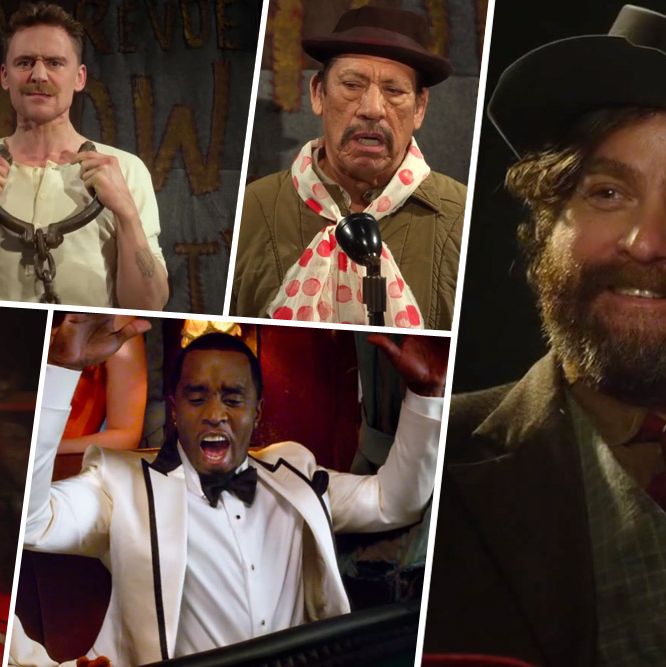 In the list of what we want from Muppet movies, the big three elements are great songs, Beaker, and funny celebrity cameos. Thankfully, Muppets Most Wanted has plenty of the latter – over twenty! So, much like Vulture did with 2011's The Muppets, I ranked the new movie's cameos based on an arbitrary mixed scale of coolness, awesomeness, and funniness. See how Tony Bennett, Hugh Bonneville, Salma Hayek, and more stacked up. (Spoilers, obviously, if the very setup of this post didn't clue you in.)
24. Ross Lynch
Who the hell is this guy? Apparently, the star of some Disney show and Radio Disney band. He plays a florist and I didn't think it was a cameo until the camera stayed on him a little too long. That said, if a 14-year-old girl made this list, he might be on top.  
23. Rob Corddry
He has the movie's first cameo, playing the AD who says the first movie is a wrap. It's not a big moment, but it's nice in a "Rob Corddry is famous enough to make a cameo!" way.   
22. Frank Langella
He plays the priest tasked with marrying Miss Piggy and Kermit (well, actually Constantine acting as Kermit). It's a pretty thankless cameo, except for the fact that his character is listed in the credits as "Beefeater Vicar," which is a combination of words to be thankful for. 
20. (tie) James McAvoy, Chloe Moretz
McAvoy plays a UPS guy, Moretz a newspaper girl. McAvoy gets to deliver a giant badge, Moretz breaks down newsie gender norms, so it's a draw. 
19. Salma Hayek
Though it's always a joy to see her, especially with Gonzo in matching red leotards, it was a little weird that Hayek was the special guest on the Muppets Madrid show, as she is Mexican. It feels like maybe Penelope Cruz was asked first and turned it down, but recommended her friend. 
 18. Saoirse Ronan
Ronan ballet dances at the Muppets stop in Dublin. She was born in the Bronx but raised in Ireland, so, unlike Hayek, her story checks out.
17. Til Schweiger 
Schweiger, who is best known for playing Sergeant Hugo Stiglitz in Inglourious Basterds, is one of the film's many cameos where you can't tell if they're cameos or just casting. For example, Miranda Richardson, Russell Tovey, and Tom Hollander also make brief appearances: Glad to see them! But … cameos?

16. Hugh Bonneville
Bonneville plays a bribed Irish journalist. It's not the most fun cameo, but it's nice to see Lord Grantham not messing things up for a change.
14. (tie) Mackenzie Crook, Toby Jones
If these two British actors — who, while known in the States, haven't quite broken through here in a huge way — both weren't wearing silly moustaches as Prado security guards, you might think they were, like Schweiger, just cast in the roles as regular actors. However, this is a more international Muppets movie, so it appears they made an effort to have overseas celebrities that may or may not register to stateside children. 
13. Josh Groban
Groban's voice cameos before his body does, as he plays a maximum-security prisoner who does some classic anachronistic Grobes vocals during Tina Fey's big number. He eventually gets revealed at the end, which would've been a big surprise if there was literally anyone else who signs like him anymore. 
12. Lady Gaga
11. Tony Bennett
Bennie and the Gags appear together in the big opening number, each singing a line about celebrity cameos. It's the sort of meta-ness that we hope for from the Muppets; Bennett gets the nod over Gaga because he is her elder. 
10. Sean Combs
Nothing says high-rolling train living like Sean Combs in a gambling car with Pepe the King Prawn, wearing matching white tuxedos. Also, they call him "Diddy Daddy" which is definitely a funny thing to call Sean Combs in 2014. 
9. Christoph Waltz
During the Berlin stop on the Muppets tour, Christoph Waltz does the waltz with Sweetums. This does double duty as a cameo and a dance pun.
8. Zach Galifianakis
You never expect someone to reprise a cameo, so Galifianakis reappearing as Hobo Joe for the wedding was a fun surprise. Callback!
7. Ray Liotta
6. Danny Trejo
5. Jermaine Clement
These three have such a big part as Tina Fey's backup dancers/singers and funny prison people that they border on non-cameo and bleed into full-out supporting roles. It's fun to see Liotta singing and dancing, but unlike the other two, his character doesn't have a standout moment. Danny Trejo gets one of the movie's biggest laughs when Fey's character is wishing goodnight to the prisoners and says, "Goodnight, Danny Trejo." Still, Clement shines the most, shimmying and singing the lead in an all-prisoner version of "Working in the Coal Mine," which is kind of like a mini-Flight of a Conchords reunion with the movie's songwriter Bret McKenzie. 
4. Stanley Tucci
Tucci plays a guard at Fey's Gulag. He has a fun scene where he almost shoots Kermit after the frog, forgetting he's a prisoner, just tries to walk out. The two have a friendly yet passive-aggressive back-and-forth, like neighbors would after one's dog accidentally pees on the other's lawn. 
3. Tom Hiddleston
Hiddleston plays the mustachioed Great Escapo during the prisoner talent show. It's the kind of old school, vaudeville act that is perfect for a ham like Hiddleston. 
2. Usher
It's Ms. Piggy and fake Kermit's wedding and the guests need an usher. And who is this usher? Usher! It's a joke that needed to exist in our popular culture at some point. Happy to have it be here. 
1. Celine Dion
Celine's cameo has to be number one, if only because it's the cameo it seemed the movie was most excited about. Dion shows up during the climatic "Something So Right" and it made me laugh every time she'd come on screen to diva over whichever Muppet was earnestly singing. It took the joke of "Can you believe Celine Dion agreed to this?" and kept on pushing it to a point of a celebratory, "Can you believe Celine Dion exists and this is wonderful!?!?" We can believe it now!