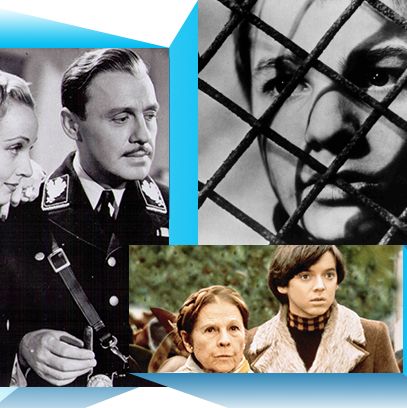 This weekend, as you search for a movie to watch, you can either go see The Grand Budapest Hotel or pick one of approximately 14 billion choices available to stream over a variety of services, be it Netflix, Hulu, Amazon, On Demand, or various rental options. Every Friday, Vulture tries to make life easier by narrowing it down to a handful of hearty recommendations. This week, we've compiled a number of films that shaped the career of writer-director Wes Anderson, including a WWII caper, a classic nature documentary, and one of the more honest portraits of childhood ever produced.
To Be or Not to Be (Hulu)
Wes Anderson's films are each a cinephilic stew. The writer-director doesn't copy and paste from the past as much as he refracts his wide-array of movie memories. That said, particular inspirations often rise to the top. For The Grand Budapest Hotel, one name continues to pop up from critics and Anderson himself: Ernst Lubitsch. The German-American director was a purveyor of whimsy and laughs, capable of turning Greta Garbo and other "thespians" of the '30s into comedy stars. Like Grand Budapest, Lubitsch's 1942 film To Be or Not to Be bounces along a tragic backdrop: With Poland occupied by Nazis, a troupe of bumbling actors offers their services to help the resistance push out Hitler's forces. Lubitsch's comedy lacks an expiration date. Even today, Carole Lombard, Jack Benny, and Robert Stack's physical comedy, impersonations, and sharp wordplay keep the wartime caper zipping along.
Harold and Maude (Netflix, Amazon Prime, Rent on iTunes, Vudu, Xbox, Amazon)
Hal Ashby's mismatched romance made twee (and tweed) cool for decades after its 1971 release. While it's often damned as the harbinger of hipsterism, if you know someone who self-identifies as a weirdo, they've seen Harold and Maude (and if you wonder why anyone would self-identify as a weirdo, it's time to see Harold and Maude). The movie's golden hues, Cat Stevens soundtrack, and offbeat sense of humor felt like nostalgia for a utopian world that barely existed, a time when love blossomed, art thrived, and driving a hearse was an enviable quirk. It's a sensibility that runs through most of Anderson's films. Too often, occupants of the real world — pragmatists, conservatives, even warmongers — intrude into the personal one we craft for ourselves and our loved ones. Anderson's affection for Ashby's oeuvre runs deep. As if to tie together their two careers, the director cast Harold star Bud Cort in The Life Aquatic With Steve Zissou.
Voyage to the Edge of the World (Amazon Prime, Rent on Amazon)
Jacques Cousteau had a simple quest: track down the natural wonders of the world, capture them on film, and bring them to the people. This 1976 film tracks the marine biologist and filmmaker over a four-month expedition to Antarctica, following Cousteau across high seas and inside glaciers. A nimble orchestra accompanies penguins, orcas, and blue whales as they swim through the polar waters. It is the definition of a '70s nature documentary with an added bonus of high sea adventures. It's easy to see why Anderson would take to it. In The Life Aquatic With Steve Zissou, the director nods to all the Voyage to the Edge of the World iconography: the spright dinghy, Cousteau's rotor helicopter, and, of course, red wool caps. Anderson even dedicated his film to Cousteau (albeit with some carefully worded legalese): "In memory of Jacques-Yves Couseau and with gratitude to the Cousteau Society, which was not involved in the making of this film."
The 400 Blows (Hulu, Rent on iTunes, Amazon)
Anderson is well known for his formal composition, less so for the tender, spontaneous, and often childlike personalities of the characters he tucks inside those boxy visuals. But they're there, and Anderson takes cues on that from one of his most adored filmmakers: François Truffaut. Beginning with his very first film, 1959's The 400 Blows, the founding father of the French New Wave combined deliberate cinematic techniques with off-the-cuff performances. In 400 Blows, he mines the purest form of innocence: the misunderstood youngster, Antoine Doinel (a character he'd follow in five subsequent films as actor Jean-Pierre Léaud grew up). Like the Tenenbaum family or, more literally, the young romantics of Moonrise Kingdom, Antoine speaks his mind and operates from the gut. Truffaut's sharp eye knows just how to echo the kid's experience. Rewatch Rushmore and you'll find a few shots pulled straight from this black-and-white classic.
Black Jack (Rent from Vudu)
Being There (Rent from iTunes, Vudu, Amazon, XBox)
Satyajit Ray's The Big City (Hulu)
Satyajit Ray's Charulata (Hulu)
The Graduate (Amazon Prime, Rent from iTunes, XBox)
Grand Hotel (Rent from iTunes, Vudu, Amazon, XBox)
Heaven Can Wait (Rent from iTunes, Amazon)
Help! (Rent from iTunes)
Jules and Jim (Hulu, Rent from iTunes, Amazon)
Knife in the Water (Hulu)
The Last Detail (Rent from Amazon)
Marie Antoinette (1938) (Rent from Vudu, Amazon)
Mean Streets (Rent from iTunes, Vudu, Amazon, Xbox)
Murmur of the Heart (Hulu)
Ninotchka (Rent from iTunes, Vudu, Amazon, XBox)
Paper Moon (Rent from iTunes, Vudu, Amazon, XBox)
Pierrot Le Fou (Rent from iTunes, Vudu, Amazon, YouTube, Google Play)
The River (Rent from iTunes, Amazon)
Rosemary's Baby (Netflix, Rent from iTunes, Vudu, Amazon, XBox, Google Play)
The Shop Around The Corner (Rent from iTunes, Vudu, XBox)
The Silence (Hulu)
Sullivan's Travels (Rent from iTunes, Vudu, Amazon, XBox)
Torn Curtain (Rent from iTunes, Vudu, Amazon, XBox)
Two English Girls (Hulu)