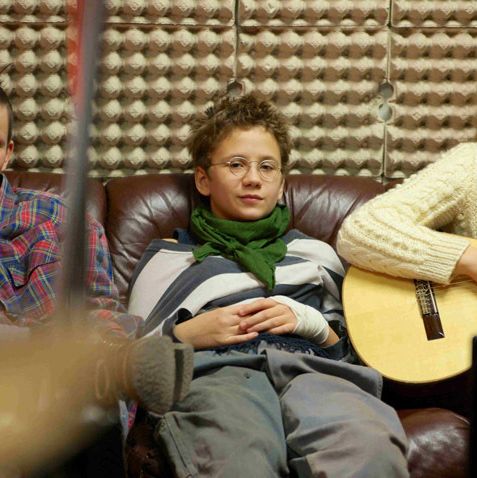 Since 2000, the New York International Children's Film Festival, which unfolds over the course of four spring weekends, has sold out every screening in advance. Of the films it has shown following its founding in 1997, 30 have been nominated for or have won Oscars. (In this year's ceremony, the festival had three contenders, including the eventual Best Animated short winner Mr. Hublot, and one of the Best Animated Feature nominees, Ernest & Celestine.) Judging by the uproarious responses I've witnessed at some recent screenings, kids love it for the cool and very different movies they get to see from around the world (they're even willingly reading subtitles!), the free T-shirts tossed into the crowd before shows, and the chance to hear directly from the filmmakers themselves, who are often there to talk and sign autographs. Parents love it because they get to see award-winning movies from places like Argentina and Japan and Latvia, sometimes from visionary auteurs — and they can do it without leaving their kids at home. 

So, why in God's name does almost nobody I know ever talk about this festival, which is going on right now? (Two weekends have passed, two remain.) It doesn't ever seem to be part of the discussion when cinephiles sit around and talk about New York's film festival landscape. We talk about Tribeca, we talk about the New York Film Festival, we talk about BAMCinemaFest, we talk about New Directors/New Films — all vital, exciting, important events, to be sure. But we rarely talk about what might be, on a pure signal-to-noise ratio basis, the best festival in the city. Indeed, many cinephiles don't even seem to know what the NYICFF is.
Is it because of the C-word? "Sometimes I wish we didn't have the word children in our name," says Eric Beckman, the festival's artistic director and co-founder. "A lot of times, people turn their noses up at the notion of movies for children — all the way from projectionists to film writers to even people who make films." It's a practical battle that Beckman and the festival have had to fight ever since their founding in 1997, but it also prompts what he likes to call an "existential" question: "We're trying to elevate what you think about when you say 'a film for kids,' which in turn makes us ask what 'a film for kids' is. The joy of making this festival is wrangling with that question year after year. Thirty percent of the world population is under 18, but the actual range of options for young people is quite constrained."
Broadening that range is one of the festival's chief goals, and a look at this year's slate demonstrates their effort. (You can see the schedule here.) Two of the most intriguing offerings are liveaction films: Mother, I Love You is a Latvian thriller about a young boy's spiraling duplicities and has more in common with a film by the Dardennes Brothers than it does with, say, Home Alone. Then there's We Are the Best!, the best film in years from one of the planet's's greatest filmmakers, Lukas Moodysson. It's a vibrant, hilarious, poignant coming-of-age story of three teenage Swedish outcasts trying to start an all-girl punk band in 1982. Both of these movies star kids, but they are in no way what you'd think of when you hear "children's film." (Previous festivals have included everything from Danny Boyle's very dark Millions, a thriller about some kids who find a bag of stolen cash, to Nina Paley's Sita Sings the Blues, an inventive and very grown-up animated film about divorce, mythology, gender, and jazz.)
Even the animated offerings this year represent a staggering range of material — from the trippy French ecofantasy Aunt Hilda!, to the anime WWII drama Giovanni's Island, to Jack and the Cuckoo Clock, a devilishly strange fable about a boy whose wind-up-clock heart prevents him from falling in love. One of the most boisterous screenings I attended was for Foosball, an animated film from Argentina's Juan Jose Campanella, who won the Best Foreign Film Oscar a few years ago for the political thriller The Secret in Their Eyes. Foosball, which was just picked up by the Weinstein Company two days after its rowdy NYICFF screening, is a hilarious fantasy about a foosball table that comes to life and helps a young man save his town from an egomaniacal zillionaire soccer star. The audience I saw it with was amazingly diverse in age — from tiny kids to teenagers to adults on their own — and they all seemed to eat up the soccer world in-jokes and the goofy improv humor from popular Spanish-language comics. (How Weinstein will translate the film for American audiences remains an intriguing question; they're reportedly planning on changing the title to Underdogs.) There's also kid-friendly studio fare, too: This year's festival will host a special preview screening of Rio 2 on March 30, nearly two weeks before the animated sequel is slated to open in theaters.
This is all a far cry from the fest's obscure beginnings, when, frustrated that the mid-1990s boom in independent film didn't seem to be resulting in any better movies made for young viewers, Beckman and his wife Emily Shapiro presented a carefully curated program of shorts in December of 1997. "We screened six times in a 150-seat theater," he recalls. "We had a little press release, an 11-by-17 photo-copied flyer, and we got the Village Voice to sponsor us." But people came out in droves. "We realized we had a mandate, at least in New York, for different kinds of films. So, we started to put together a bigger film festival for young people." Over the years, the festival has grown considerably, gaining corporate sponsors and premiering works from filmmakers like Hayao Miyazaki and Nick Park. It's also now accredited by the Academy of Motion Picture Arts and Sciences, which means that its juried shorts winners qualify for Oscar nominations. "The festival has gathered importance as we did it," says Beckman. "The size of the void became more and more apparent as we went along."
The festival now gets as many as 3,500 film submissions from all over the world. Each film submission goes through a fairly exhaustive review. Programmers pre-test a lot of titles, and they also get a lot of information from the detailed audience ballot cards that are passed out at screenings. Along the way, they have had to wrestle mightily with the question of what movies are appropriate to show kids. The answer, so far? A lot more than you'd think. "We've always been rewarded by including a challenging film that we thought twice about," Beckman says. "Those are the movies that always get reactions and win the audience awards."
One such winner was 1997's Kumari – the Living Goddess, a dark documentary about the remote Nepalese tradition of anointing young girls deities until they have their first periods. Or 2012's I Am a Girl, a documentary from the Netherlands about a 13-year-old who was originally born a boy but has lived as a girl from the age of 7. "The audience thought it was really interesting, regardless of where they sat in the sociopolitical discussion. The girl came to the fest and talked about the movie and her experiences — people really responded."  
So, kids actually like all this stuff? "The kids are easy. It's the parents you have to worry about!" Beckman laughs. "Remember, young people are great at appreciating depth without necessarily understanding everything. Think of a 6-year-old — there's so much they don't understand, and yet they're able to navigate the world pretty well." That said, the festival does make sure to include detailed information in its program for parents, making age recommendations for films and noting potentially objectionable material in the films presented, from "the hardships of war including a true-to-life sense of loss" (for Giovanni's Island) to "very strong language" (for We Are the Best!).   
In the meantime, they've also found that some of their more daring programs are the ones that draw the most interest: Audiences now make a point of seeking out the Heebiee Jeebies program, which is where programmers put the scary, weird shorts that didn't quite fit in elsewhere. Still, Beckman admits he sometimes worries: "There'll be times I look at our own schedule, and think, 'Oh my God, are we really showing Cornea to a bunch of 10-year-olds?'" Cornea, in case you're wondering, is described in the program as "a surreal montage of nightmare images," which includes blood dripping into a bowl of soup and an ophthalmologist "auscultating the eye of a patient." It's showing this Sunday. You can bring your kids.