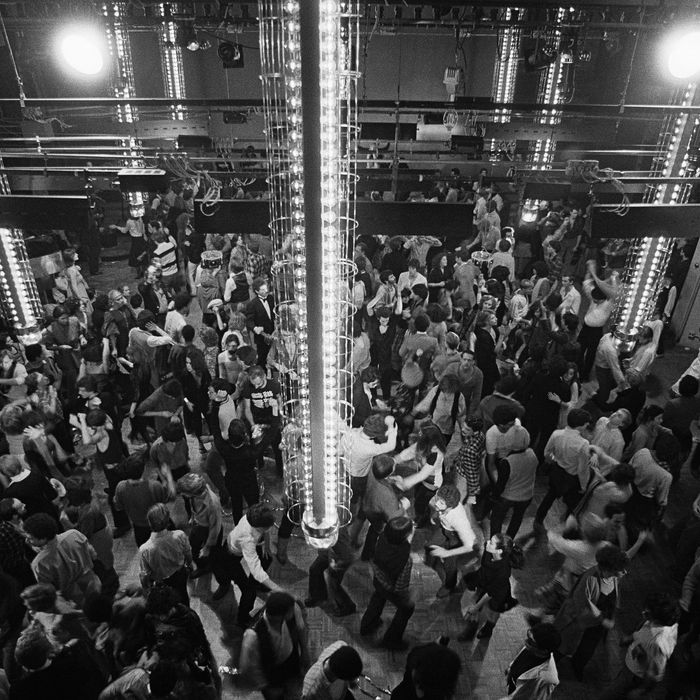 Studio 54.
Photo: Michael Norcia/Corbis
As told to Kera Bolonik
I grew up in the West Village, in the late fifties and sixties, when this area was light-industry manufacturing and butchers. I'd walk down the street and I thought I was in an adventure every day because the only people around were adults, and they were Beatniks and were cool and fascinating and wonderful—you would see very, very famous people all the time. My parents were super into music. They were mega-bohemian—and heroin addicts. They moved here because Greenwich Village was the place to be.
I didn't pick up the guitar until I was 16. I started with the flute, and then the clarinet—I was a classical musician. But because of the politics of the time, nobody wanted to date a clarinet player. Guitar was the instrument of the hippie era, and I'm a hippie. Everybody played guitar. By 19, I was working professionally with Sesame Street. In just three short years, I already learned how to play guitar because I was a good music reader and applying music theory, and that made all the difference in the world.
I met [my musical partner] Bernard Edwards through the mom of my then-girlfriend. Her mom worked with Bernard at the general post office across from Madison Square Garden. Bernard was married with a kid; I was just 19, 20 years old, and in full-on hippie-party mode, living with my girlfriend and her mom. I was putting together a band and she said, "There's this guy at the post office, I've never heard him play, but I think you guys should meet." We met over the telephone, and when I described the type of band that I wanted to put together, he slammed the phone down. But before he did, he told me to lose his number, like he never wanted to speak to me again, because I was such a hippie and way out. My idea of a band was a progressive-rock band fused with Fairport Convention and like a little Frank Zappa, man, with the Fugs—that kind of shit. And Bernard was a straight-up R&B guy. He didn't even know half the bands I was talking about. He couldn't relate to me at all.
To pay the rent, I used to play these R&B pickup gigs on the circuit that black people called the "chitlin circuit," and it basically stretches from Buffalo to Miami—even going all the way to New Orleans. It's all the lower-level clubs, where you'd make anywhere from $15 to $25 to maybe $40 a night, and you played all night long. I met Bernard maybe a week or two after this phone call. Little did he know that I was that guy, nor did I know that he was that guy. That first show, we just locked—there was some kind of magic. Even though these were lower-paying-scale gigs, the audience was very discerning and they wanted a good show. Even—especially—if you were unknown. Bernard and I organized the band right on the spot. After that night, he and I were inseparable. Every job I got I would call him, and every job he got he would call me. One day, we just happened to be on the subway together, and my girlfriend's mom gets on the train. I'm waving, saying, "Hey, Betty!" She walks over to Bernard and says, "So, you guys finally hooked up." And we looked at each other and went, "That was you?" It was hysterical. But we were a magical pair, and Betty knew it somehow.
Once Bernard and I were able to build the band on our own, he started to get more into rock and liked what I was liking because we were so good together. I was the only composer in the band, so I would write compositions that were pretty much rock-based—and we were good. People loved this stuff. We had a following. But while we were making a pretty good name for ourselves, nothing would happen for us.
The last incarnation of our black rock band was called the Big Apple Band. We were R&B, fusion, jazz, rock-and-roll. One of the guys I had gone to school with had a major hit record called "A Fifth of Beethoven"—Walter Murphy and the Big Apple Band. People thought that was us, so we changed our name to Chic. I wrote our very first song for this new entity: "Everybody Dance." We premiered it at a club called the Night Owl Cafe. From this one club, the song blew up, and the whole scene would go there just to hear this song.
That song and "Dance, Dance, Dance (Yowsah, Yowsah, Yowsah)" became big records in the underground scene and they were popular on the radio. Grace Jones, who was a goddess in those days in the club scene, expressed interest in having me and Bernard Edwards write and produce her next album. This was huge! We only had one record under our belts, and we get a call from Grace Jones? But we had never spoken to her, so on the phone she had this very bizarre vocal affectation. We thought she was putting on this voice for us as part of her code message on how to get into Studio 54. So she says, "Tell them you're personal friends of Miss Grace Jones." [Said in a faux-Austrian accent.] We knock on the door and say, "We are personal friendzzz of Meees Graaaysss Jones," and the guy slams the door in our faces and tells us to fuck off. And we say, "No, no, no. Seriously," and we try and get it better. "Weeee're personal friendzzz of Meeeesss Graaaaysss Jones." We sound like Bela Lugosi. He slammed the door in our faces again. So we went to my apartment and started jamming on a groove, like "Aww, fuck off! Fuck Studio 54!" And it sounded great. Then Bernard, in his infinite wisdom, said, "My man, you know this shit is happenin', right?" And I was like, "How are we gonna get 'fuck off' on the radio?" So we changed it to "Freak Off." And Mr. Hippie, the acid head in me, said, "You know, like how about we call it 'Freak Out'?" Bernard was like, "What does that mean?" And I was like, "You know, when you drop a tab of acid, man, and things go bad. Or, how about, you know when you go to a club and you're freakin' out on the dance floor." And Bernard said, "My kids are doing that new dance called the 'Freak.' "
So we took this negative experience and turned it into a positive one, and we talked about being in Studio 54 dancing this new dance. We took Chubby Checker's "The Twist" and Joey D and the Starliters' " Peppermint Twist" and made it be about the "Freak." To make it sound like it was ours, we called it "Le Freak." But we didn't tell people how to do the dance because we didn't really know how to do it. It became better to speak of it in this euphoric way, and talk about the experience of doing it. We say, "Have you heard about the new dance craze." We assume you haven't. "We'll show you the way." But we don't! The dance never became "the Twist" or even "the Hustle." But the song is a triple-platinum single. And when we were on American Bandstand, Dick Clark introduced us in a really wonderful way. He said, "This is the biggest song by a band nobody knows about a dance that nobody knows how to do. Ladies and gentlemen, Chic! 'Le Freak'!" It was so right on the money.
After the success of that, we produced Sister Sledge. I met them the day they came in to the studio and sang "We Are Family." Bernard and I had written their whole album and composed their whole concept. They couldn't believe when they came into the studio that we were expecting them to sing. But we don't teach anybody the songs until they're doing them. We're studio musicians, and we never know the songs before we get there, and we treated artists the same way. That didn't go over too big with Sister Sledge. But in the end, they realized it was the right thing to do because there's a certain excitement and freshness and willingness to please the producers.
Thank God we had signed a deal to produce Diana Ross before the "Disco Sucks" backlash in 1979 shut down our lives. People don't realize that the life span of Chic was really just three years. We had a little big of payback during that whole "Disco Sucks" thing—that year the Pittsburgh Pirates won the World Series, their song was "We Are Family." So while one stadium was being burned and ravaged, the other was celebrating with disco. The thing is, all the rock-and-roll guys were all our best friends. John Deacon from Queen, who wrote "Another One Bites the Dust," was in the studio with me when I wrote "Good Times." Debbie Harry and Chris Stein turned us on to hip-hop and let us know our music was being used to spawn this whole new movement. Punk-rockers used to think of Chic as the ultimate cool band. Meanwhile, the industry was pitting rock and roll against us. So the backlash didn't come from the musicians. White working-class Midwest fans looked at this hedonistic culture dominated by ethnics and women and gay people leading lives that were completely over the top—these guys working at the Ford factory or wherever were like, We've gotta work like this and you don't have to work and go to Studio 54 and party?
And after "Disco Sucks"—bang! We never had another hit record. Six flops in a row. Then I met David Bowie in 1983 and we do Let's Dance—biggest record of his life. Then I go on a roll: No. 1 with David, No. 1 with INXS, No. 1 with Madonna, No. 1 with Duran Duran. Bowie liberated me. We met at a nightclub in 1983. He was drinking by himself, and nobody would talk to him, because frankly he didn't look like David Bowie—he looked normal, and we were all wacky. I walked in with Billy Idol and Billy went, "Fuckin' hell, that's David Bowwweeeeeee!" David and I were engrossed in each other. It was like no one else was in the room, and we just talked and talked, and a few days later he was calling my house, and the next thing I know I was off to Switzerland to do preproduction for Let's Dance, the fastest record of my life: 17 days start to finish, mixing and everything.
Now the only thing that feels different about the record business is that it doesn't feel adversarial—which is really weird to me. I think I'm thankful? I can't tell yet. But when I won those three Grammys with Daft Punk, I was standing on that stage like a deer in headlights. Normally I don't shut up! There's no record company that I can walk into where I feel like they're not my friends. It's no longer a business run by people who look down upon me. It's run by people who look up to me. I'm not used to that. It's such a strange thing.
*This is an expanded version of an article that appeared in the March 24, 2014 issue of New York Magazine.