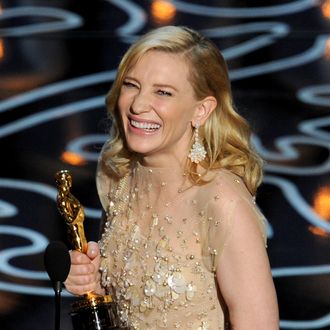 Photo: Kevin Winter/2014 Getty Images
So much happened at the Oscars last night. Awards were given, stars mingled, John Travolta gave Idina Menzel a gift that will likely haunt her for the rest of her life … It was marvelous! You might have seen our highs and lows already, but here's a quick rundown of all the videos and GIFs we created throughout the night:
To start things off, Jennifer Lawrence fell on the red carpet. It really wouldn't be an Oscar ceremony if Jennifer Lawrence didn't somehow trip and fall.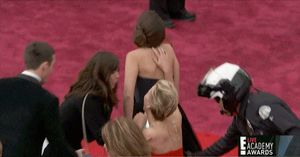 Even Ellen mocked her for it during the opening monologue.
"I do fall, don't I?"
But before we get into the Oscars proper, let's always remember the time Jimmy Kimmel made fun of the very people who watch the Academy Awards (and his postshow) by calling them fat, rude, and lazy.
Onto more positive vibes: Jared Leto's acceptance speech for Best Supporting Actor had him thanking his mother and giving the night its first (and only) mention of the situations in Ukraine and Venezuela. Everyone else scratched that part out of their speeches.
Oh God, could the night get any happier? Yes. You thought Ellen was the most positive one in the room? Well, Pharrell performed "Happy":
Pharrell also got down with most of the front row …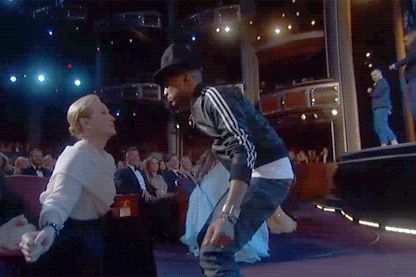 And Pharrell's performance wasn't the only great one. When 20 Feet From Stardom won the Oscar for Best Documentary Feature, Darlene Love gave a stunning (and quick!) performance of "His Eye Is on the Sparrow." No one dared to interrupt.
Lupita Nyong'o took home her Best Supporting Actress trophy, just like she was supposed to …
… And gave yet another moving speech.
Ellen took to the audience to take a group selfie. (A groupie?)
Jared Leto barely makes it in.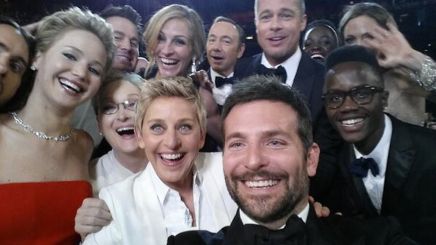 John Travolta came all the way from his home planet to introduce Idina Menzel, whom he bafflingly called "Adele Dazeem" or something, because no one told him that the most important part of introducing someone is knowing how to say their name properly.
No worries, "Adele Dazeem" did a great rendition of Frozen's "Let It Go." (Which won its writers an Oscar and, for one of them, an EGOT!)
Harrison Ford got hungry and when Harrison Ford gets hungry, someone better order him a pizza. Good thing Ellen needed some time filling.
Good ol' Matt McConaughey gave the Oscars speech you always dreamed he'd give: I think it involved some sort of time travel?
And (deservingly!) when 12 Years a Slave took home the Big Prize, director Steve McQueen did a victory jump.
Congrats to Steve McQueen and congrats to you, for making it all the way through.