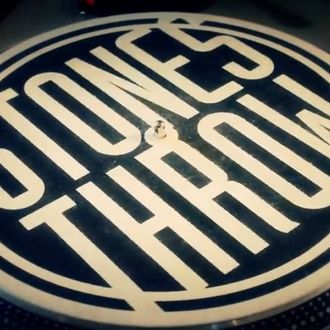 In their new documentary Our Vinyl Weighs a Ton, producer-director Jeff Broadway and writer-editor Rob Bralver shine a spotlight on a lesser-known hub of the hip-hop underground: L.A.'s Stones Throw Records. "Stones Throw has been an incubator and a talent discovery entity for almost twenty years now," says Bralver. "It's had a massive influence on mainstream pop culture, without a lot of people realizing it."
Founded by Chris Manak, a.k.a. DJ Peanut Butter Wolf, in 1996, the avant-garde hip-hop-and-more label has been a trailblazer in the underground music scene for almost two decades. Spearheaded by flagship artists Madlib, J. Dilla, and MF Doom, Stones Throw garnered a cult following for its willingness to play with genre and to take a chance on experimental, left-of-center artists (recent success stories include Aloe Blacc and Mayer Hawthorne)."They're an example of a business that is driven entirely by the curator's tastes, which is Peanut Butter Wolf's," says Bralver. "From beginning to end, if Wolf likes it, that's what he puts out, and it doesn't matter what genre it is, and it doesn't matter what anyone else tells him."
Along with archival material and rare concert footage, Bralver and Broadway enlisted a murderer's row of hip-hop talent to sing the imprint's praises. The film includes, among others, interviews with Snoop Dogg, Questlove, Common, Tyler, the Creator, the Beastie Boys' Mike D, and even Yeezy himself. "Since Kanye had so much respect for [J. Dilla], he was happy to do an interview," said Bralver. The footage — from January 2013 — features a surprisingly subdued, thoughtful Kanye, who doesn't once refer to himself as a god.
"He was extremely gracious and helpful. There was no kind of media persona Kanye that you usually see because of the nature of the topic, which I think he holds pretty near and dear," said Bralver. Not that it was exactly a normal interview, by any stretch. "After the cameras stopped rolling, he asked if we wanted to hear some of his new music," added Broadway. "He then proceeded to take us into his dining room and started playing the instrumentals for Yeezus and rapping over them for about 45 minutes."
The New York premiere — which is open to the public — will take place at 7 p.m. tomorrow at Village East Cinema, to be followed by a Q&A with Broadway and Bralver, as well as Peanut Butter Wolf, Talib Kweli, and A-Trak.