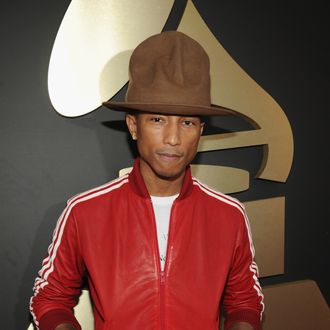 On the cover of GQ this month, there is actually very little that Pharrell Williams doesn't cover. He's opening a gym for women in Florida ("They can find their inner beauty and find their inner challenging spirit and find their bravery, all by dancing, and then at the same time getting fit"), ruminating on race and outer space ("In fact, there's more black out in space than there is stars. We have nothing to be insecure about"), predicting out next president ("Hillary's gonna win. Listen, I'm reaching out to her right now. She's gonna win"), and, most importantly, handling his "Happy" Oscar loss with a perfect pun. (He'll even spell it out for you if he thinks you might've missed it.)
You were nominated for an Oscar that night, but didn't win. How badly did you want it?
Well, trust me: when they read the results, my face was … frozen. But then I thought about it, and I just decided just to … let it go.

How do you feel about that song?
That song?

"Let It Go" — you just said it.
How do you feel about the song?

I thought "Happy" would've been a more interesting choice.
Is it going to be here for ten years — that song from Frozen?

Seems like that happens a lot with that particular Oscar category.
Well, I asked you what your opinion was, and you're entitled to it, and I hope you print it. Did you like my answer?

I thought your answer was great.
My face was frozen, but I just decided to —

Oh, I got it.
— I just decided to let it go.