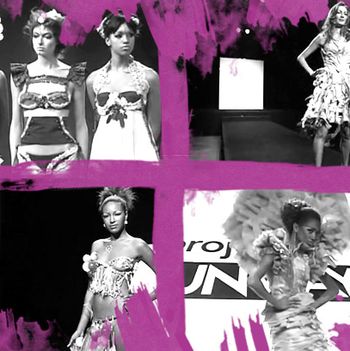 There are many things Project Runway fans associate with the long-running fashion reality series — Tim Gunn's beloved yet curt catchphrase, tiffs over wonky sewing machines, the ever-disastrous food-based design challenges. Those are among the many reasons Vulture has crowned it as the winner of our Reality Rumble competition. But beyond "auf Wiedersehen" and manic Mood fabrics runs, Project Runway's 12-season legacy comes with a catalogue of designs that have excited, enraged, and perplexed us from the first time fledgling designers were dropped into Heidi Klum's clutches. At times, the judges themselves make us feel crazy enough to go running through the signature silhouette wall at the end of the runway like a much angrier Kool-Aid man, but ultimately, it's the designs that remain memorable — not the frothy commentary. So, with that in mind, we whittled down the entire history of Project Runway designs to the five best and five worst. It wasn't easy, but these designs are decidedly in.
THE FIVE BEST
Korto Momolu's Seat Belt Opus (Season 5, Episode 7)
Momolu will go down in Project Runway history as the "bridesmaid, never the bride" of the series after nabbing runner-up in season five and two separate seasons of Project Runway All-Stars, but the Liberian designer can still hold her head high. That's because this impeccable coat crafted from seemingly useless piles of sand-colored seat belts remains one of the best and more enduring designs in the history of the competition. Besides, three second-place finishes combined with one megamemorable design is almost like coming in first, right?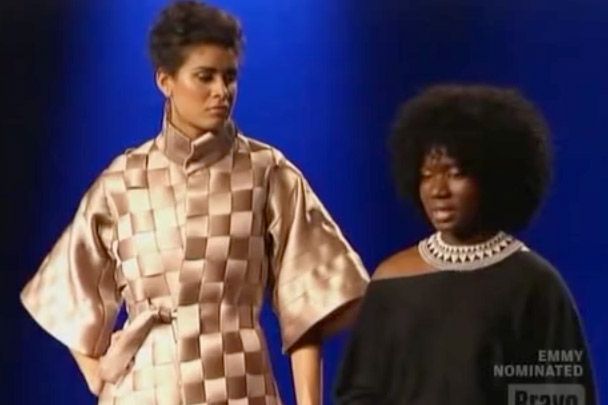 Austin Scarlett's Beautiful Corn Husk Disaster (S1, E1)
In the challenge that started it all, the unforgettable Austin Scarlett was tasked with creating a gorgeous outfit from supplies found at a typical supermarket. Scarlett brazenly chose the shrinking, shriveling corn husk as his main material, only to see the dress that he had layered so beautifully and meticulously shrink and gain a much frailer texture than intended. Still, when his model walked down the runway, the dried-up dress was one of the most amazing things to come down that virgin catwalk.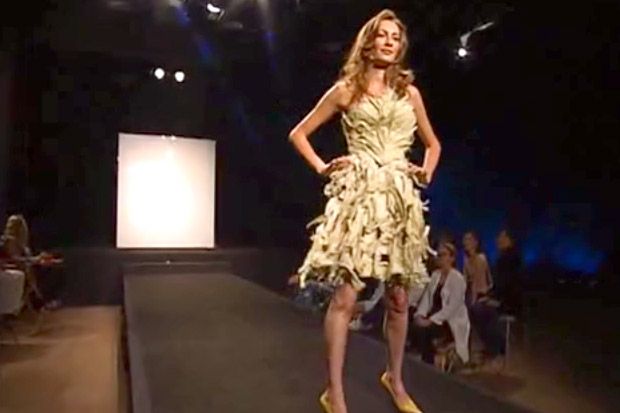 Anthony Williams's Black-and-White Delight (S7, E11)
Anthony didn't fare so well in season seven despite being adored by Project Runway viewers, but he did manage to go out with a serious feather in his cap: He whipped up one of the most simply elegant, flowing, well-crafted gowns we've ever seen on this series. His black-and-white design was so perfectly suited for the red-carpet challenge that guest judge Jessica Alba later asked if she could wear it at an event of her own. Sure, the new car would have been nice, but Jessica Alba's approval? That's priceless.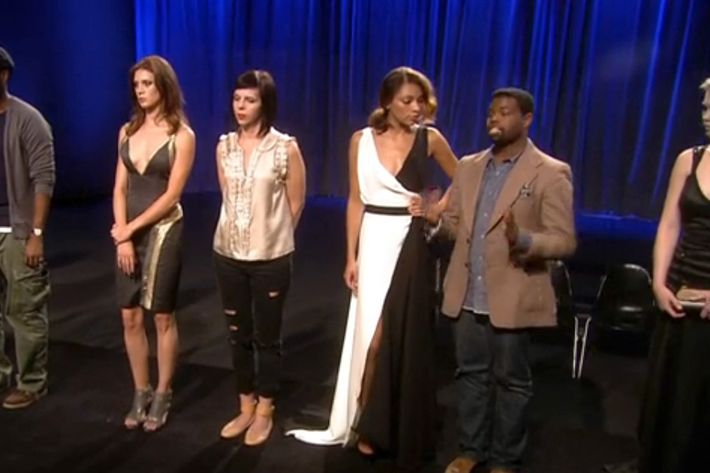 Christian Siriano and Chris March's Epic Creation (S4, E8)
By the time we saw Christian Siriano guide his design partner for the week, Chris March, into creating this modern-day yet Elizabethan-inspired gown, we knew that the future multi-millionaire was headed for greatness. He won the most challenges of every other contestant in season four, and his designs were head and shoulders (literally, in this case) above the rest. Still, this towering, avant-garde creation remains emblazoned in our minds not because Siriano won, but because it was nothing short of absolutely fabulous. (And it probably didn't hurt that the dress took up approximately nine tenths of the TV screen, to boot.)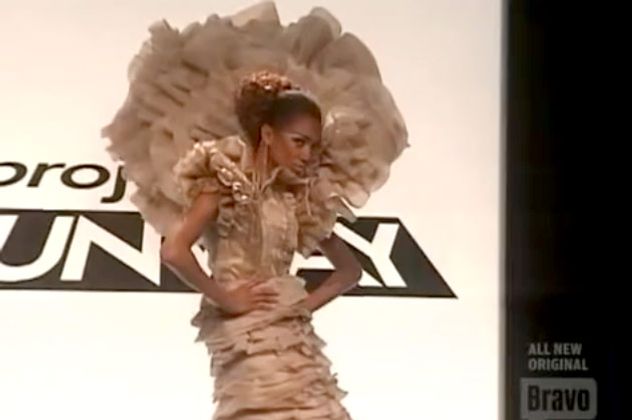 Mondo Guerra's Aww-Inspiring Suit (S8, E10)
Not only did this pattern-heavy, high-waisted suit garner actual gasps from Mondo's fellow designers when his model sashayed down the runway, but the look also came with a much deeper meaning for the young designer. The gorgeous plus-sign pattern on the slacks was meaningful to Mondo because he chose this episode to reveal his HIV-positive status to the judges and his fellow competitors. While one judge deemed this distracting — hater! — we know better. This look is flawless and a permanent fixture in Project Runway history.
THE FIVE WORST
Ping's Burlap Butt Flap (S7, E2)
Season seven's Ping was a bit of a pill: While she was certainly a lively presence on the show, her refusal to use a dress form and her penchant for overdoing it with the fabric made her designs a little tough to watch come runway time. Of course, the worst of Ping's missteps has to be her shapeless, flapping burlap sack, complete with a slit high enough to show off her models entire derriere. That model probably would have been better off waltzing around in an unaltered potato sack and tin can boots.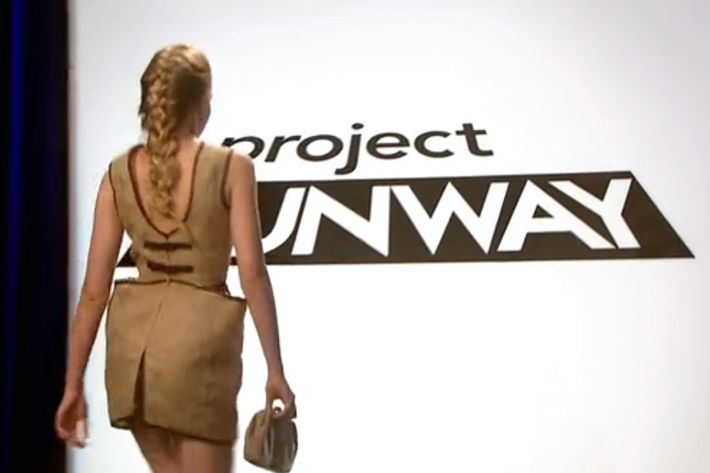 Ven Budhu's Bad Attitude, Embodied (S10, E6)
While this "make my friend over!" challenge threw designers the curve ball of dealing with actual people instead of models, most of the season-ten set handled the change with dignity and grace. Not Ven Budhu, however. The designer complained at every turn about being given an "overweight" client, continually calling out her inability to fit in belts from the accessory wall and saying he was "surprised" that she looked beautiful. The poor woman told him she hated his "slimming black" skirt and flouncy grandma top (not to mention his size-st commentary), but Ven didn't listen or behave like a compassionate human and, in the end, his client was one extremely unhappy camper in an ugly blouse.
Santino Rice's Gingerbread Lingerie Nightmare (S2, E4)
Santino was a tough designer to gauge during Project Runway's second season. At times, he was oh-so-on, but then he'd design Kara Saun a terrible shrunken jumpsuit or put three poor models in skimpy, nightmarish lederhosen. Of course, of all the times he veered off course, this terrifying German children's tale gone awry was by far his worst creation and it almost would have gotten him eliminated if the judges hadn't known he could do much, much better.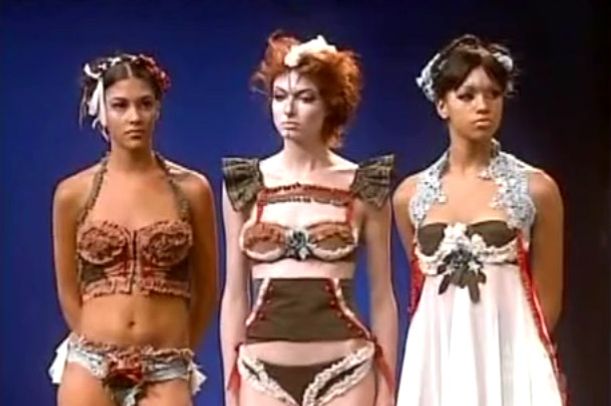 Wendy Pepper's Candy "Bikini" (S1, E1)
Just as Austin started off the series with an unexpectedly delightful frock, Wendy Pepper began by crashing and absolutely burning. It's natural that Wendy was thrown for a loop by the idea of picking outfit materials in a grocery store, but by the time her model walked the runway, it appeared as if she'd covered herself in glue and rolled through the expelled contents of a birthday party piñata before rolling right onto the runway. Note to all future designers: sticking Mike and Ikes to your model's gumdrops does not an outfit make.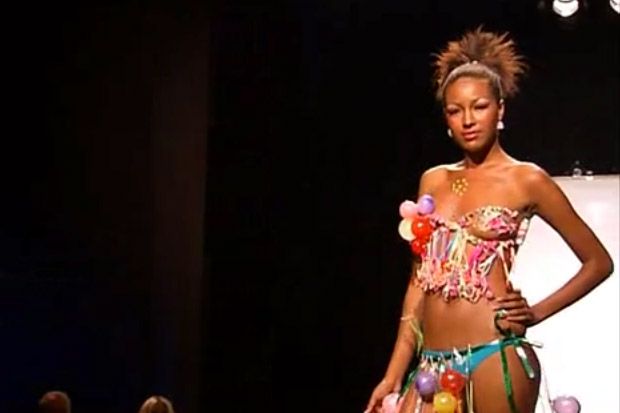 Blayne Walsh's Rainbow Torture Device (S5, E9)
Before bringing this monstrosity before our eyes, Blayne's claim to Project Runway season-five fame was that he loved to tan. His legacy could have been in the simple, less-than-memorable realm of unhealthy sun habits and Justin Bieber–approved hoodies, but the challenge of creating a couture outfit based on various astrological signs yielded this beige straitjacket-cum-leotard with a rainbow explosion of taffeta practically strangling the poor model wearing the dang thing. Just like that, Blayne's fate was sealed up tight with a leather straps and giant, purple tapeworms.