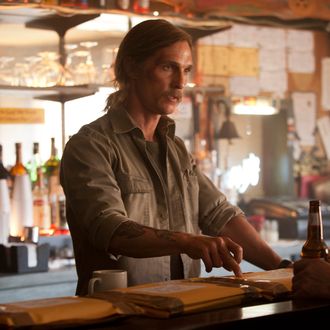 Sentient meat never smelled so sweet: True Detective ended its first season with its best-yet ratings, attracting 3.5 million TV viewers to its 9 p.m. finale. That's an increase of more than 50 percent from the show's January premiere, which pulled in 2.3 million viewers. But while that number is great in and of itself, it only hints at how successful True D has been for HBO. If you fold in folks who watched one of two reruns of the show last night, viewership jumps up to 4.9 million. And looking at the show's entire eight-episode run, HBO estimates that roughly 11 million viewers on average have watched each episode of the show, once you tally up various replays, DVR recordings, and folks who watch via HBO GO (assuming they can log on to the service). That number makes True D HBO's most-watched first-year series since Six Feet Under's freshman year in 2001.
Elsewhere in the Sunday ratings, ABC was actually the night's biggest winner, thanks to a shockingly good debut for its heavily hyped new drama Resurrection. Episode one of the limited series attracted 13.3 million viewers and earned a 3.6 rating among viewers under 50 at 9 p.m. — numbers ABC hasn't seen for a series in that time slot since 2010. Even more impressive: ABC's undead people beat The Walking Dead, which averaged 12.7 million viewers for AMC. (The zombies still crushed all among viewers under 50.) Resurrection's debut was a much-needed boost for the Alphabet, which has launched a series of Nielsen drama duds in recent months (Betrayal, Killer Women, Mind Games, et al.).
The spiritual themes of Resurrection also trumped the hard science of Cosmos: Fox's remake of the Carl Sagan classic debuted to an okay-but-not-great 5.8 million viewers on the Fox network, as well as a slightly better 2.1 rating among adult viewers under 50. The debut episode aired on nine of Fox's sister nets (including FX and National Geographic Channel), and once those numbers are included, Cosmos jumps up to 8.5 million viewers.  One last note: Not many folks bothered to watch Lindsay Lohan's new reality show on OWN. The premiere of Lindsay earned just 693,000 viewers Sunday, which is below even the so-so 900,000 viewers or so Oprah Winfrey's interview with Lohan notched last August.