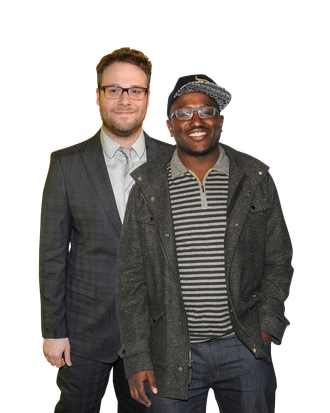 Photo: Desiree Navarro and Michael Buckner/Getty
For many years, when comedians were asked to name an up-and-comer, Hannibal Buress was the one name that always popped up. Finally, in 2014, it feels like he's ready to break out. We've already seen him as the lovably understated Lincoln on the fantastic Broad City, and he has several projects on the horizon, including a role in the summer comedy movie Neighbors and a Comedy Central pilot. Immediately forthcoming is Hannibal Buress Live From Chicago, his second hour TV special (and third hour if you count his classic album My Name Is Hannibal), which premieres this Saturday at midnight on Comedy Central. Stylistically diverse, it features Buress's signature relaxed, conversational style mixed with longer stories, more animated moments, and a willingness to play with form, using music queues and audio playback. Vulture got Buress to talk with his Neighbors castmate and general comedy person about town Seth Rogen. The two discuss Buress's comedy, rap, and what's next for Hannibal.
Rogen: I've interviewed a couple of my friends, and what's nice about it is that you have the opportunity to ask the questions you should have asked them. Like, I have no idea how and when you started doing stand-up. Was it something as a kid that you knew you wanted to do?
Buress: Not at all. I just started doing it in college. I went to open mikes.
Did you watch a lot of comedy when you were a kid?
I just watched it as it came up, like in passing. I remember Def Comedy Jam being a big deal and kids talking about it in school, but it was never, I want to do that. It didn't seem like something— 
Realistic?
Yeah, it didn't seem realistic or attainable. It was big, but it's not like now where there are podcasts and everything, where you can listen to stuff about the process. Now you can hear how people started out; you can hear the intricacies of that just by being a 13-year-old on the internet. You can find out, Oh, there's open mikes here. You're supposed to go to open mikes. I can go to an open mikee at the coffee shop.
What were your first jokes about? Did your subject matter evolve? I did stand-up when I was younger and I remember, like, I would try out observational humor and then I'd try out the angry guy.
Yeah. I did different versions of what I do now. I did a lot of college-based humor. I talked a lot about music. What was that weird joke? I think one of my first jokes — in the black community, there's people who have jokes about skin tone. People like, "You so black, you purple." "You so black, you gotta smile so we can see you at night." There's one, "People call you an African Booty Scratcher." Like, what the fuck is that? 
[Laughs.]
So I would talk about a lot of things people would say to me about my skin tone. 
That's something white people don't know.
[Laughs.] 
In the black community, they divvy it up?
There's a hierarchy. It's perception based. People would just think I'm tough and mean just because I'm darker. 
[Laughs.]
"You must be angry and strong." 
It would be so great if white people had that.
He's soft, sensitive. He's very nice. 
I guess white people have redheaded people. And Italian people, who seem tougher.
I guess class issues, too. But yeah … Black people skin. 
So that was what of your first jokes was about?
That was one of my first ones, just about people saying that. Also, at one point, I didn't do it that many times — I would do a couple stand-up bits, and slip into a poem. 
Funny poem?
Like a funny poem and then slip back into stand-up. 
You could've been the Saul Williams of comedy.
I tried a couple of times, man. Maybe it did work okay, but it's different as you go along. A set that I thought might have been great when I started, if I taped it, I'd be like, What the fuck? 
Yeah, it's brutal.
Or even know watching my first special, Animal Furnace. It's solid, but … 
You wish you had more laughs?
There are parts where I could add stuff to the bits. Or even with this one, I was doing some of the material last night and I added some stuff. 
You made it better.
Oh, goddamn it, man, I wish I could subtitle this shit. 
Could you ADR it? Cut to a shot of your back or onto the crowd, and then you'd add the extra punch line and laughter. You should try that.
Maybe. Maybe. Comedy Central, I hope you're listening.
Do you listen back to your performances?
Not all of them. I try to do it. I record a lot of them. 
I always thought that was weird: comics who would religiously record themselves and critique themselves. But, I guess it works for some people.
That's how you do it. That's how you remember how you said something. Because you might say the same joke verbatim but then your tone might be different or your pace might be different or the phrasing. It's just about listening to those intricacies that can make a joke die or do better. And it's tough to listen to yourself over and over. Even editing. I know you edit yourself all the time, so that probably becomes a problem. 
It drives me crazy, yeah. The worst thing is when I'm editing myself and I really wish that I did something funnier for the scene and I look through every inch of material and it's like, Oh, no I didn't. That was it. That was as funny as I got.
It's rough. I was editing the special and my pilot at the same time for Comedy Central. There was one day when I did both sessions in the same day, and I was like Jesus Christ, I don't want to sit here. 
That's a lot of you. I think it makes me better, honestly. I'm hard on myself and I hate watching myself so much that it forces me to be less annoying probably than I would be.
Yeah, well, that. Yeah, it does. I've been able to say that's not funny. "That's me not being funny right there." 
A lot of people can't do that. Or they don't have any perception of whether they're being funny. It's a good skill to have. What's your writing process like?
I carry around a notebook and I put notes in my phone as I come up with them. Or just stuff happens and I try it without even writing it down. 
Oh yeah?
A lot of stuff just comes. 
You're like the Jay Z of stand-up comedy.
Something hits you so much, you know what I mean? Like the New Orleans stuff. I don't need to write. I know all of that. I don't need to write down the specifics, I remember it, because all of it is true.
I used to eat at that place, Coops, every weekend. I remember you'd see cockroaches run across the table and the fried chicken was so good, I would choose to ignore it.
That was either my second or third time eating there, and the food was great. Food was great the time I saw the rat!
But they did have a lot of attitude, the waiters.
He was funny! He was legit like, "So what, there's rats?"
"The fuck you want?"
"We Coops, we Coops, we ballin', man."
I saw someone complain about a cockroach and they kicked them out of the restaurant. Literally, they shamed the person into leaving. Everybody at the bar started screaming at the person.
Get the fuck out of here!
They humiliated him because he didn't want a cockroach in his beans.
That's confidence right there, that's next level.
I wouldn't do that.
That's like me doing just a half-assed comedy set …
And being like "Fuck you!"
"Fuck you! Yeah, so what that shit is racist!?"
That'd be funny. It's something I think about a lot because I listen to rap music and for some reason, rappers are able to get away with shit that comedians and just regular people couldn't. It's totally acceptable to talk about how you are the greatest rapper ever and how everyone else sucks and how fucking amazing you are, and I just think if you did that people would think you were psychotic.
Comedy is basically self-deprecation. And we don't have a beef. We don't have that. Music in general is more able to — I did a show at Largo this week and there was this musician Thundercat and his first song was this song about dying. It started off "we all die, we die," but he had this great voice and the music was good. But then you take it in and it's about dying. It's harder to do a dying joke, but he opened up with a song about death.
I always think rap album skits are funny. Why do they try to be funny? I hate skits. There are some classic ones, obviously, like the Wu-Tang, but it's probably a nostalgia thing more than anything. To me, I'm always so fucking pissed when I try to put on an album and I have to hear what it sounds like when five guys are beating up another guy.
That's the thing. Skits usually work on first plays, but then you listen and you're like, Man, I want to chill and clean my house. I don't want to have skits popping up. It takes you out of it.
They're disproportionately explicit compared to the music, as well. Like, if my mother's around I'm okay playing The Chronic, but if some of the skits come on I'm like, "Nope."
Exactly.
When did you start incorporating music into your comedy? On your special, you had some sound effects and I saw you do "Gibberish Rap" and that was so fucking funny. Do you want to do more of that type of stuff?
Yeah, I just like doing it because I know how to do regular stand-up. I know how to tell a joke and tell a story. So it's just fun for me to bring in different elements. It brings a different energy to the show, especially when people aren't expecting it. They see my stand-up and say, "Holy shit, he's got a DJ? Holy shit! He got six ballerinas?!"
And Ryan Phillippe!
I used to have costumed characters come out, like SpongeBob. It's just fun to make it into this minor event, just to surprise people and experiment and be weird and just have fun with it. I've done just the hour stand-up and that's fun, but the other stuff makes it fun for me and gives me something to react to and bounce off of. Even if it's just for a moment, like "SpongeBob is here!" I love it. Nobody's expecting SpongeBob to pop out.
Has it ever not worked at all when you've tried something like that?
Actually, when we were doing Notre Dame. The show went all right, but when I did "Gibberish Rap" at the end, the crowd was not having it. I did it way harder, like nine more times, "Fuck that shit. Let's do it one more time!"
Like your own Watch the Throne tour?
That's why I did it!
Because they kept doing, what was the song?
"Niggas in Paris"!
Yeah, my friend saw them in Vancouver and they did it 11 times or something like that?
It's funny. They did it in Chicago. I would hear them say, "We setting the record! We did it this many times in New York and now we're doing it ten times in Chicago!" I was like, You're setting the record for a thing that only you do. Nobody else is doing this! It's the funniest thing doing the song over and over. And that song, "Niggas in Paris" is long. My song is 30 seconds.
When I would do stand-up, if a joke I liked didn't work, I would get resentful and try it more. Do you give up on jokes that you like that other people don't respond to?
This is what I'll do sometimes for fun, because the thing is, I try to keep in mind, it's very low-stakes stuff. It's live performance; even if I do poorly, somebody's mad or whatever, but that's not a big deal. If stuff goes bad, I might say, "You know what, I going try that joke again with a different delivery." I'll set it up to a different way, and if that doesn't work, I'll try it again. It's fun to do a joke over and just find it.
I think that's what's so great about your style: It feels conversational. Someone once told me that stand-up comedy isn't a monologue, it's a dialogue between you and the audience. Have you ever just thrown out everything and went up blank?
Nah, I try to go up with some stuff. If I'm working on a new set somewhere, I like to go up with at least two things, and then if something comes up in my head based on that, I like that. I'm not that brave.
You said you are very confident in your ability to an hour of stand-up and you seem to be looking for ways to do something beyond that. I've never been a career planner but do you have anything in your head? Like, I know we're meeting with you in two minutes about the movie [laughs], but do you see yourself doing less stand-up in the future or do you always think you'll do it? Do you have any future planning in any way, shape, or form whatsoever?
I do have a future plan, or things that I want to do, which is create movies that I star in and then start creating projects for other people, like get my own production house — like what you're doing. You have your own projects. You write them with your people and then you produce them, so that's what I'm trying to move into. I know I can get roles, but as far as leads, nobody is going to put me as a lead right now.
You got to do it yourself.
And then maybe people will start pitching you stuff as a lead once you establish yourself as one. So that's my next thing, is to try to write a low-budget thing for myself as a lead.
Do you want to direct?
I've thought about it, yeah.
You directed that Chance the Rapper video. I love that video.
That was funny, too, because sometimes I would forget that I was directing and at one point everybody would look at me and I was like, "Oh yeah!"