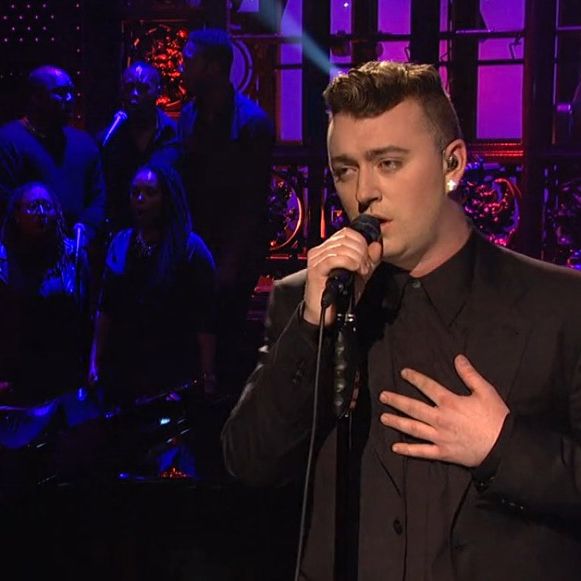 Did you watch this weekend's Saturday Night Live? Louis C.K. did his Louis C.K. thing (which mostly consisted of dad jokes). But what about that Sam Smith, huh? The man with the relatively forgettable name luckily happens to have an extremely memorable voice. He's like your new Adele, except he's a man and he's not quite as angry about his breakup (yet). Here's what you need to know.
Okay, you said he was British.
I did. Smith hails from Cambridgeshire, a small town "in a countryside village in the middle of nowhere." And they love him in the U.K.: In December, the Brit Awards named him the Critics' Choice (given each year to an up-and-coming artist with the best chance for international success). After that, Smith won the coveted top spot in the BBC Sound of 2014 poll. Adele won both in 2008, Ellie Goulding in 2010.
So he's like Adele 2.0?
Not quite. His role models slightly differ: "I've always loved big female voices like Chaka Khan, Whitney Houston, Etta James and Beyoncé." And then, of course, he is a man. As he told the Boston Globe: "All I know is, female voices truly make me feel. Male voices just don't hit that spot."

Does he have the chops?
Judge for yourself. Here he is on BBC's Radio One singing Bruno Mars's "When I Was Your Man."
And an acoustic version of a song he sang on SNL, "Lay Me Down":
I hear the music nerds are into him, too.
Ah, yes — that's because he did a song with the painfully hip British duo Disclosure. He has cool-kid cred, for sure.
Does he do anything that's a bit more … catchy?
Like all good divas, he's already broken into the dance track world. He did a feature on a Naughty Boy track called "La La La," and his "Money on My Mind" (with it's insanely catchy hook) hit No. 1 on the U.K. singles chart. Plus, Taylor's a fan:
Then why was this SNL stuff all so sad?
Maybe it's because his new EP, Nirvana, is all about unrequited love: "I don't think it's spoken about enough in music. I've been through it myself and I found it hard to find songs that were about that, so I've definitely tried to make that a part of my album." And his next album, which will be called In the Lonely Hour (seriously, though, cheer up, Sam Smith!), will be out in June.
Can I get a close-up of that hairdo?
Sure, here you go.