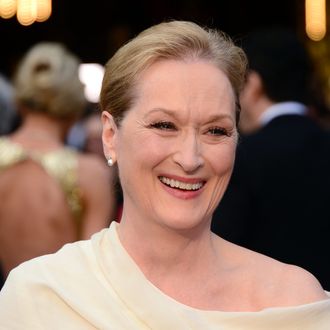 Nominee for Best Actress in "August: Osage County" Meryl Streep arrives on the red carpet at the 86th Academy Awards on March 2nd, 2014 in Hollywood, California.
Photo: FREDERIC J. BROWN/AFP/Getty Images
The Wrap reports that Jonathan Demme, Diablo Cody, and Meryl Streep are developing a project together. Whoa! Forget awards-bait — this is awards-one-of-those-giant-nets-used-by-commercial-fishing-boats. Streep would play a woman who, after leaving her family to move to California to try to become famous, returns decades later to be a mother once again. Universal and Fox have already expressed interest in being the studio thanked at the Golden Globes.