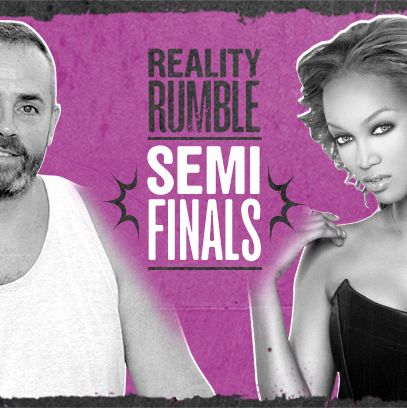 Today we complete the semifinals of Vulture's ultimate Reality Rumble, a bracket to determine the greatest season of the greatest reality-TV shows, from The Real World on. Each day, a different writer will be charged with determining the winner of a round of the bracket, until Vulture's Margaret Lyons judges the finals tomorrow: Project Runway vs. the victor of today's battle between the first season of Survivor and the second season of America's Next Top Model, Yoanna edition. Judging this penultimate round: Reality Blurred blogger Andy Dehnart.
Looked at in stark terms, Survivor vs. America's Next Top Model seems like an unfair fight. Survivor debuted on the Tiffany network, sparked the blossoming of the entire reality genre by delivering holy shit moment after holy shit moment in the players' quest for an outsize million-dollar prize, and the novel concept was shot in exotic lands with plenty of eye-popping nature photography. At the time (before high-def made the early seasons seem fuzzy in retrospect), Survivor felt like a big-budget, unscripted shipwreck movie. Meanwhile, ANTM debuted on the tiny UPN network and looked like it was shot in someone's garage in a week.
But putting aesthetics aside, both shows had equally outsize influences: Survivor, of course, created a vernacular (alliances, being thrown under the bus, blindsiding) that became the lingua franca of what feels like a good quarter of television. But while ANTM has Survivor in its DNA (both force their contestants to compete in grueling challenges while being scrutinized by an aggressive host), Model created a vibrant subgenre of reality: the professional competition. ANTM took American Idol's talent search, stripped away all the screaming fans and popularity-contest voting and added actual advice (some lucid, some less so), paving the way for Project Runway, Top Chef, Top Shot, and countless other shows And while the budget was low, the loopy charisma of Tyra Banks was priceless.
The models are the contestants, but Tyra is the show. Even back in season two, when her ego was far more muted (she sat casually with the girls in the loft, and was introduced with little fanfare, not the shrieking that would accompany her introduction in later seasons), there was still no mistake that it was all about Tyra. Tyra Banks, supermodel, was the one who decided that these girls were worthy to be cast, and she never let them forget it. She was the benevolent leader, the role model who could change your life if you just paid heed to her advice but if you did not, what was wrong with you?
Survivor host Jeff Probst, on the other hand, was not an active judge of his show; he didn't decide who left, the players did. But he was no mere figurehead. Watching him in the first season is a reminder of why "Dimples" was quickly beloved: Coming off a stint as host of Rock & Roll Jeopardy, he was having fun, supporting the contestants, generally fascinated by the social dynamics, and figuring out that he could be viewers' surrogate. Unlike, say, The Amazing Race's Phil Keoghan, he has an important role beyond just explaining the challenges and spouting the show's taglines. He notices body language and calls out tension, and during Tribal Council it is his engaged moderating that can flip a decision or spark a confrontation. When he somberly intones, "The tribe has spoken" upon someone's elimination, his seriousness feels earned; he's been our impaneled jurist forced to declare someone's fate. In recent years, since Probst has become an executive producer, he's gotten more detrimentally aggressive during Tribals. But back in the early seasons, he was full of genuine curiosity as he probed the still-standing contestants about what was going on back at camp.
Each of these show contests gave us unexpected, complicated characters. Richard Hatch, a gay corporate trainer, was an arrogant mastermind and the top outdoorsman, without whose fishing talents his tribe would likely have died. (Man and woman can't live on rat alone.) Hatch confounded all existing stereotypes, right down to the established tradition that TV nudity is for svelte women. And then there was his unlikely "not in a homosexual way" friendship with craggy, 72-year-old former Navy Seal Rudy Boesch. (Rudy's act was not as winning when he popped out of the audience during last May's "Fans vs. Favorites" finale to say the word queers twice, mistaking it for a beloved catchphrase.) The first season also had island sweetheart Colleen, so objectively charming and adorable that she was cast as a lead in a Rob Schneider movie, unfortunately giving birth to the urban myth that reality TV was a valid shortcut to stardom. Competing alongside them were cocky, easily fatigued Gervase; straight-talking and ultimately crazy-talking Sue; and clueless Dr. Sean, the neurologist who loyally stuck to his nonsensical strategy of voting for people alphabetically.
Top Model had a cast that was not diverse in age or sex or looks but were still distinct in other ways, like their motivation for coming on the show in the first place. Eighteen-year-old Catie moved out to L.A. to single-mindedly pursue modeling ("This is what I'm doing"), while 23-year-old April from Miami left her Fortune 500 gig to join a reality show "for fun. So, we'll see!" Eventual winner Yoanna hired a trainer to drop 50 pounds so she could model high fashion, while Shandi gave herself a mini-makeover (and embraced her gawky stature) to transform from a geek into a model.
It also offered an exceptional panel of judges and mentors who wouldn't be believable in fiction. Outspoken Janice Dickinson branded herself as "The First Supermodel Ever," taking the Simon Cowell persona to a whole different level. She actually gave a lot of constructive criticism with shockingly great lines,  such as when she insisted one of April's photos made it look like the battery in April's vibrator was dead. Her wacky behavior would escalate to be too much even for Tyra, who kicked her off the judges table after season four, but when she was there she helped Tyra create ANTM's vague and memorable form of criticism. "Don't do it like this," they'd cry. "Do it like this," slightly adjusting the spine of their backs. (Tyra's own signature "smize" would appear in later seasons, a practically un-teachable movement through which you could indeed shine from within and change your entire look.) Further down the judging panel there was also "famed fashion photographer" and lech Nigel Barker and industry insiders J. Alexander and Jay Manuel – who each became reality show personas in their own right: "Queen of the Catwalk" J. Alexander with his runway walk and makeup artist Jay Manuel with his bleach blond tips.
These judges determined the models' fate, but on Survivor, the cast's success was entirely up to themselves, which is noteworthy for a show with such a heavily constructed context. We've come to expect producer manipulation in reality shows, but the bitter feelings that linger in Survivor contestants long after the finales indicate that the backstabbing is come by honestly. Such was the wonder that first season of watching Richard Hatch, who seemed, at first glance — surrounded as he was by mostly young, fit players — to be not long for the island. It was mesmerizing to watch him so masterfully steer the game exactly where he wanted to go, and him right to the million-dollar check that he preemptively laid claim to on Day One. He was the architect of the alliance strategy that would define the game for the rest of its existence.
There was less of an arc for doe-eyed ANTM winner Yoanna, whose flawless bone structure impressed the judges from the start; her only obstacle seemed to be her historical weight struggles, as the judges kept commenting on an apparent "muffin top" visible only to the X-ray eyes bestowed by Anna Wintour on those who grace the pages of Vogue. Really, it just seemed like the producers needed to construct something to present a challenge for her: The show thrives on manufactured drama. Presented with an opportunity for infidelity via a hot tub full of half-naked Italian models, Walgreens employee Shandi promptly cheated on her boyfriend. She then called the poor guy to confess, her loud and desperate sobs captured for all of eternity. While she folded herself into the fetal position, he alternately wailed and screamed over the phone: "You had sex?!" "Oh my god!" Meanwhile, the castmates on Survivor were so preoccupied with the mental gameplay, so physically exhausted by the challenges of finding food and racing through competitions, that devoting any energy to romance would have seemed laughable. (Also, it's hard to think of sex when you are reekingly filthy.)
Survivor was simply more refined television from start to finish. Probst's closing line, "the tribe has spoken" is grandly poetic compared to Tyra's "you're still in the running towards becoming America's Next Top Model." While Top Model's second season was shot as if by the camera crew from COPS, Survivor's cameras captured memorable tableaus: contestants splashing into the water as they were marooned, or standing on a balance beam, silhouetted by the evening sky.  Top Model took its cast to Italy toward the end of the season, but they might has well have just used a soundstage; the environment wasn't part of every moment, the way the island was an all-consuming force on Survivor. Survivor had that undeniable weight and scale from its first minute to its last, on the darkened Tribal Council set with its flickering fire. Top Model's eliminations took place on a set that looked like a sitcom version of a low-rent massage parlor, potted plants and all. For a show allegedly all about class and elegance, it came off extremely low-rent. Everything the show asked its contestants to be, it was not.
Top Model may have been able to change a girl's life, but really, all it asked was that she take good photographs and walk well. Tyra Banks requires her contestants to be quick-thinking, pliable, and resilient — but mostly, it is their beauty that makes or break them. And how much drama is there, really, in a game whose outcome is determined by genetic factors far out of the players' control? Survivor never gave contestants an opportunity to leverage their beauty, or any other advantage they relied upon in their day-to-day lives. The island is its own civilization, one that calls on untapped reserves of physical strength and mental acuity. Contestants are asked to play a strategically challenging and emotionally taxing game, all while experiencing genuine fatigue and starvation. That's real drama.
Winner: Survivor
Andy Dehnart is a writer and TV critic who publishes the reality-TV blog Reality Blurred and teaches at Stetson University. Follow him on Twitter @realityblurred