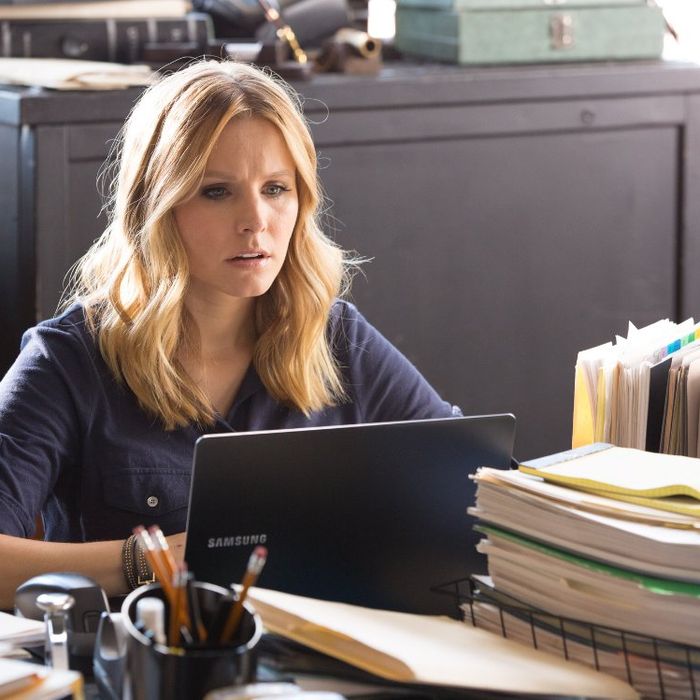 Photo: Robert Voets/Warner Bros.
When it went live in April 2013, the Veronica Mars Kickstarter campaign made $5.7 million, nearly triple what it set out to raise. Dollar-wise, the fund-raiser for this little high school reunion that could was an unqualified success. But what about feelings? How satisfied are the fans? Was the movie any good, or just an excuse to get the gang back together? We talked to three levels of donors (at the $35, $50, and $100 levels), as well as one who kicked in $2,500 to be a featured extra, about their experiences.
The $35 donor: "I was not thrilled with the digital experience."
"I wasn't a superfan," Liz Shannon Miller, a tech journalist in L.A., wants to clarify. But "when the Kickstarter campaign came up, I didn't really hesitate at all in terms of supporting it. Especially because I knew [the campaign] included this tacit understanding that Warner Bros. was onboard."
Miller pledged at the $35 level "because honestly, it sounded like a great deal." The gifts — a digital version of the movie, a T-shirt, and a PDF of the shooting script — seemed to be more than worth the cost to her.
She was plenty frustrated with the download process, so much so that she wrote a piece about it. "I am not thrilled with the digital experience," she said. She pointed out that Flixster, the digital distribution service used to get the movie to the fans, is owned by Warner Bros. and is far from the only way (or the ideal way) to get content to viewers, who are much more comfortable with iTunes and streaming downloads. Viewers had to set up multiple accounts, remember passwords, and deal with failure to play issues. A whole lot of effort for something that was supposed to be a "reward." But "I'm not going to make a big thing out of it," said Miller. Also: "It's a really good T-shirt!"
Part of her satisfaction stems from her general approach to Kickstarter campaigns: "I try to approach them as a transaction" and thinks they could have gotten away with charging more for the same prizes. She enjoyed the movie, though, and is proud to say that "I was part of a movement of people who told Warner Bros., yes, you should invest money in making this movie happen."
The $50 donor: "It's like reuniting with an old friend."
When Sally Dadisman was in college, she and her roommates "had a huge, HUGE, bus-stop-size poster of Veronica Mars," a promotional ad from when the show switched over to the CW. "It was in our apartment for two years." So she was all in when she heard about the Kickstarter. "The only reason I waited until that night [to donate] was because I couldn't figure out how much I could afford to give." She ended up throwing in $50. "If I were rich, I would maybe have had the walk-on role."
What the Kickstarter provided for Dadisman was "a sense of community," she said. "It was a really fun way to celebrate something that had been a big part of our lives. I'm 28 now, and I think that [my college friends and I] all feel older, and we're coming up on milestones in our lives. And there's something about the fact that this is something we all shared, when we were growing up and becoming — not to sound cheesy — but becoming the people we are now. To go back to that, it's like reuniting with an old friend."
Flixster didn't work for her, even though she tried to download the movie five times. "I am a very patient person," she said. "And I'd already seen it in the theater." But at least the people who vented about their frustrations didn't go unnoticed, she said. "Because of Kickstarter, your complaints weren't from some random fan. Rob Thomas and his team recognized the investment that you made … They wanted to do anything to make you happy."
Dadisman thinks the Veronica Mars team "did an excellent job" on the film but allows, "You have to go into it with the right expectations … The movie was basically a glorified reunion episode."
The $100 donor: "Honestly, I was actually really disappointed by the movie."
After the too-soon cancellation of Veronica Mars, "It seemed like a waste to not have a movie," said Matt Smith, a social media director in Los Angeles. "It just wasn't watched by enough people. I'm glad that the movie exists so people can experience the greatness."
When Smith saw the Kickstarter page go up, "I kind of lost my brain a little bit … All of my feelings for the show just came screaming back, like: YOU LOVE THIS SHOW. I was losing my mind on Twitter for a bit. Like, I am backing this." The $2,500 level didn't appeal to him — "I don't feel the need to be an extra in anything" — so Smith donated $100, the most he's even spent on a Kickstarter campaign. "I made it a point to throw in early," within two hours of the posting. "I thought it was going to need a lot more support than it actually ended up needing."
Smith doesn't have Flixster, but he could get to theaters to see the movie (he managed to get to an early screening five months ago) and is getting the Blu-ray DVD. But "I think the digital copy thing was probably their biggest mess-up," he said. "It makes me wonder how much time they spent working on it. Because it doesn't seem like it should have been terribly difficult. They have Warner Bros. at their back."
And another thing: "Honestly, I was actually really disappointed by the movie … I was really struck by how much it's about catching people up. There's a lot of exposition in it, there's a lot of stuff that's very fan service-y." The "tons and tons and tons" of callbacks don't make for a complete, stand-alone story.
Still, Smith appreciates that Veronica Mars "exploded Kickstarter" and inspired a new slew of go-to-the-fans fund-raisers for Zach Braff and Spike Lee. Smith is also psyched to see how the movie "reenergized the entire franchise" and is excited for the new novel, Veronica Mars: The Thousand-Dollar Tan Line, part of a two-book deal by Rob Thomas that will pick up where the movie left off and comes out March 25. "Veronica Mars was basically dead. It was dead. And now, all of a sudden, it's something tons and tons of people are talking about."
The $2,500 donor: "It was everything I wanted and then some."
Lisa Valentine "was crushed" when Veronica Mars got canceled oh those many years ago "and was hoping it would come back in any way ever since," she said. "I am one of those who has been actively advocating for it since 2007." Valentine kept tabs on Kristen Bell and Rob Thomas on Twitter and, as soon as the Kickstarter news broke, "I knew [being an extra] would be a once-in-a-lifetime experience." With the help of her grandparents and a sibling, she pulled together the $2,500 she needed to be a featured extra. (Even her boss and co-workers were supportive, despite the fact that Valentine, who works in politics, had to take off a full week of work during an election year.)
Valentine spent two days on set along with about 25 fellow Kickstarters. They all woke up "at like 5 a.m." for hair and makeup, arrived on set by seven, and stayed until ten at night. In addition to getting some quality face time with Veronica Mars herself, Valentine met Kevin Sheridan, Sam Huntington, Krysten Ritter, Jason Dohring, Amanda Noret, and Ryan Hansen, who "is hilarious in the movie and he's hilarious in real life."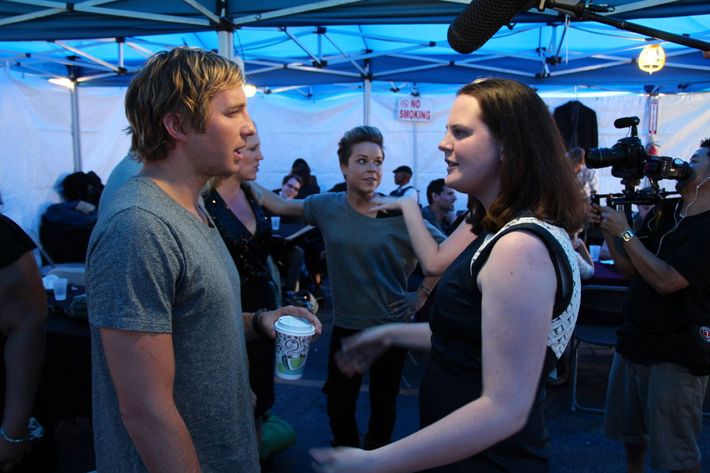 Valentine was nervous to meet Bell, but swears the voice of Gossip Girl is "very approachable." The two bonded over a shared loved of Game of Thrones; Bell had just watched "The Red Wedding," "so she was freaking out," said Valentine. "She was definitely a huge fangirl."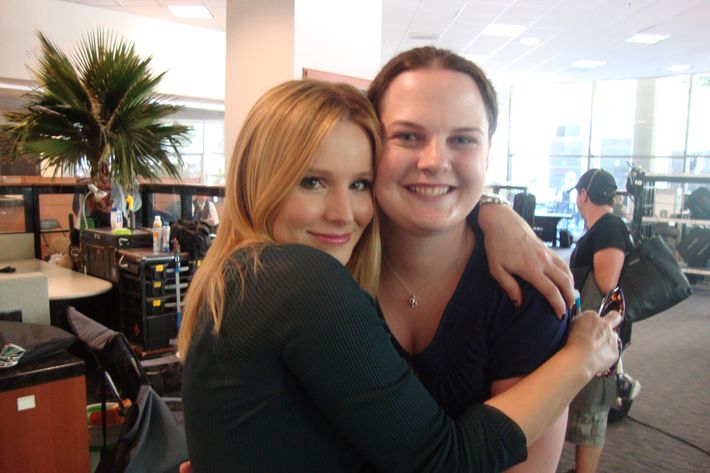 "During breaks and lunch, the entire cast would come, sit next to us, tell stories, take pictures … They would record messages and voice mails to friends and family," said Valentine. "They went above and beyond to make us feel like our little part was just as important as everyone else there."
Valentine's only regret? That she didn't donate more. She wishes she'd scraped together an extra grand to have been able to attend a premiere. "I flew back out to L.A. this weekend just for the chance to see them again" at an event that cost $500 to attend.
What Valentine really wanted from the movie, she said, was closure, and that's exactly what she got. "The movie was so well done. It was everything I wanted and then some."
Not to say she'd argue with a sequel. "I really hope it's not the end."