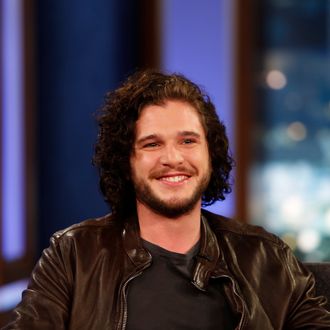 Thanks to a cover story from this month's GQ, we're going to have to make some sort of annotation to our Whose Butt Have We Seen on Game of Thrones? quiz, because according to Kit Harrington (who plays Jon Snow on the HBO series), we have not (yet!) seen his butt:
By happenstance he has so far evaded even the little that has been asked of him in this respect. In the show's last season, after Jon Snow has been lured into a cave by the wildling Ygritte and seduced, Harington is seen naked from behind jumping into a rock pool. Except, as it turns out, it wasn't him at all. "When it came down to it I had a broken ankle," he says, "so the only time you saw my ass, it wasn't my ass." … In the end, they shot around him and, to Harington's chagrin, a crew member with long black curly hair of his own that he was particularly fond of had to cut it to match Harington's and act as his stand-in.
But it's not like he isn't totally game (when in good health): "It's only right, if you're going to make a show where nudity and sex is a large part of it, that you be a part of that." See you (and hopefully your ass) this season, Kit.