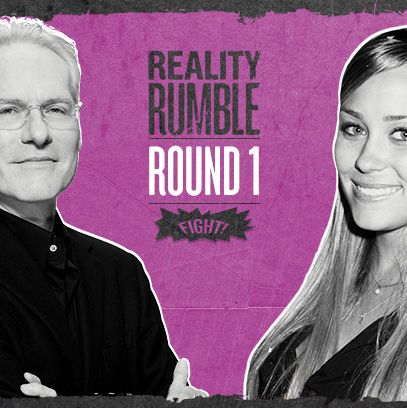 Photo: Everrett Collection and Getty

Vulture is holding the ultimate Reality Rumble to determine the greatest season of the greatest reality-TV shows, from The Real World on. Each day, a different writer will be charged with determining the winner of a round of the bracket, until Vulture's Margaret Lyons judges the finals on March 25. As round one continues, author Emma Straub pits Project Runway's second season (Santino vs. Andrae vs. Kara) against the first season of The Hills, when Lauren first moved in with Heidi.
Reality television can make something out of nothing, a feat both of today's combatants accomplished in wildly different ways: Project Runway is a show that conjures a workplace out of nothing, and The Hills conjures a plot out of nothing. It is an unfair fight. The Hills debuted in 2006 as a high-gloss, quasi-scripted sequel to MTV's Laguna Beach, a show put on the air in the hysteria surrounding the success of Fox's (vastly) superior drama, The O.C. The Hills followed Lauren Conrad, one of Laguna Beach's graduates, to Los Angeles, where she moved to go to fashion school and live with her bestie Heidi Montag. The show tracked the two girls and their friends and bosses and boyfriends, all while Natasha Bedingfield sang in the background. (Note: I've decided that Natasha Bedingfield is the unsung hero of The Hills, the presiding angel, and I would rather befriend her than any of these crones-in-waiting.) The show was watchable (more than watchable — addictive, even) because it felt like snooping on a low-rent sorority house. The girls were neither smart nor driven, but they were cute, and most important, willing to bare their souls. On the other hand, Project Runway was one of the first of its kind, a reality competition show wherein the contestants had miniscule amounts of time to cut, drape, and sew clothing. Out of nothing! Out of bolts of fabric! Can you imagine?! I couldn't. That's what I love the most about Project Runway: Like its little sister Top Chef, Runway offered a new vocabulary to the viewer. It forced us to think about hems and seams and how hard it is to craft something with only your two hands and a sewing machine. In short, Project Runway was a show about working hard for a goal, and The Hills was about people who had never worked a day in their lives.
If all reality shows are inherently fake, I will always choose the one that feels the most real. And the second season of Project Runway, off in the distant past of 2005, gave us some of the great candid moments of that golden era of reality competitions. The editors weren't yet on their A game, and much of the season feels like a blooper reel, in the best way possible. Unlike The Hills, which occasionally reads as if cue cards are being held just to the left of the camera, Project Runway felt wonderfully loose. Season two of Runway introduced several memorable designers — the cocky and hilarious Santino, the dramatic Andrae, sassy Kara Janx, adorable Daniel Vosovic — and further cemented the television fame of host Heidi Klum, judges Michael Kors and Nina Garcia (whose names I can only pronounce in Klum's accent; they are seriously impossible to say otherwise), and mentor and sweetheart Tim Gunn. In an age of quick cuts and manufactured story lines (I'm looking at you, Bruce Jenner's putting green), Runway really did let things unfold as naturally as possible.
The camera lingers on the designers in the work room because they are always in the work room. The designers spend hours talking about a dress's neckline, or about the way a certain fabric pulls at the seam. (I can imagine the Bravo executives, when first pitched the show, sitting around a conference table, saying, "We watch them do what?") Making clothes isn't glamorous, even when the adorable models come sashaying in — the designers are often running behind and the models are put to work helping glue things together. While Runway was ostensibly model/host Heidi Klum's television baby, the designer's mentor Tim Gunn was the series' breakout star. Tim (everyone calls him that, not just me) is Runway's real gift to the world — he's supportive and encouraging while never blowing smoke. He's earnest and willing to admit when he thinks something is hideous. He is the anti-reality-TV star: There is no drama, and he always tells the truth. If we could all channel Tim Gunn in challenging situations (reading a friend's novel, meeting a brother's new girlfriend), the world would be a better place.
And The Hills, certainly this early on, when Lauren and Heidi and their neighbor Audrina Patridge are all still gamely pretending that the show is not their main source of income, is as fake as they get. Watching Heidi introduce Lauren to Audrina in the first episode is like a Real Live Version of Melrose Place, where neighbors in L.A. are automatically friends and eventually someone is going to end up dead in the communual swimming pool. (Spoiler alert: If I were pitting Melrose Place against Project Runway, Melrose Place would win.) Though the girls aren't as glossy and polished as they would become by the series' end (Lauren has inexpertly plucked eyebrows and childish pimples, and Heidi is fresh-faced and adorable, which is extremely depressing when you look at the Barbie doll she's surgically become), the situations are laughably set up for the sake of drama. Lauren somehow (oh, the luck!) lands an internship at Teen Vogue, where she sits next to the tall and lovely Whitney Port, the only one of this ragtag bunch who looks genetically cut out for a life in fashion. Ah, fashion. The girls do talk about clothes, a bit, but only in the context of what to wear to an "interview" to a "job" the producers have already secured for them. Their short skirts and strappy tanktops and big sunglasses are regulation shopping-mall attire. The Teen Vogue L.A. officemates wouldn't last a day at the Condé Nast building, that's for sure.
Being on the set of The Hills would be the perfect torture for anyone eliminated on Project Runway. I would pay several dollars (maybe as many as ten) to see Santino, the gangly, egocentric enfant terrible of Project Runway's second season, forced to sit in the broom closet that Teen Vogue pretended was an actual office for Lauren and Whitney. If one thinks about the two shows as parables about the fashion industry, the moral would be this: Work hard, and you will be able to make beautiful things, even if you drive a Saturn. Be terrible at your job and cry a lot for no good reason, and you will be rewarded with an astronomical salary, a beauty empire, a string of YA best sellers, and a fiancé named William Tell. America, I hope you're proud of yourself.
This is not to say that there isn't a certain demented joy in watching carefully manufactured reality shows. For example, I find the Kardashians very funny: Kourtney's partner Scott Disick may not feel a hundred percent happy with his life (I can't imagine that being paid to show up at nightclubs is very soul-enriching), but he sure as hell knows how to make fun of his in-laws. When someone on The Hills makes a joke, it's like seeing a unicorn in the wild.
Whitney, whose entire job on the show consists of asking Lauren if she's okay, comes the closest to having some kind of charisma, but she's no Santino. She's no Nick, the neatly goatee-ed fashion professor who clearly loved talking shit about his fellow designers. She's more like a Disney princess version of Andrae, Project Runway's requisite drama queen, with all his emotional outbursts stripped away, leaving only his put-on accent and delicious eye-rolling.
I think the problem is entitlement. The contestants on Project Runway, even the young ones like little swooshy-haired Daniel Vosovic, have clearly spent years bent over a sewing machine. They are skilled obsessives. Chloe Dao, who won this season, made an entire dress out of leaves, gluing each one perfectly into place, and from my spot on the couch, it looked like Diane von Furstenberg perfection. Leaves! These people are not fucking around. Without exception, the men speak of being teased for their fashionable predilections. Neither Lauren not Heidi nor Whitney nor Audrina has any palpable ambition, nor have they overcome any type of adversity other than not being prom queen. (Note: I did not fact-check this. They may all have been prom queen. In fact, I would demand a recount if Whitney Port's classmates did not give her the crown.) Lauren majored in product development at FIDM, and I suppose she'd been a wild success, if the product is herself. Heidi wanted to major in "the party scene," and when she and her lunkhead boyfriend split up at the end of the season, she and Audrina make a poolside pledge to party all summer. Oh, girls. You make me want to join the Bling Ring and steal your terrible purses and fliphones.
Why did MTV feel that romances were so key to this show's success? I suppose we should blame Sex and the City, or maybe Jane Austen. The marriage plot is a good one, and it's worked for hundreds of years — but not with girls this young. It makes me feel ill that Lauren Conrad didn't go to Paris because of a boy with a chin-strap beard who wore Ed Hardy T-shirts, but it makes me feel even more ill that MTV presented it in a way that made it feel like a momentous decision. Jason Wahler and the schmohawks dating Heidi and Audrina are nothing more than beer pong players. They all look and act like they own stock in Rohypnol. MTV was brave to highlight how truly repugnant the boys we all fall in love with at 19 really are. Jason stands for such a specific moment in time — when the bad boy wasn't the recovering alcoholic Dylan McKay, another rich boy from California — but an alcoholic in training, a kid at the very apex of his appeal and popularity. It is sad to watch Lauren fall for him, and watching people make bad decisions has always made for wonderful television. (See also: The Bachelor.)
The only romance on Project Runway was Santino's hilarious fantasy about Tim Gunn and Andrae, the season's most dramatic crybaby. In Santino's ongoing improvisation about Tim and Andrae's secret love affair, Tim and Andrae go to the Red Lobster, they fight, they make up, all told in Tim's low and sonorous voice. It's that episode that clinches the season for me, and thus, this round of the tournament. These designers didn't know each other before walking in the door — all they necessarily have in common is their profession. And yet, here they are, sharing an office, like so many of us do, making friends and having fun in between tasks. The show demonstrates beautifully how hilarious an office can be. The designers spend all their time together, and get on each other's nerves. But in the best moments, when they're goofy from exhaustion and missing their friends and their families, they're having actual, real fun. There was no real fun in that veal-size room at Teen Vogue, and certainly there was never any fun over at Bolthouse, the publicity firm where you can see Heidi's minimal self-worth diminishing on a daily basis.
The best moments on Project Runway are awe-inspiring. When the designers are asked to make dresses out of materials in the flower district, they spend a hundred dollars and sew something that looks like it cost thousands. Santino made dresses that looked like what mermaids might wear: knotty and flowing, complicated and lovely. Chloe made dresses that I would wear every day, simple and bright and easy, like the best dresses in your closet, things that would always flatter your body because they were made with actual bodies in mind. I would rather watch someone's spine curl over a sewing machine than watch some girl cry because her boyfriend doesn't pay enough attention to her on her birthday. Unlike Girls, a show that has ostensibly the same premise, The Hills doesn't play any of this for laughs. Birthdays, are, like, super serious, you guys.
All this aside, I wish Lauren Conrad the best. I thank my lucky stars that cameras weren't following me around when I was 19. I wish Santino and Chloe and Daniel Vosovic had fashion empires to rival their perma-tanned judge Michael Kors. Most of all, I wish that everyone on the planet was as good-hearted as Tim Gunn. Kindness might not always make for good television, but sometimes, it does.
Winner: Project Runway, season two
Emma Straub is the author of three books, including The Vacationers, out in May from Riverhead Books.