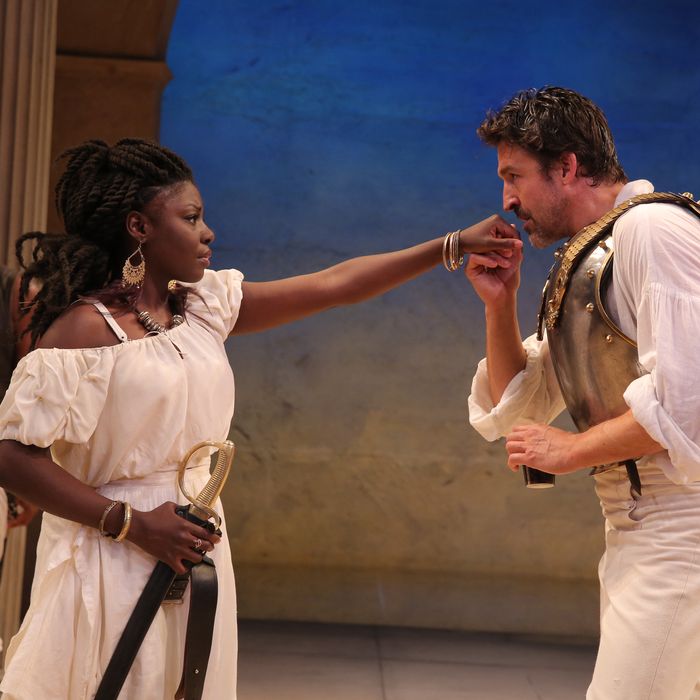 Chivas Michael, Joaquina Kalukango, and Jonathan Cake in Antony and Cleopatra, at the Public.
Photo: Joan Marcus
The Public Theater, kindly giving local Shakespeareans a break from the exhausting parade of King Lears, is offering a "radical edit" of Antony and Cleopatra by the 32-year-old playwright and 2013 MacArthur fellow Tarell Alvin McCraney. Edited or not, Antony and Cleopatra, written around the same year as Lear, poses some of the same difficulties; its story, though brilliant in précis and overflowing with beautiful poetry, plays out like a deliberate exercise in diminishing returns. Some three dozen characters speak, not to mention supernumeraries; the action careens almost drunkenly about the Mediterranean; and what started as an exquisite rarity — a study of passionate love between great equals — winds up as a count-the-corpses Grand Guignol.
So I happily grant McCraney, who also directs this production, his scissors and paste and (as it turns out) watercolors. Sensibly enough, he has mostly cast Cleopatra and her coterie with black actors while Antony and his are mostly played by whites. But other colors come into it. Over the play's main settings of Egypt and Rome, McCraney has overlaid a wash of nineteenth-century colonial Haiti and imperial France. Tom Piper's set design is dominated by the blue of ocean and sky, with a shallow pool upstage and billows of fabric above. As you get seated, musicians are playing "Yellow Bird." Meanwhile, Piper's costumes for the Romans are dominated by scarlet military coats with brass buttons and foppish square-toe shoes with exaggerated tongues. Octavius Caesar (the excellent Samuel Collings, thin-lipped with menace) is a flat-out Napoleon; Cleopatra (lovely Joaquina Kalukango) a sassy Haïtienne in resortwear. 
This is not radical. Period substitutions are basically de rigueur in Shakespeare today, and McCraney's, which involve some Caribbean dance numbers and island chanting, do little harm. On occasion, they are even enhancing. Something of the Roman disdain for Egypt, and vice versa, is beautifully captured in the way they do or do not show their bodies, in their accents, in their hair. And when the Egyptian handmaidens bind a pair of Cleopatra and Antony dolls together in a sash, invoking a kind of voodoo, you understand something deeper about their mistress's famously fiery and changeable temperament. With the Romans and with her particular Roman, she's operating in a world, unlike her own court, she cannot control by wiles alone.
But whatever the imported scenery, an Antony and Cleopatra will always come down to the actors and the text. Because this production was assembled by the Public along with the Royal Shakespeare Company and Miami's GableStage — McCraney is from Miami — it features a cast evenly divided between Brits and Americans. (All are good.) Kalukango, such a revelation in Katori Hall's Hurt Village two years ago, grew up in Atlanta; her Antony, Jonathan Cake, in Sussex, England. They are well matched to the roles (Cake is a hunky 46; Kalukango in her mid-20s) and to each other. You never waste a minute, as you are forced to in many A&C combos, wondering why he abandons his world-dominance responsibilities for a middle-aged lady in nude Spanx, or why she is so desperate to waylay some warbly grandpa with a combover. These two are beautiful and passionate, and have the skill to speak beautifully and passionately as well: he in the received manner (as befits Antony) and she in always unexpected parsings of the well worn lines.
There are fewer of those lines, though; McCraney has pruned wickedly. The sentries and courtiers and other contrived personages who describe what has just happened or what's about to be shown, like maids in a French comedy, are mostly dispensed with; good riddance. By merging characters in sometimes provocative, sometimes confusing ways, McCraney gets the cast down to a very trim ten. In the process, Enobarbus, Antony's closest friend, becomes a de facto narrator, sometimes even reading the stage directions. He is given this version's opening lines (grabbed from a famous speech in Act Two) and also, in the guise of a Haitian spirit of the dead, the last lines, stolen from Caesar. If this promotes Enobarbus above his station, Chukwudi Iwuji is a skillful enough young actor to make that immaterial.
Of more consequence is the way groups of characters are sometimes assigned to one actor. Chivas Michael plays Cleopatra's eunuch, Mardian, for instance, but also her gender-ambiguous soothsayer and Antony's quailing servant, Eros. In that last manifestation, with the ghosts of his previous incarnations hovering about him, he cannot help but upstage Antony's final dilemma with his own. (He flounces and flutters but does the brave thing.) And when Cleopatra's handmaiden, Charmian, reappears as Menas, one of the Roman traitor Pompey's pirate pals, is she still a Roman, still a woman? At any rate, she kisses Enobarbus and invites him suggestively for a drink. Is it a gay thing? If so, to what end? If not, are we to assume we've encountered a woman pirate of the Mediterranean?
Well, no matter; it's a play about the confusing prerogatives of sex, and McCraney has, in previous works like Wig Out!, expressed an interest in the power structure of gender and gender illusion. Thus, I wanted to see how he would handle the one overt textual reference to the subject, when Cleopatra describes dressing Antony in her clothes ("my tires") and outfitting herself with the very emblem of his masculinity:
That time — O times! —
I laugh'd him out of patience; and that night
I laugh'd him into patience; and next morn,
Ere the ninth hour, I drunk him to his bed;
Then put my tires and mantles on him, whilst
I wore his sword Philippan.
But McCraney has cut it.
Still, as the scenes piled up and the actors hustled to embody various dead bodies, I wished McCraney had been more radical, not less. His production, despite a laughable solution to the always bedeviling problem of Cleopatra's asps, is too tasteful, and yet not tasteful enough. Still, I applaud the effort to wrestle difficult Shakespeare onto the contemporary stage without undue reverence, and I hope McCraney is willing to try again. But please, not King Lear. Whether that snuff drama is set in Trenton or Tahiti, I'm tired of it. 
Antony and Cleopatra is at the Public Theater through March 23.