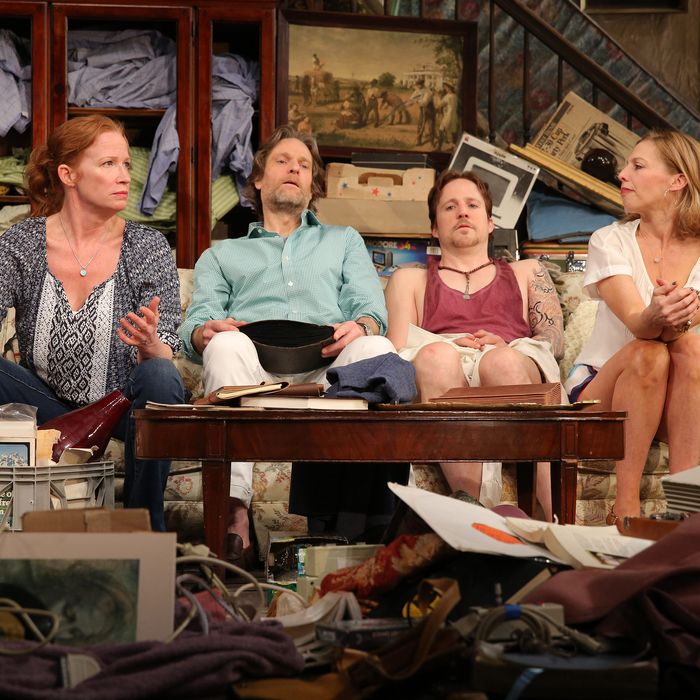 Tolstoy never really proved his thesis that every unhappy family is unhappy in its own way. But the three messed-up ménages in residence at the Signature Theatre these days — one martialist, one minimalist, and one maximalist — certainly do. In David Henry Hwang's Kung Fu, on the Diamond Stage, Bruce Lee is constantly humiliated by his father, even from beyond the grave. The unnamed inhabitants of Will Eno's The Open House, at The Linney, are so emotionally defective they must each be replaced, like Brand X toasters past their warranty. And then there are the Lafayettes, screaming, drinking, and hair-pulling their way through Branden Jacobs-Jenkins's Appropriate, at the Griffin. They make the other clans look like Cleavers, and make you want to wield one.
The setup wasn't new when Horton Foote used it, more than two decades ago: Three screwed-up adult children gather at their late father's homestead to divide the estate and devour each other. In Jacobs-Jenkins's play, though, the homestead — an old Arkansas plantation house — is a hoarder hovel, less Tara than Collyer Brothers. (The terrific set is by Clint Ramos.) And the inheritance, as stopwatch-timed revelations reveal, isn't just meager, it's horrific, implicating even the young grandchildren in the buried crimes of their slave-owning heritage. Whether that heritage is the source or just the symbol of the family's awfulness is moot, just as we can never know whether the paterfamilias — apparently a racist and anti-Semite — disliked his daughter-in-law because she is personally annoying or because she is a Jew. In any case, once a photo album reveals the old man's secret, there's nothing for the family to do but use it as an excuse for the airing of decades, if not centuries, of resentment. And that's just Act One.
The play is as overstuffed as the house, but at least the house gets cleaned during the action. The play just gets more cluttered. Starting with the title, which is awkward whether understood in its verbal or adjectival sense, Jacobs-Jenkins wants things both ways and ends up with neither. Is Appropriate a comic tragedy? A tragic comedy? No, just a mess, undercooked and overexplained, with enough pregnant symbols (dark lake, shrieking cicadas, two graveyards) for an Ibsen festival. Under Liesl Tommy's direction, the leading actors, all better elsewhere, have no choice but to hack their way through the emotional underbrush, shouting their arias of self-pity as they go. 
Granted, great plays have been written about some of the same kinds of characters: viragos, pedophiles, wingnuts, dingbats. But in — let's say — Who's Afraid of Virginia Woolf? or How I Learned to Drive,  the playwright finds ways to seduce us into accepting his creatures as real and even attractive. That doesn't happen here. The Lafayettes are under no one's control; all you want is to get away from them. Fortunately, people like that don't live in real houses. They live only in theaters, and you get to leave them there.