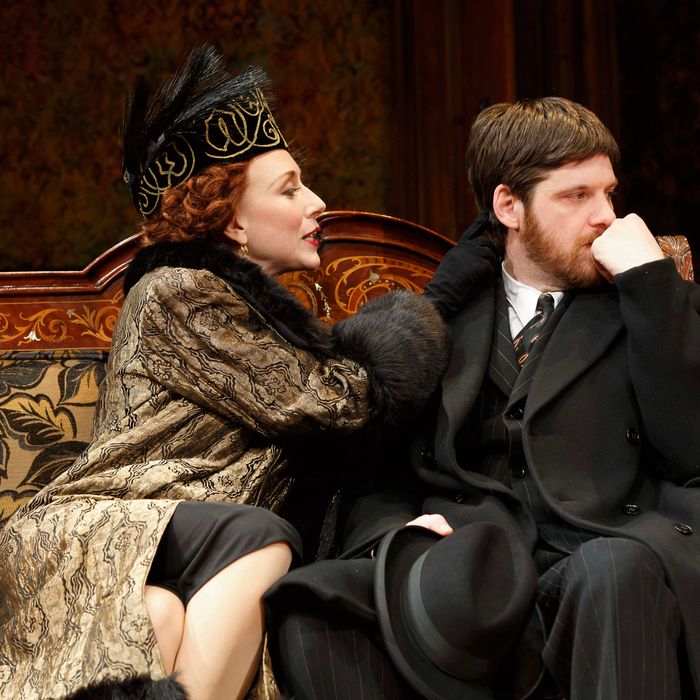 Tales From Red Vienna.
Photo: Joan Marcus
A man enters a woman's apartment and, after leaving a few bills on a tray, enters her. That the scene takes place behind a lace curtain drawn decorously across the front of a dim stage does not render it any less clear. Nor does the curtain of time obscure much. (The number of buttons on the woman's garments tells us we're in a bygone era.) Coital grunts and pantings are, presumably, a constant throughout history, if human nature is itself constant. But is it? Is human nature even a constant in any one life?
It's something of an achievement that David Grimm's Tales From Red Vienna, a Manhattan Theater Club production, manages to raise these questions despite being a jumbled soap opera with no discernable point of view. Or perhaps it's merely an accident. Set in Vienna in 1920, the play tells the story of Heléna Altman, one of the many impoverished young war widows left to their own devices after Austria's defeat in World War I. (No pensions for losers!) Still attended by her loyal old maid, and still undermined by her childhood frenemy "Mutzi" von Fessendorf, she moves through the stages of grief for her husband: stages that apparently include lovely mourning-wear (by Anita Yavich) and late night walks on the Gürtel, trolling for customers. One of them, a Hungarian named Béla Hoyos, has further designs on her — but very little of the rest of the plot can be described. Not because it would give too much away but because it would make too little sense. Suffice it to say that if her husband's death has rendered Heléna a Nora, free to find herself beyond the constraints of marriage, unexpected events threaten to lock her back in the dollhouse.
Astonishing curtain revelations (there are three acts) can be fun in a farce, or effective when handled with care in serious material. But Grimm, so adept with period pastiche in works like Measure for Pleasure and The Savages of Hartford, can't seem to keep his eyes on the road here. The tone — now romantic, now schmaltzy, now Ibsenesque — wheels round and round, circling the plot as the Gürtel does Vienna. (Grimm's many embarrassing topical references include shout-outs to "that Freud fellow" and "some sort of nationalist uprising" in Berlin.) Even the diction spins two ways at once, sometimes sounding like mistranslated Downton Abbey fancytalk ("I account you both good friends") and other times like Aunt Sassy sitcomery. ("Now you've given him a stiffy," says the maid.) Nor is this problem superficial. When we can't track the social limitations imposed on characters, we can't understand what's preventing them from acting in their best interests. As a result, the drama dissolves. This is especially disastrous for our attachment to Heléna, who is left barely characterized at the center of the action: a MacGuffin in her own play.
An actress as vibrant and sympathetic as Nina Arianda — so fine as another Austrian free spirit in Venus in Fur — might have been expected to counteract if not solve that problem. Alas, she's at sea here, incapable of making sufficient connection to the character or the period. If she seems pouty and confused, I assume any throughtful actress in this situation would too. The rest of the cast, under Kate Whoriskey's erratic direction, fares no better, except for the redoubtable Kathleen Chalfant, who at least provides vocal authority as that unlikely maid. "God gave you a right hand for a reason: use it," she commands a grocery boy. It's a line that transcends time, at least in sounding as false today as it does in Grimm's fantasy Vienna.
Tales from Red Vienna is at New York City Center Stage I through April 27.