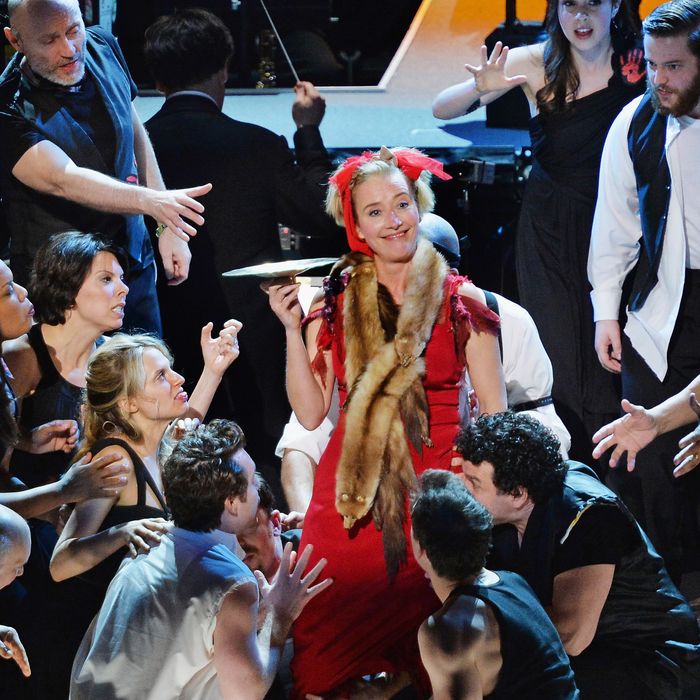 Emma Thompson in the New York Philharmonic's Sweeney Todd.
Photo: Mike Coppola/Getty Images
Wozzeck, Salome, Sweeney Todd—it's the season of bloodied blades and cankered psyches, displayed in musical splendor. At the New York Philharmonic, the ceremony of innocence began with the rituals of concert hall decorum: white tie and tails, orchestra tuning, polite bows. The soloists filed on in oratorio-like stiffness, and then came deliberate mayhem. Bryn Terfel flung aside his binder of music, and the rest of the cast followed. Gowns were shredded and flower vases dropped. Demure choristers mutated into snarling toughs, a handful of whom flipped a piano, hoisted it into the air, and let it drop with a crash. Shorn of its upturned legs, the concert grand turned into a platform — another bit of topography on the stage's fluid terrain.
While all this insanity flared, singers and orchestra maintained a terrifying discipline, ruthlessly snapping out Stephen Sondheim's internal rhymes and ominous melodies. Alan Gilbert has already shown that the Philharmonic can be the best opera company in town; now he's put Broadway on notice, too. With the orchestra occupying so much of the stage, the ever-inventive director Lonny Price maneuvered the actors along a catwalk, across the lip, and down the aisles, so that the production never had a chance to plod.
The Philharmonic has a long résumét in musical comedy, but no show benefits more from bringing the orchestra out of the pit and onto the stage. Sweeney Todd began life as a chamber musical, and in its most recent Broadway run, John Doyle pared it down to bare cabaret, in which the actors grabbed instruments and oom-pah'd their own accompaniment. Good as that was, the score has plenty of operatic heft, and I would always rather hear it in Jonathan Tunick's hi-def arrangement, full of searing brass, fierce percussion, and multihued strings. 
Terfel, one of opera's most commanding baritones, sang Sweeney as if all the years of Mozart and Wagner were simply a warm-up. He projected vast reserves of rage in his hollow stare, filled the hall with vengeful noise, caressed the weirdly tender tunes, and never lost track of the show's grisly comedy. Terfel has always suggested power in his pianissimos and a relaxed purr when he gets loud; whatever astonishing sounds he's making, you always have the feeling there's more where that came from. He needs no amplification, but, unlike most opera singers, he knows how to use it, and in Sweeney he didn't leave it to the mixing console to smooth the differences between his technique and Emma Thompson's. 
Thompson is no vocal dilettante — she's been crooning onstage and onscreen since her Cambridge days — but her confidently deranged Mrs. Lovett still came as a thrilling shock. She flitted around the burly Terfel like an oxpecker on a rhino, holding her own against his mountainous voice and pumping every scene for giggles. When she delivered "The Worst Pies in London," you could almost taste the gristle. The rest of the cast, too, lived up to the level that Terfel and Thompson imposed, with Philip Quast a mellifluously tormented Judge Turpin and Kyle Brenn a creepily sincere Tobias.
Sweeney Todd will be performed tonight at 8 p.m. and Saturday at 2 and 8, and will be broadcast at a later date on PBS's Live at Lincoln Center.