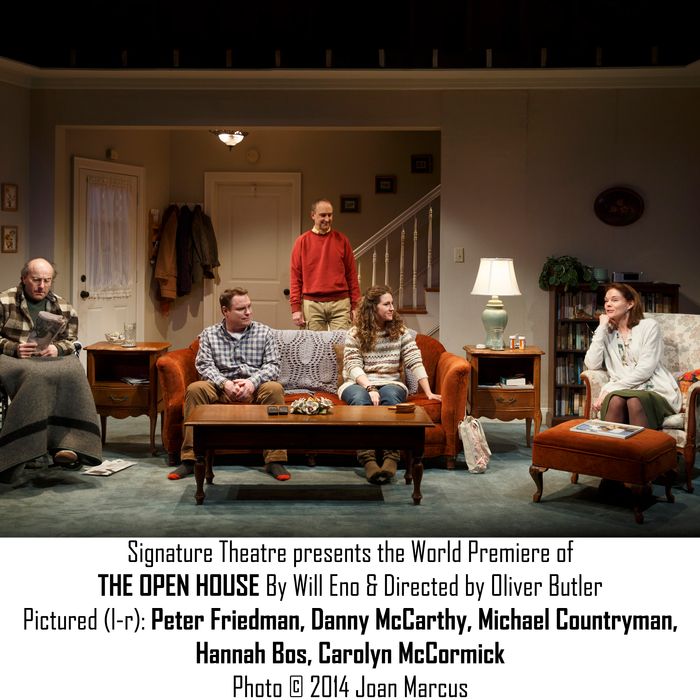 I wonder if Will Eno saw Jon Robin Baitz's Other Desert Cities, in which a character memorably says that families are terrorized by their weakest member. In any case, in The Open House, drolly directed by Oliver Butler, Eno demonstrates the idea with a vengeance. For the first half of the intermission-less 75-minute play, a horrible man (Peter Friedman) sits in a wheelchair in the family room of his suburban house, abusing his aggressively pleasant wife (Carolyn McCormick), his wounded brother (Michael Countryman), and his mystified adult children (Hannah Bos and Danny McCarthy). They are almost completely resigned to his blitzkrieg of snark, but what response could they offer to someone who says things like: "How many times do I have to ask you to never think about this family?" Any attempts they make to warm up their day together are mocked and dropped; even tiny insubordinations are quashed. Funny as this is — the man makes withering into an art — you quickly feel locked into the characters' misery, just as they, in essence, are locked into their claustrophobic house. 
Get the irony? It is anything but an open house. Or not, at least, until halfway through, when Eno shifts gears into surreal and gives us the literal thing. Though the father has not told anyone else about his plans for selling, a realtor shows up, looking strangely familiar to us, followed by a potential buyer, also familiar, to kick the tires and check out the wallpaper. Indeed, as each member of the family leaves for an errand or emergency, a new character shows up to take his or her place. By the end, a complete turnover has occurred, and we are left with a much happier ménage of people related only by commerce, not blood. Even the house looks nicer.
If that's the theme — if there is a theme — Eno does not signal it, any more than he provides exposition or explanations. His is a highly purified dramaturgy: Albee seen and raised. The Open House shares with earlier Eno works such as Thom Pain (based on nothing) and Middletown a gem cutter's interest in formal precision and symmetry rather than content. (Does a diamond have "content"?) Language is all he gives us to hang on to, and whether used for vituperation or, more pleasantly, chitchat, it's slippery at best. He strips the inanities and idioms of speech until even the most casual conversation suggests a string of bons mots, as when the potential buyer, seeing the inside of the house for the first time, asks, "Is this what color it is?" Well, of course it is — but you know how he feels.
The Open House is at the Signature Theatre through March 30.