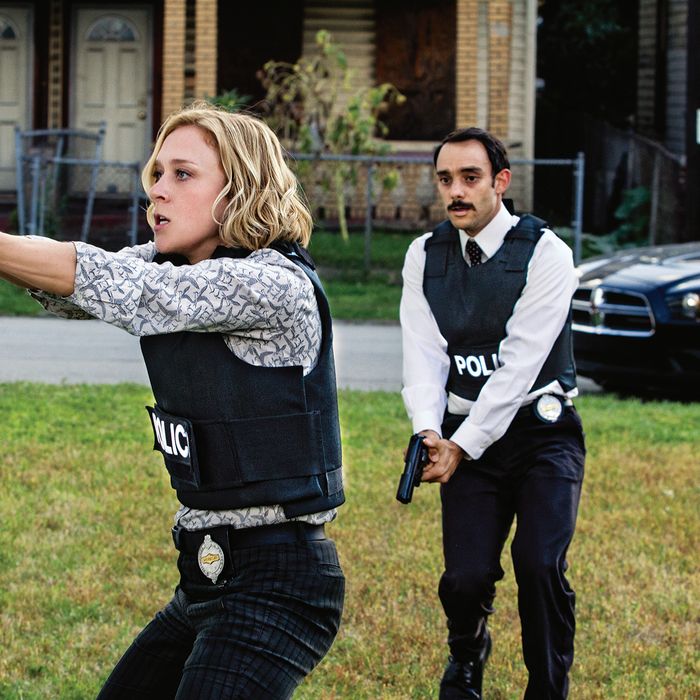 Those Who Kill; Epiosde 103
Photo: Giovanni Rufino/A&E
Want to see a naked lady duct-taped to an office chair get rolled into a torture coffin? Watch Those Who Kill. Want to hear meaningless criminal psychology slogans, like "[killers'] minds are dark, monstrous forests to explore"? Watch Those Who Kill. Want to see the frequently fascinating Chloë Sevigny embody every she-cop cliché, right down to the leather jacket? You know what to do.
Those Who Kill premieres tonight on A&E at 10 p.m. as a lead-out for the network's superior Bates Motel. It's based on a Danish crime show, so maybe the bleak torture should go without saying. But I'll say it anyway: This show has a bunch of extreme torture. A serial killer dumps a can of wet cat food into a hole he's cut in the wooden box in which he keeps a bound and nude female college student. We see him gleefully shaking the can as we hear her scream and wretch. It's the golden age of television!
Sevigny stars as a talented — but disturbed — detective who enlists a sexy — but disturbed — forensic psychology professor (James D'Arcy) to help her solve crimes. The two bring out the darkness in each other, you see; this darkness is indicated by Sevigny's vampy nail polish and D'Arcy's chronic stubble. They're both megaenthralled with serial killers, as the show seems to expect us to be. I like a good serial-killer story as much as the next person who's seen Silence of the Lambs fifteen times, but I am far past my maximum-serial-killer-story limit. I can watch The Bridge, The Fall, or Hannibal, or The Following, or Bates Motel, or old episodes of Dexter; there are any number of episodes of 48 Hours, anything on the ID network, Killer Profile on LMN, and occasional E! specials like I Survived a Serial Killer. Lifetime movie after Lifetime movie. Dozens of episodes of various CSIs and NCISes, of Bones, Castle, Person of Interest, Chicago PD, Law & Order: SVU, Criminal Minds, Elementary, Hawaii Five-0, The Mentalist, and Blue Bloods. And this list is just shows with specific serial killing, not spree killing or frequent murder (like on Justified). Those Who Kill is going to have to try a little harder than crudely smearing lipstick on a framed portrait if it wants to distinguish itself in this distressingly oversaturated field. Any old serial killer can garishly apply lipstick to his victims! He probably got that idea from Billy Madison.
I am tired of TV shows where anonymous naked women are tortured and killed for set dressing. Sometimes I power through that exhaustion if it seems like the show has something additional to offer, like with True Detective; the hypnotic character pieces and moody atmosphere are the ostensible reward for tolerating rank misogyny. But with shows like Those Who Kill, the reward for watching serial killing is just more serial killing. That doesn't feel like much of a prize.