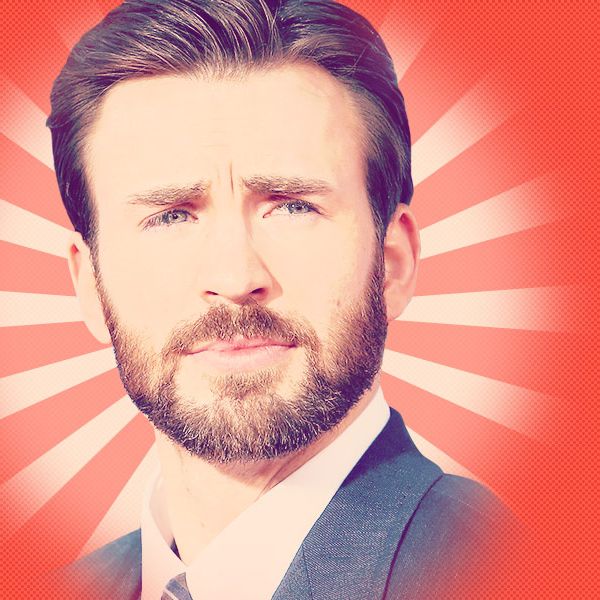 Photo: Maya Robinson and Photo by Getty
Chris Evans is 32 years old and seemingly on top of the world as the lead of the very lucrative Captain America franchise and a co-star in the even-bigger Avengers films. These projects provide the sorts of rewards that are only available to the top tier of movie stars — job security, fame, a role in well-reviewed Hollywood blockbusters — and yet Chris Evans does not want them: He startled observers this week by declaring that once his Marvel contract runs out, he plans to quit acting altogether, pursuing a career behind the camera instead. But if you've been following Evans for a while, his announcement makes sense, coming at what he perceives to be the tail end of a mostly unfulfilling acting career. Though Evans was once an eager-beaver wannabe star who'd do anything Hollywood asked of him, this timeline will help you understand when and how he fell out of love with being famous.
2000–2004
Evans moves to Los Angeles at age 18 and finds work almost immediately, landing a short-lived Fox show called Opposite Sex and several films that "were really terrible," he'll later admit. "There was Not Another Teen Movie — not a blockbuster — and then The Perfect Score, which was gone in a New York minute … then Orphan King, which never even made it to theaters. Your first movie, you think, 'This is it! Look out world!' And then you're like, 'Oh … back to the drawing board, I guess.' And then three or four times in, you're like, 'All right, no one sets out to make a bad movie, but there are a lot of them.'"
Summer 2004
Still, Evans remains a Hollywood up-and-comer, and he seems eager to play along, dating Jessica Biel and happily allowing Extra to film his shirtless workouts. Need to treat him like a piece of beefcake? No problem!
September 2004
Evans lands the lead in his first grown-up movie, the thriller Cellular, where his character is introduced while walking around without a shirt for several minutes. The film tops out at the box office with $32 million. "It didn't really go anywhere," Evans sighed. "That's when you start to realize just because you're the lead in a movie, that doesn't mean you have a career."
July 2005
Evans gets his most high-profile turn yet as the charismatic, oft-shirtless Human Torch in Fantastic Four. Reviews are withering; critic David Edelstein singles out the cast of "beefcake/cheesecake actors who look like they've been plucked from the soaps." Still, the film takes in $154 million domestically.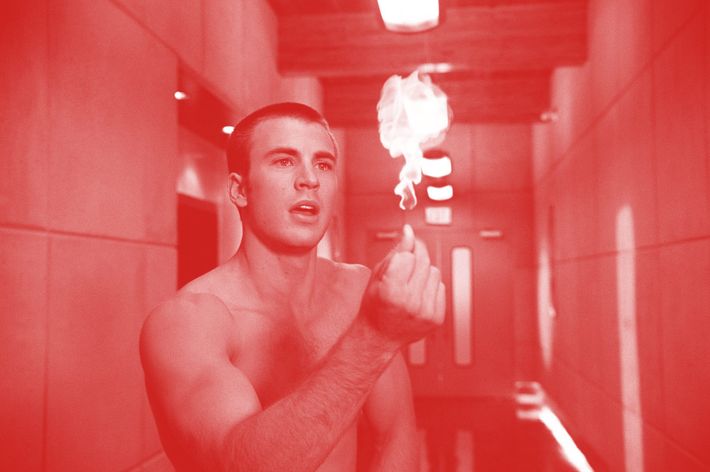 April 2007
Evans has a role in the Danny Boyle film Sunshine, and it's the project he's proudest of to date. Alas, the expensive sci-fi vehicle bombs badly, making less than $4 million. "Everybody goes and sees Fantastic Four, but nobody sees Sunshine," groans Evans, making his loyalties clear. "I'd have a different career if people saw that."
June 2007
The Fantastic Four sequel is released, to diminishing returns. While promoting it at a European press conference, Evans has a massive anxiety attack. "No one's even speaking to me," he would later tell the New York Times, "and in a matter of 60 seconds I went from being fine to full meltdown, just stood up and walked offstage."
He hinted at his issues in an interview with Moviefone, saying, "I think the main reason I struggle so much in press is because I'm usually promoting a piece of shit. It's really difficult to find a flowery way to tell people to go see this movie, that your face is all over, that your name is all over, that you're endorsing. And then you begin to feel like a liar, like you're transparent. You feel undeserving."
Around that time, Evans begins to mull a transition from acting into directing. "That's the next plan, that's on the horizon," he says, "and the sooner I can get to it the better."
September 2007
Evans signs on to star in the action movie Push, in which he'll play another superpowered character. "I think in order to be typecast, they have to be coming to you specifically to play these roles," he said, admitting, "These are all parts I've fought for. It's not like these are the only parts I'm getting offered."
April 2008
Still, while he once fought for the Human Torch role, he's since become disillusioned with the franchise. When asked by Collider whether there would be a third Fantastic Four movie, a resigned Evans replied, "They got me if they want me, we are all contractually obligated, and so I'm shit out of luck there. I don't think there is going to be one. I think if there was going to be one we would have heard about it by now. I tend to think that they are probably going to let that one go."
January 2009
Chris Evans won't be your shirtless monkey anymore, folks. When a reporter for The Advocate brings up his many beefcake photo spreads, including one deeply unclothed shoot for Flaunt back in 2004, Evans reveals that his new rep has forbidden him from stripping down again. "I really didn't think twice about taking my shirt off at the time, but my current publicist would pull her hair out if I did that photo shoot today," he said. "I hired my publicist for her professional opinion, and she seems to think it's a mistake. I have no problem taking my shirt off for a role if the part calls for it, but my publicist says, 'When you're promoting yourself, being you, there's a way to keep it as classy as possible. Greasing yourself up and stripping down may not be the best way to do it.'"
February 2009
When a writer for the Boston Globe meets up with Evans at a mall to talk about Push, the reporter is struck by how unassuming Evans is in person. "I think when I first came out here I was very hungry to get to the top," Evans says. "Now I'm kind of at this middle road, and I'm looking around like, isn't life pretty much as great as I want it right now? If you get too far, there's no off switch. Once you're Brad Pitt, you can't not be Brad Pitt." Evans seems bummed out to be promoting Push — the reporter notes that "his shrug and tone suggest that he's chalking this one up to experience" — and implies that he wasn't terribly happy on set, either. "At the end of the day, you're handing your performance over," he says, evincing once more a plan to transition behind the camera. "If a director says, after a take, 'You know what, try it just really angry. Just get furious' … you're like, 'Well, I don't know if I want to give you that, because I don't know if I trust what you're going to do with it.'"
Meanwhile, Evans's desire to act seems to be waning. Praised for his work in Sunshine, Evans demurs, crediting Danny Boyle: "He could make this coffee cup give a brilliant performance." He's similarly self-effacing when asked about working with his Push co-star Dakota Fanning. "Dakota is unbelievable," says Evans. "She could be acting with a sneaker." He admits to the Los Angeles Times that he almost had a breakdown the previous year, shooting The Loss of a Teardrop Diamond in New Orleans after he'd just finished making Push. "Sometimes you would be sitting in those little buses losing your mind," he says. "It felt like work."
April 2009
Evans signs on for two more comic book movies, filming Scott Pilgrim vs. the World the same month he inks to join The Losers, starring Jeffrey Dean Morgan and Zoe Saldana. Both are supporting roles.
February 2010
After the long casting search for an actor to play the title role in Captain America comes to naught (actors like John Krasinski, Ryan Phillippe, and Sebastian Stan were among the contenders), Marvel executives consider Chris Evans. They'd previously dismissed the actor since he'd already starred as a superhero in two Fantastic Four movies, but they approach him anyway … and he turns down the role. The initial sticking point is Marvel's demand that any actor who films a test audition for the company must sign a contract committing to nine films. "In a few years, what if I don't want to act anymore?" Evans recalled of that stipulation. "What if I just want to — I don't know — do something else?" He later told Variety that he worried "if these movies take off and do very well, and my life changes and I don't respond well, I don't have the opportunity to say, listen, I need a fucking break. That just scared me."
March 2010
Marvel execs amend their approach, offering Evans a six-film contract instead. They also deputize team player Robert Downey Jr. to woo Evans into the fold. "I remember getting on the phone with him and strongly suggesting that he not shrink away from the offer," Downey revealed. "I said, 'Look man, you might not like the fact that you've played one of these guys before, but you know, the thing is this can afford you all sorts of other freedoms.'" Finally, Evans accepts the role … and promptly enters "panic mode," enrolling in therapy.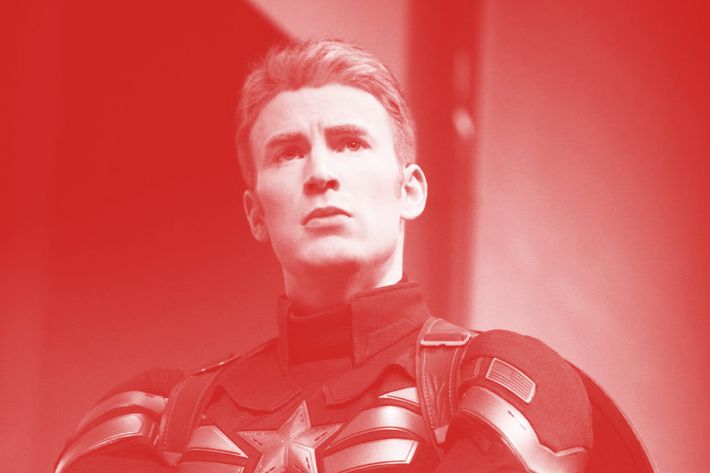 Summer 2010
Evans films Captain America. He would later say that his favorite day of shooting was the day they wrapped. "With Captain America," he told Moviefone, "you might have three lines of dialogue the whole day. And there are just a million angles and a million set-ups and it's tedious."
July 2011
Captain America is released, taking in a stellar $176 million domestically. Evans embarks on his biggest media tour yet to promote the film, one that includes his famous GQ interview with Edith Zimmerman. "I struggle with anxiety sometimes, especially when promoting films like this," he tells ShortList. "Just the life of doing what I do, being in the public eye, it's a stressful environment … You feel strange, self-aware, very foolish. Your third eye clicks on, just to try to maintain a healthy sense of perspective, and you think, 'What am I doing here? I'm just making a movie, and people want all these things from me.'"
Evans tells the Times that he doesn't desire the fame that Captain America will no doubt bring him. "The question is: What's the endgame?" he muses. "What's the goal? If the goal is to be a giant movie star, then yeah, this is a great way to achieve that. That's not necessarily what I'm trying to achieve."
September 2011
Evans happily promotes the indie Puncture, where he plays a drugged-up lawyer. It makes a meager $68,945 at the box office. "No one sees my good little movies, man," Evans laments.
April 2012
You've got to give the people what they want: After Captain America made Chris Evans's buff body its main selling point, Evans must revoke his shirtless ban, posing unclothed for a sexy Gucci campaign and Details.
May 2012
The Avengers is released. It is huge. Evans seems more morose than ever. "I've made about 20 movies," he says, "and I'm probably proud of three."
November 2013
Perhaps the public can sense that Evans feels ambivalent about fame: As noted in a Vulture article, the nationwide surveying company E-Score finds that Evans has a lower "awareness score" than any of his Avengers co-stars, save Jeremy Renner. Even Chris Hemsworth is more famous. And that's fine by Evans. "Fame is a funny thing," he later tells Variety. "I like doing normal things. I like going to fairs, I like going to ball games, I like going to Disney World, or a big field on the Fourth of July and having picnics with friends. The problem is, you're either worried you're going to be recognized or you're thankful you're not. It's always there. I miss that not being in my head."
December 2013
Evans finally gets to direct his first movie, the romantic indie 1:30 Train, where he stars alongside Alice Eve.
March 4, 2014
Evans begins to hint at a hiatus from performing. '"I think when I'm done with this Marvel contract, I'll take a little break from acting," he says.
March 25, 2014
Suddenly, that little break has turned into permanent retirement. "If I'm acting at all, it's going to be under Marvel contract, or I'm going to be directing," Evans says. "I can't see myself pursuing acting strictly outside of what I'm contractually obligated to do." How long will he remain under contract? "[Avengers: Age of Ultron] will shoot till August. I wouldn't be surprised if for all of 2015, we didn't do a movie. I bet by 2017, I'll be done," he tells Variety, before grunting, "That sounds so far away."