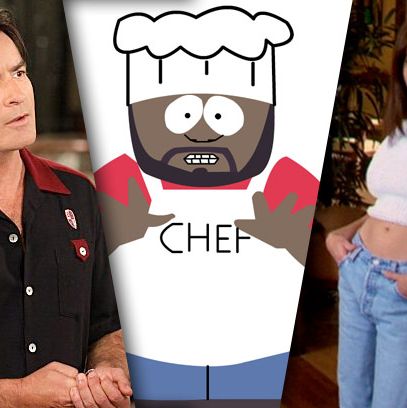 Photo: CBS, Comedy Central and USA
On Thursday night's episode of Grey's Anatomy [spoiler alert], Shonda Rhimes killed off Dr. Derek "McDreamy" Shepherd (Patrick Dempsey), a move that left fans stunned and heartbroken. Dempsey still had a year left on his contract, but recent rumors hinted that Rhimes was fed up with his "diva" behavior on set. His character dies after getting in a car accident and not receiving proper care at the hospital. In light of his death on the show, we're rerunning this piece, which originally ran after Will Gardner's death on The Good Wife.
Will Gardner is dead. If that means anything to you, you're probably still reeling. If it doesn't, you don't watch The Good Wife. Either way, you should know that Josh Charles's character died in a hail of bullets on last Sunday's episode because the actor wanted to move on to different projects. It's not an uncommon situation on the set of a long-running series. When actors leave shows, their characters must too (unless we're talking about Roseanne), and that usually means offing them in a creatively gruesome way. (See Dan Stevens in Downton Abbey, for the most recent example.) By all accounts, Charles, who had asked to be written off after season four but was convinced to stay on for another year, left the show amicably; he even exchanged goopy tweets with the show's creators after his character was shot. But the gory manner in which Will Gardner was killed belies that friendly facade. Writers have a long history of exacting their revenge on an actor by giving his character a Faces of Death–style ending. Here are some of our favorites:
Colonel Henry Blake (McLean Stevenson), M*A*S*H
The problem: Stevenson had grown tired of playing a supporting role after three seasons on M*A*S*H, so he took a gig at NBC, where he got his own show (the blink-and-you'll-miss-it Hello, Larry) and a dressing room that wasn't falling apart. Though many have speculated otherwise, creator Larry Gelbert has said there was no ill will toward Stevenson and killing his character was simply a chance to drive home the point that not everyone makes it home from war.
The solution: Blake's plane was shot down over the Sea of Japan as he flew home.
Prue Halliwell (Shannen Doherty), Charmed
The problem: Doherty and co-star Alyssa Milano famously feuded during their three years on the set of Charmed. When Doherty left in 2001, she told EW, "There was too much drama on the set and not enough passion for the work."
The solution: A demon blasted her through a wall with a combination of gusty wind and hand lightning.
Dr. George O'Malley (T.R. Knight), Grey's Anatomy
The problem: A lack of screen-time, an increasingly unlikeable character, and a "breakdown in communication" with Shonda Rhimes had Knight begging for a way out of Grey's.
The solution: He was hit by a bus and so severely disfigured that none of his colleagues recognized him.
Eddie LeBec (Jay Thomas), Cheers
The problem: Recurring characters rarely need to be killed off, but this was one case where the writers were eager to. After Thomas, who played Carla's husband, made a crack about Rhea Perlman on his radio show, he was never seen on the show again. As former Cheers writer Ken Levine writes, "To explain his departure we decided to just kill him."
The solution: With a job as a penguin in an ice show, it was only natural that Eddie die in a freak Zamboni accident.
James Evans (John Amos), Good Times
The problem: After Amos publicly complained to Ebony about the show's increased focus on JJ's dy-no-mite antics, Norman Lear gave Amos the boot.
The solution: He was killed in an offscreen car wreck.
Charlie Harper (Charlie Sheen), Two and a Half Men
The problem: #WINNING! Remember that? After publicly saying very mean things about Chuck Lorre, demanding a raise from what was already TV's highest salary, and claiming to have "Adonis DNA," Sheen was finally dismissed from Two and Half Men in March 2011.
The solution: He fell off a Metro platform in Paris and exploded "like a balloon full of meat."
Professor Maximillian Arturo (John Rhys-Davies), Sliders
The problem: An incessant critic of the show's writers, Rhys-Davies was reportedly done in by a vindictive higher-up at Fox whom the Welshman had once humiliated while drunk at a party.
The solution: He was shot by a character played by Roger Daltrey.
Chef (Isaac Hayes), South Park
The problem: "Trapped in the Closet" was a hilarious send-up of Scientology that Hayes hated. A Scientologist himself, Hayes said the episode demonstrated "intolerance and bigotry towards religious beliefs of others."
The solution: Chef fell off a bridge, bounced off a bunch of rocks, was impaled by a branch, and had his limbs chewed off by a mountain lion and grizzly bear.