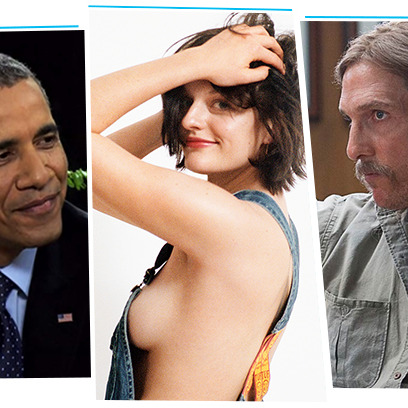 Every week, Vulture faces the big, important questions in entertainment and comes to some creative conclusions. This week, we endlessly discussed the finale of True Detective, talked about the sex in Nymphomaniac, and profiled Elisabeth Moss. You may have read some of these stories below, but you certainly didn't read them all. We forgive you.
Q: How should I feel about the True Detective finale?
A: The True Detective finale ended with a bang — scoring its highest ratings ever and even causing HBO Go to crash. First off, you can start with our recap, and then the recap of the recaps, and then Matt Zoller Seitz's thoughts on the show. We also talked with Glenn Fleshler, who you know as the lawn-mowing Errol Childress, director Cary Fukunaga, and the show's production designer on the maze-like fort. There was also a deleted scene of Rust and Lori breaking up (that has now been taken down), and we also have some freeze-frames of the creepiest shots from the finale.
Q: How did Zach Galifianakis get President Obama to play along for Between Two Ferns?
A: We talked with Scott Aukerman, executive producer and director of the show, on how they got the commander-in-chief. ('Cause he felt like it.)
Q: Who is the real star of Mad Men?
A: Mad Men creator Matt Weiner seemed to know all along that Peggy Olson was, and with each passing season, she has steadily risen in the ranks. Now Elisabeth Moss, the woman who plays her, is enjoying a career paralleling Peggy herself.
Q: I just watched Grand Budapest Hotel and it was great! How does Wes Anderson create these worlds?
A: We talked with Wes about how he dreams up such imaginative worlds. Also, are you such a fan that you can identify a Wes Anderson movie just from a prop? For our part, we're just super happy that Ralph Fiennes is back!
Q: What is happening with the reality television bracket?
A: Our reality television bracket this week pitted Project Runway v. The Hills, Survivor v. RuPaul's Drag Race, Real Housewives of Atlanta v. The Amazing Race, Top Chef v. America's Next Top Model. It has also given us occasion to relive the ten most amazing Amazing Race injuries and discuss The Hills' sneakily important gender politics. Margaret Lyons also talks about how reality TV has taught her practical life skills.
Q: How important is it for TV stars to graduate to movies now?
A: Breaking Bad's Aaron Paul is headlining his first studio movie, Need for Speed. But Kyle Buchanan wonders whether it's really important for TV stars to make it on the big screen (In his review, Bilge Ebiri writes that it has "breathtakingly visceral scenes" and a "breathtakingly, breathtakingly terrible script.") In fact, lately the opposite seems to be true. He observes, "Now, instead of actors making the jump from TV to movies, the opposite career arc is increasingly viable. Movie stars used to deign to do TV only when their big-screen potency had waned, but plenty of actors are currently making the transition while still at the peak of their powers."
Q: How is the first volume of Nymphomaniac?
A: David Edelstein writes that the movie is "dumber and more entertaining than anyone had a right to expect." We also got personal in a profile of Charlotte Gainsbourg, the star of the film. And for those of you who just want to know how dirty the film is, Jesse David Fox has the answer for you: "not incredibly."
Q: Is the sex scene from 300: Rise of an Empire sexier?
A: It just might be. Maybe that's why everyone was packing the theaters.
Q: What's going on with Amazon? Is it the next Netflix?
A: It's too early to tell, but Amazon picked up four of its five pilots for its sophomore season, including Transparent, The After, Mozart in the Jungle, and Bosch.
Q: I'm really excited for the Veronica Mars movie. What can you tell me?
A: In her review, Margaret Lyons writes, "Veronica Mars: The Movie plays like a long episode of Veronica Mars: The TV Show, with all the relationships and in-jokes intact." Show creator Rob Thomas talks to us about his cultural influences (Freaks and Geeks, Heathers, Encyclopedia Brown), as did Kristen Bell about hers (green tea, Double Indemnity, and Catherine O'Hara).