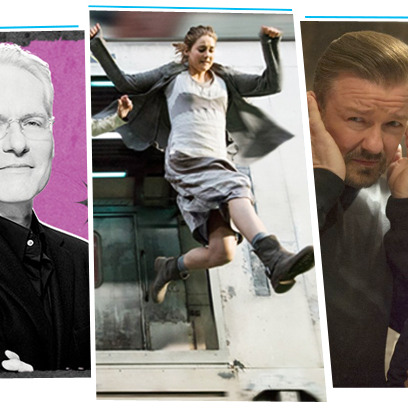 Photo: Bravo; Summit Entertainment; Jay Maidment/Disney
Every week, Vulture faces the big, important questions in entertainment and comes to some creative conclusions. This week, we interviewed George R.R. Martin, discussed Divergent, and took a walk down memory lane in honor of Muppets Most Wanted. You may have read some of these stories below, but you certainly didn't read them all. We forgive you.
Q: What happened at those Game of Thrones events that took place this week?
A: Other than us talking to author George R.R. Martin at the Lincoln Center season-four premiere about the show's writers' room and when he's planning to finish the sixth book in his A Song of Ice and Fire series of novels, you mean? Thousands of fans got decked out in Thrones garb and joined us at the Barclays Center in Brooklyn to celebrate their favorite show with Hodor, Arya, and the ubiquitous (and so-not-writing) Mr. Martin.
Q: How was Divergent?
A: Entertaining, but ideologically troublesome, says New York Magazine film critic David Edelstein. If you're still not sure what all this Divergent business is about, read Amanda Dobbins's newbie primer and her profile of author Veronica Roth from last October, as well as her approach to the Divergent Problem: namely, whether you should jump onboard a film franchise when you know the books ended poorly.
Q: Should I see the new Muppets movie?
A: According to Bilge Ebiri, Muppets Most Wanted succeeds, but only if you lower your expectations. Before you see it, take a walk down memory lane with our list of twenty great cameos from the previous Muppets movies and twenty amazing musical numbers from The Muppet Show.
Q: Which shows still remain in our Reality Rumble bracket competition?
A: After a minor upset in the quarterfinals, with America's Next Top Model picking off reality juggernaut American Idol, we moved into the semis, where Earwolf's reality SHOW show podcast hosts Sean Clements and Hayes Davenport declared Project Runway season two victorious over Real World season three. Tim Gunn and Santino will square off in this coming Tuesday's finals with the winner of Monday's semis match-up, America's Next Top Model vs. Survivor.
Q: But what if I require more reality nostalgia?
A: Well, our Reality Rumble–adjacent deep dive into reality TV history continued merrily with a run-through of the twenty best Real Housewives fights, the eighteen most annoying Real World housemates ever, and the eight worst American Idol moments. Plus, Margaret Lyons remembered Cirque du Soleil: Fire Within and other obscure reality shows past.
Q: Are Veronica Mars movie Kickstarter funders happy with the result?
A: Jessica Goldstein talked to four fans who donated money to help finance the Veronica Mars film. At least some of them felt they got their money's worth.
Q: Is there really going to be a Jem and the Holograms movie?
A: There is, and we can only assume that it'll be truly outrageous, truly, truly, truly outrageous. Prepare for the excitement and adventure with Margaret Lyons's Jem refresher course, and then read Denise Martin's interview with Britta Phillips, the Luna rocker who provided Jem's original singing voice.
Q: Why is one of New York's best film festivals largely unknown?
A: Vulture film critic Bilge Ebiri goes long on the wonderful yet underrated New York International Children's Film Festival.
Q: What can I expect from some of the upcoming action blockbusters?
A: Kyle Buchanan prepped us with seven things to know about The Amazing Spiderman 2, and Adam K. Raymond updated his previously exhaustive collection of all the Star Wars: Episode VII rumors and reports with even more rumors and reports. Meanwhile, we ran into Mark Ruffalo at a party and he teased a Hulk romance in next year's Avengers: Age of Ultron. Why so coy, Bruce?
Q: There are so many murders on Scandal. How do I keep track of who's murdered whom?
A: Margaret Lyons is your friend: Here's her complete guide to Scandal's murderers' row. When you're done counting the bodies, read Danielle Henderson's recap of this week's murder-ific episode.