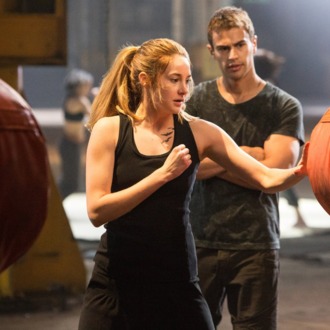 Photo: Summit Entertainment
Every week, Vulture faces the big, important questions in entertainment and comes to some creative conclusions. This week, we talked about Divergent, picked the best season of reality television ever, and reviewed the past century of pop music in New York City. You may have read some of these stories below, but you certainly didn't read them all. We forgive you.
Q: Should I actually watch Divergent?
A: In what came as no surprise, Divergent topped the box office last weekend. What was surprising was the movie was good and managed to bring in a large percentage (50 percent!) who weren't familiar with the books. For those who were big fans of the YA series, Amanda Dobbins broke down what was left out, and how much it really mattered. Kyle Buchanan was convinced that the movie was secretly about Crossfit. Oh, and let's not forget that Theo James was Mr. Pamuk from Downton Abbey and Tony Goldwyn, like his presidential character in Scandal, always seems to play a crappy leader.
Q: I'm obsessed with all things YA! What else do you have?
A: You can take our quiz to see if you can tell these YA novels apart from one another.
Q: It's the end of March. Who won Vulture's reality-television bracket?!
A: Our very own Margaret Lyons cast the final vote between season one of Survivor and season two of Project Runway. Read on to see how it all went down. For more reality TV madness, you can read about Tyra's 15 craziest moments on America's Next Top Model, the ten best strategic moves on Survivor, and the five best and worst designs on Project Runway. Also, if you were ever wondering, the Kardashians are the center of the reality-television universe.
Q: Why don't you cover music very much?
A: We're trying! To make up for it, Jody Rosen took a look back at the past century of music and put together an encyclopedia of New York City pop music. If you want an audio history, just listen to his accompanying playlist. As part of the issue, we also have Dion DiMucci, Burt Bacharach, Mike Stoller, Chris Frantz and Tina Weymouth of the Talking Heads, Suzanne Vega, David Johansen of the New York Dolls, 50 Cent, and  Nile Rodgers reminisce on various moments in music history. There is also this very cool illustrated map of hip-hop in New York City.
Q: Can you believe what happened on The Good Wife?!
A: If you're not aware, some craziness went down on The Good Wife last Sunday, prompting the show's creators to pen a letter to fans. Josh Charles talked about it with David Letterman and Julianna Margulies talked about it on a panel. The whole episode prompted us to take a trip down memory lane and remember the best ways TV shows have killed off unhappy actors.
Q: What's next for Girls after the finale?
A: The third season of Girls ended a bit messily. Matt Zoller Seitz was disappointed, especially after how intricately crafted the past two finales were. We talked to show-runner Jenni Konner about what's next for the show and the director of the Iowa Writer's Workshop about what life would actually be like for Hannah at the school.
Q: So is True Detective a drama or a miniseries?
A: Great question. The Emmys don't exhibit a lot of rigor when it comes to determining what should go where. FX's American Horror Story has been in the miniseries category, and True Detective, which seems like it will follow the same model, is making a run for it in the drama category where it hopes to upend the last season of Breaking Bad. At least all of this should make for good television.
Q: What have been the best Itchy and Scratchy moments from The Simpsons?
A: We had Al Jean and the current writing staff go through and choose their favorite moments.
Q: Are the relationships on Looking the best gay romances on TV?
A: We contend that the best was Chris Meloni's psychotic murderer Chris Keller with Tobias Beecher (Lee Tergesen) in HBO's Oz.
Q: What's it like to talk to Seth Rogen? Just, you know, like, hang out and talk.
A: The actor interviewed comedian Hannibal Buress for Vulture and it was characteristically loose and wide-ranging.