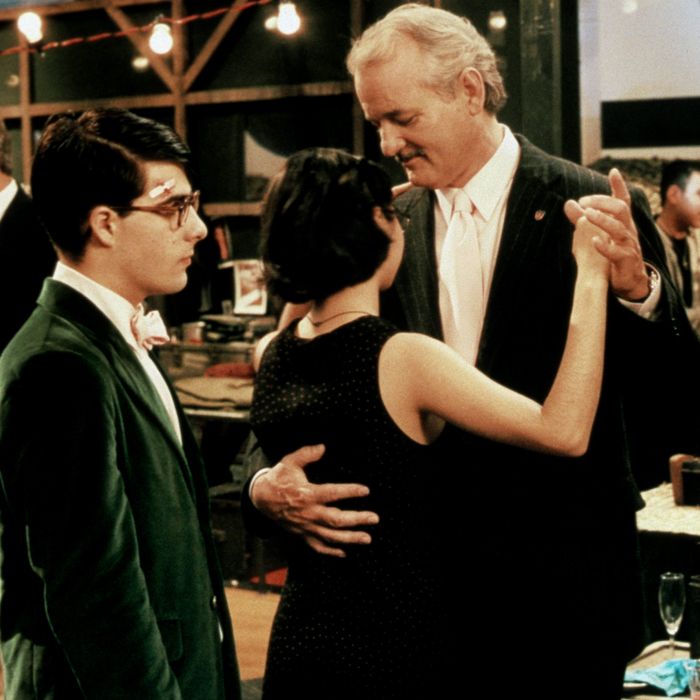 This story originally ran in March 2014. It has been updated for the release of Isle of Dogs.
One of Wes Anderson's many signatures is his ability to create highly cinematic moments by pairing lost or unfamiliar music with perfectly composed imagery. And since Rushmore was just three lines scribbled in a notebook, music supervisor Randall Poster has been his collaborator on every film, finding just the right songs. Poster is in demand (recent credits alone include Detroit, Wonderstruck, and Popstar), but says that he's developed a special relationship with Anderson; they're in a constant dialogue, shaping characters and film tones through the music. With their latest partnership, Isle of Dogs, set to come out this weekend, we asked Poster to walk us through the music choices from some iconic Wes Anderson scenes, from the Faces' "Ooh La La" at the end of Rushmore, to Margot Tenenbaum walking off the bus to Nico, to the Kinks sampler in The Darjeeling Limited.
Rushmore
The Creation, "Making Time" 
The Creation's 1966 debut single plays during the yearbook montage of the activities of Max Fischer (Jason Schwartzman).
"Going into making Rushmore, we had a pretty strong idea about what we wanted to use in the film. Wes had drawn the comparison to the British explosion, where there were bands that were all dressed neatly in suits and ties, and yet the music was wildly spirited. The Creation was a real musical centerpiece, and characterized this angry young man spirit that we wanted to bring to Max Fischer's sensibility."
The Who, "A Quick One, While He's Away"
Max and Mr. Blume's (Bill Murray) escalating prank war (smashing bicycles, disconnecting brakes) was set to the 1966 Who song.
"The Who were certainly in that same world. What's great about that song in particular is that it's sort of a dialogue, so we have the twin sides of Blume and Fischer. It also has this incredible operatic element to it, where it rises emotionally as the grudge match becomes meaner and meaner."
The Faces, "Ooh La La"
Max has the DJ play 1973's Ronnie Wood–sung Faces song when Max asks Rosemary (Olivia Williams) to dance at the end of the film.
"That was one we came upon as we were making the movie. It's pretty delicious that song, especially when you hear the 'ooh la la.' I think it really captures that deep feeling of young love, and how Max is just so passionate. It has both perspectives on the situation, but it also captures the pure emotion of the sentiment."
The Royal Tenenbaums
Mutato Muzika Orchestra, "Hey Jude"
This Beatles cover plays during the prologue, when the narrator explains the Tenenbaum kids' childhood.
"For a long time, we had been working with the Beatles' version of 'Hey Jude' in the opening, and at that point in time, licensing the Beatles for movies was particularly challenging. But we were pursuing it. We were really getting through the process and then unfortunately George Harrison got sick and it wasn't going to happen, and it was all very sad.
Sometimes my feeling is, however it works out is the way it's meant to work out. Mutato Muzika Orchestra's version just felt like it hit all the beats. I particularly felt like it succeeded in a way that maybe the original recording wasn't going to. It became more original to The Royal Tenenbaums. Sometimes certain songs — particularly, I think, the Beatles — it's like kryptonite. They're so powerful. They take you somewhere else. I think the Mutato Orchestra kept it in the realm of our film. I'm not saying that we wouldn't have pulled it off, but for me, I thought what we used was really unbeatable."
Nico, "These Days"
The original 1967 Nico version of the Jackson Browne­–written song plays when Margot (Gwyneth Paltrow) walks off the bus to meet her brother, Richie (Luke Wilson).
"It's pretty sublime. It really captures the sense of the unattainable and the romantic ambitions of Richie Tenenbaum. The great story about that is that Cameron Crowe took Jackson Browne to see the movie, and when that scene comes on, Jackson Browne elbows Cameron Crowe and says, 'Man, I used to play like that.' And Cameron Crowe goes, 'It is you!' He forgot that he had played on the song. He got so caught up in the movie that he lost his own sense of history."
Elliott Smith, "Needle in the Hay"
After Richie, who loves his sister, hears about Margot's many relationships from the private investigator, he shaves and then cuts his wrists to the 1995 Smith song.
"What can I say? God bless Elliott Smith. We had been talking to him during the course of that film, and he was really struggling. [Smith committed suicide in 2003, two years after Tenenbaums was released.] I just feel lucky. Once again, I think it's Wes's ability to work with music in a sequence. It's just so powerful and so touching and so sad and so beautiful."
The Life Aquatic with Steve Zissou
David Bowie, "Life on Mars"
After a conversation between Steve (Bill Murray) and Ned (Owen Wilson) about how Steve might be Ned's father, the 1971 Bowie song plays as Steve excuses himself and walks onto the ship's bow.
"That's one of my favorite moments, certainly in Life Aquatic. It's a classic cinematic moment. David Bowie is such an important part of the movie, and it was great to hear his voice at that juncture in the film. It wasn't preconceived. It was something that we landed on while we were in editorial. The great story about that was that [Bowie's producer] Tony Visconti was able to give us the original track, so we were able to do some sound editing with it and tailor it to the scene. We got to listen to the splits. There was this great moment we heard in the course of listening to the song: You can hear a phone ring in the studio on the tape.
I think what really happens is that we enter in Zissou's head. It's so psychological, and, lyrically, it's kind of sci-fi in a way. And I think that it transcends the action and let's us take a step into this character's mind."
Sigur Rós, "Starálfur
Toward the end of their journey, when everyone's huddled in the little submarine, this 1999 Sigur Rós song plays when the Jaguar Shark appears and swims around them.
"I think that one of the great things about those Sigur Rós records was that even though they're singing in Icelandic, somehow the emotion lets you know exactly what the song was about. I think that the vagueness of it and the mystery of the Jaguar Shark was a great juxtaposition. All the characters in the submarine: It's a pretty heartbreaking moment. We just knew it was right." 

The Darjeeling Limited
The Kinks, "Strangers"
The Kinks' 1970 song plays during a long tracking shot as the brothers walk through an Indian village to the funeral of a boy they failed to save.
"We had the battling Whitman brothers corresponding with the battling Davies brothers. I think that that sequence is pretty powerful. It just felt perfect and really satisfying. It allowed us to create this great Kinks motif.
Did you go into the film thinking about the brothers parallels? We're always looking to make connections. I might've retrofit that notion into my history of the movie, but it works.
There's an interesting story about the flashback scene that comes after. Wes had this idea that we should use film scores from the movies of [Indian filmmaker] Satyajit Ray, so I went on this journey where I had to go to Calcutta to gather all of this music and really do a lot of research. I couldn't go into a record store and say, 'Okay, I want to buy all of the film soundtracks of Satyajit Ray.' I had to go to the Ray estate and get them to transfer all this stuff for us. So, we said we'd use as much of it as we can. We didn't use any original score in the film. But going into the next sequence, in the garage, that was definitely going to be a different musical motif. We were trying different things, different classical pieces, and I told Wes that Beethoven's 7th Symphony was Ray's favorite piece of classical music. And he immediately was like, 'Okay, let's use that.' Somehow it really was pretty perfect."
Peter Sarstedt, "Where Do You Go to (My Lovely)?"
Jack Whitman (Jason Schwartzman) puts the 1969 song on when his ex (Natalie Portman) visits him in his hotel room in "Hotel Chevalier," the short film that acts as a prologue to Darjeeling. Jack then plays it again in Darjeeling when he's having a cigarette with train attendant Rita.
"It pretty much is the hotel. It defines the Hotel Chevalier, really. It's connected to the legacy of [Max's love of French things in] Rushmore in the sense that there was this American-born boulevardier and the sort of French specificity — it's just one of those things that somehow became ours. The thing about Peter Sarstedt that was interesting is that he was born in India, crazily enough. He was English, born in India. God knows if that had anything to do with it, but it was a happy coincidence. It allowed us a chance to make the connection between the short and the feature. It was also just a great way of using music where playing it was actually within the scene."
That's an example where it felt like it captured very closely what was going on inside the character's head.
Sometimes you have these emotions in life and even though they're painful, you want to feel them as deeply as possible. The pain validates the obsession or your commitment to your idea of a person. That's what the song ultimately does. It helps drive the obsession and is sort of a beautiful pain that we sometimes find ourselves yearning for. To feel pain is to feel alive. The song drives at the obsessive nature of romance.
The Fantastic Mr. Fox
Bobby Fuller Four, "Let Her Dance"
Mr. Fox discovers a supermarket, and this 1965 song plays as all the animals dance joyfully.
"Like Peter Sarstedt, Bobby Fuller is sort of an undiscovered musical genius. Bobby Fuller is just a crazy, crazy story, how he was murdered and had a very short-lived career. We had come upon 'Let Her Dance' like ten years before. Wes and I were listening to it while we were making The Royal Tenenbaums. It was one of those things where we hid it away for ten years. I wouldn't play it for anybody else. And then we finally found the perfect moment and were able to use it. With some of these songs — say, Bobby Fuller or 'Ooh La La' — they're such great pop songs, you hear it for the first time and somehow by the time the chorus comes around for the second time, you're singing along with it. You feel like you've known it your whole life."
Moonrise Kingdom
Francoise Hardy, "Le Temps de l'Amour"
Suzy (Kara Hayward) and Sam (Jared Gilman) are on the beach, after running away. Suzy puts on this 1962 Francoise Hardy record, and the two dance and kiss to it.

"It's funny. Wes and I were working on a commercial for a Japanese telecommunications company, Softbank, and were looking for the right French pop song to put into the piece and had gone through 100 songs. With that one, he was like, 'Let's put that one away.' We had it under lock and key until the right moment presented itself. Then it did and it just seems like that moment had been waiting for that song."
Why do you think the character was so infatuated with this record?
"Rock and roll can be an invitation to be the person that you want to be — not necessarily the person that you are. It allows you to transcend yourself and your circumstances. That's the moment that Suzy, who's caught in the web of her family's function and dysfunction, has found a way to transcend it with music."
The Grand Budapest Hotel
The Score
Unlike Anderson's previous films, his new one doesn't use many songs. Instead, much of the film is scored in a fantasy middle-European style that Poster and Anderson worked on with composer Alexandre Desplat.
"We've never used as much original score in a film. The film is set in four different distinct time periods and is told through a prism of reflection, so we felt a folk element would speak to the enduring spirit, but there is a classical motif that is counterpoint to it.
The movie is set in this sort of fantasy period between the two World Wars, in this fantasy middle European nation. We were not really exactly sure how to create the musical element, so we did a lot of research in terms of looking into all the various regional music and regional composers — you know, French classical composers, Polish, German — just getting a sense of what was the high point of musical culture in Europe. And then we also did a lot of research in terms of the various folk music, so we listened to everything from French musette to German drinking songs, military marches to alpine yodeling, Hungarian gypsy music and dances, and Romanian folk songs. Ultimately we landed on balalaika [a three-stringed Russian folk instrument] as the prominent musical voice in the film and really then, by virtue of the genius of Alexandre Desplat, created music that was filtered through it. The dominant sound is balalaika but also Wes brought in other elements — alpine horns, recorders, and a church organ. We had been listening to this gypsy music that's played on a cimbalom, which is kind of a hammered dulcimer, and so that too became a strong voice in the film. The music combined in a way I don't think you would hear anywhere else. What it does is create this spirit of the Earth and speaks to this notion that the film is very much concerned about: living in the past, the ever-present past, and the fading past — trying to maintain culture within the onset of barbarism — and the enduring human spirit. We somehow found our way to create a music that spoke to those things."
Isle of Dogs
The West Coast Pop Art Experimental Band, "I Won't Hurt You"
After hearing about what happened to Atari's dog Spots, Chief, Rex, King, Boss, and Duke lead the boy through the Isle of Dogs to find him. This song plays as they walk together.
"We use 'I Won't Hurt You' in the film, but also 'Midnight Sleighride' by the Sauter-Finegan Orchestra (a group you should check out further). 'Tokyo Shoeshine Boy' may be performed by a Japanese vocalist, but is built on a Western pop foundation. These songs help convey emotion of the characters, but also give our story proper motion. I wouldn't want to generalize, but we think 'I Won't Hurt You' speaks to the bond and trust that builds in intimate relationships over time. What's more intimate than the relationship with a boy and his dog, or a dog with his boy? The world, I think, has been waiting for a cinematic platform for the West Coast Pop Art Experimental Band, and now they have it."
The Score
Beyond the few pop songs mentioned, the film's music mostly consists of a taiko drum-heavy score.
"Wes and I began talking about the musical element in the film as the story was just taking shape. We looked to Kurosawa's film music as a beacon on our journey. We gathered as much traditional Japanese music as we could get our hands on and gradually made our way through Japanese pop music by era. Wes wanted to build a foundation of taiko drumming as both a dramatic and textural element, and we were lucky enough to find Kaoru Watanabe, the taiko master of Brooklyn (and all other boroughs), who fulfilled our taiko fantasies. In collusion with our Alexandre Desplat, Wes created something that we think is unique and elemental to the film. I helped."