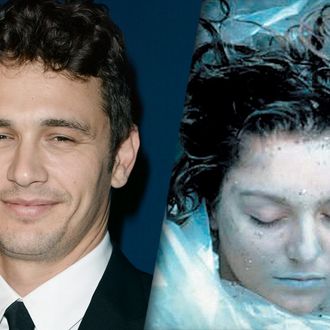 Photo: Jason Merritt/Getty Images; ABC
In his latest essay for Vice, James Franco muses about Twin Peaks. (He's revisiting the show due to its similarities to HBO's True Detective.) Franco mentions the well-known fact that Twin Peaks creator David Lynch was famously pressured into solving the Laura Palmer mystery, despite not actually having identified a killer from the show's start:
The better question, however, is, Who killed Twin Peaks? And the answer to this one is easy: the same person — we'll assume it was a network executive — who made Lynch provide a solution to the Laura Palmer murder. The key to any drama, if you want to keep it alive, is to keep the tension taught; and the key to keeping any mystery alive is to not solve the mystery. More than that, the allure of most crime mysteries, from Raymond Chandler to HBO's new series True Detective, is not dependent on finding out whodunit. More interestingly and realistically, it's about all the colorful characters we meet along the way, including their selective memories, the unreliable narrators, and the moral struggle inherent to all complex situations that blur the lines between right and wrong.