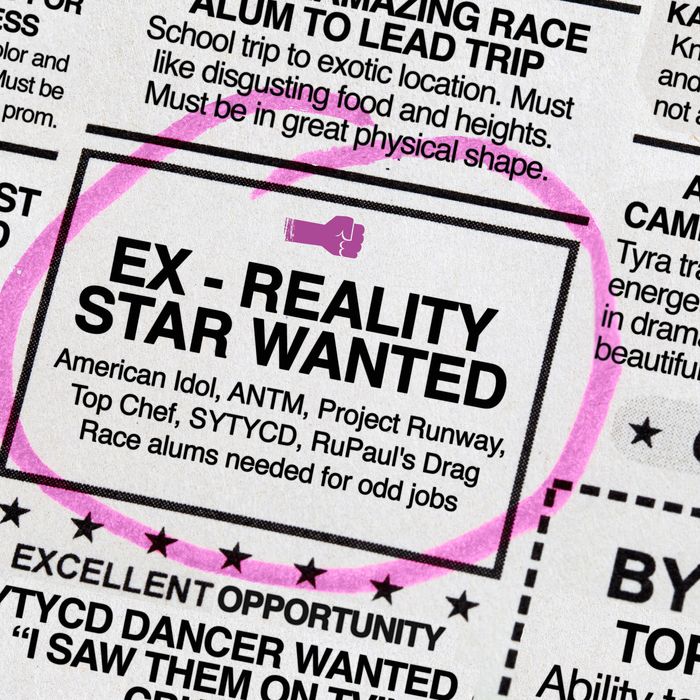 For a rare and special few, skill-based reality shows can be the launching pad to the career of their dreams — and, in some instances, a career we had no idea they dreamed of (hi, future congressman Clay Aiken). But for every Jennifer Hudson and Kelly Clarkson, every Guy Fieri and Christian Siriano, there are thousands of aspiring singers, dancers, chefs, and top models who are forced to adjust to more realistic career expectations after their contest ends. In honor of the countless nameless backup dancers of So You Think You Can Dance, the most recent show to get the ax in Vulture's Reality Rumble TV bracket, we took a sampling of some of the career trajectories followed by alums of the major reality talent competitions: from those who become inveterate reality-TV personalities to those toiling daily in their chosen field, and even those who abandon the arts altogether for the most dreaded fate of all — a normal life. Future contestants, take note: On the chance that you don't become an enormous star from the show, here are your likely job options.
AMERICAN IDOL
Broadway and Off-Broadway musicals
Most former Idol contestants with big fan bases end up in this category, hopping from show to show on the Great White Way. Season four sixth-place finisher Constantine Maroulis originated the lead role of Drew in the still-running Rock of Ages (for which he was Tony nominated), and also appeared in The Wedding Singer. Now married, season three's Diana DeGarmo and season five's Ace Young both did a stint as supporting cast members in Hair, and even Idol's first ever runner-up Justin Guarini eventually got in on the action as one of the male leads in 2011's critically panned Women on the Verge of a Nervous Breakdown, following that up with a short stint in American Idiot. After joining The Book of Mormon's touring production, season seven standout Syesha Mercado successfully made the leap to the show's Broadway run. Fantasia Barrino was brought in midway through The Color Purple's run to boost ticket sales. She just ended her run as the featured performer in the cabaret-style After Midnight.
Other reality shows
Taylor Hicks looked for love in all the wrong places — alongside Jersey Shore's Mike "The Situation" Sorrentino — on 2011's short-lived The Choice. Over the past year, season two winner Ruben Studdard competed and lost on The Biggest Loser and season seven finalist Danny Noriega is currently in the running for the crown over on RuPaul's Drag Race. In season two, Kimberly Locke placed third but quickly made the move to shows like Celebrity Fit Club and Don't Forget the Lyrics. Sanjaya Malakar, a season six finalist with a huge fan base, competed on I'm a Celebrity, Get Me Out of Here! and in 2007, season one's Nikki McKibbin completed a stint on Celebrity Rehab With Dr. Drew. And some have pulled off on other shows what they couldn't on Idol: a win. Bo Bice, who placed second to Carrie Underwood, was the first celebrity guest to pull a perfect game on Don't Forget the Lyrics in 2010, and season five's Kelli Pickler won Dancing With the Stars last year. Season 11's Heejun Han is currently on South Korea's popular K-pop Star, an Idol-like singing competition.
TV hosting
Guarini hosted TV Guide's Idol Wrap and Idol Tonight; season two standout Kimberly Caldwell was the face of P. Diddy's Starmaker on MTV (2009), VH1's Rock N' Roll Fantasy Camp (2011), and Oxygen's Best Ink (2012); and Melinda Doolittle (season six, third place) now co-hosts TVLine's "Reality Check" weekly online series. In 2009, Locke scored a job as host of the Gospel Music Channel's singing competition Gospel Dream. Matt Rogers placed 11th in season three, which was enough for him to transition into hosting shows like the Discovery Channel's Really Big Things, CBS' There Goes the Neighborhood, and Lifetime's Coming Home.
TV and film acting
Jennifer Hudson obviously set the highest bar, winning an Oscar for Dreamgirls, while Katharine McPhee landed Smash after a substantial part in The House Bunny, and season one's Tamyra Gray spent seven episodes on the TV series Boston Public before graduating to indie films like 2009's Rachel Getting Married. But the roles are usually a little smaller: season seven's young finalist David Archuleta popped up on the Disney Channel's age-appropriate Hannah Montana and Nickelodeon's iCarly, and season ten's fan-favorite Pia Toscano appeared on Disney's So Random! Diana DeGarmo did a stint on the soap The Young and the Restless, and season six winner Jordan Sparks's role in Sparkle was overshadowed by the late Whitney Houston's passing. Ace Young had a cameo on Bones, and after placing second in season nine, Crystal Bowersox landed an episode of ABC's short-lived Body of Proof. Season five's Kevin Covais starred alongside Nickelodeon star Drake Bell in the critical and commercial flop College, later joining Lindsay Lohan in the ABC Family TV movie Labor Pains.
Karaoke and choreography
Last summer, season 11's Erika Van Pelt was announced as the host of Foxwoods Casino's "Scorpion Idol," a three-month-long karaoke competition in the heart of Connecticut. Season nine's Todrick Hall — who was just featured in Forbes' Top 30 Under 30 list — recently made waves as Beyoncé's choreographer for her "Blow" music video.
AMERICA'S NEXT TOP MODEL
Mid-range modeling
While a depressingly small number of America's Next Top Model alums actually go on to become top models (one notable exception being Cycle 10's Fatima Siad, a successful catwalk model and the face of Hervé Léger's spring 2012 campaign), almost all of Tyra's girls have gone on to do modeling of some sort, including magazine shoots, ad campaigns, and runway shows. Still, you're much more likely to find ANTM alums modeling for Forever 21 (like cycle 5 winner Nicole Linkletter) than strutting runways at Lincoln Center.
Acting
The rare ANTM alum to land a big acting role is cycle 11's Analeigh Tipton, who played lovesick babysitter Jessica Riley in Crazy Stupid Love and also appeared in The Green Hornet and Warm Bodies. Other alums have had moderate success: Cassandra Whitehead (cycle 5) had a small speaking role on the season four finale of Mad Men, Keenyah Hill (cycle nine) was recently cast as Winston's sister on New Girl, while cycle three runner-up Yaya DaCosta played Wilhemina Slater's daughter in Ugly Betty and also had named roles in The Kids Are All Right, Tron: Legacy, and The Butler. Other than that, the ANTM girls have largely had bit parts to contend with, popping up on shows like Veronica Mars, One Tree Hill, Gossip Girl, Smallville, New Girl, The Big Bang Theory, The Young and the Restless, and too many more to count.
Game shows
Adrianne Curry went on Celebrity Family Feud, cycle two's Jenascia Chakos won $50,000 on Wheel of Fortune, and Cassandra Whitehead won $500,000 on the show 1 vs. 100. And many joined game shows not as competitors, but as models:  a number of them became Deal or No Deal Girls, particularly those from the early days: Giselle Samson, Katie Cleary, and Nicole Panattoni all held the briefcase after getting booted from the first season.
Becoming reality-TV personalities
Adrianne Curry (yep, her again) was the rare alum to have a show built around her: My Fair Brady, about her marriage to Christopher Knight, a.k.a. Peter Brady. But a few have gotten hosting gigs: Cycle two winner Yoanna House hosted N Channel's Queen Bees, cycle six's Joanie Dodds co-hosts Run My Renovation on the DIY Network, and CariDee English hosted MTV's Scarred and Oxygen's Pretty Wicked. And on the sadder end of the scale, cycle five's Lisa D'Amato hashed out her issues on Celebrity Rehab With Doctor Drew.
Becoming entrepreneurs
Cycle five's Kim Stolz co-founded a lesbian nightlife destination in NYC called the Dalloway (scheduled to relocate to the LES), while fellow cycle five contender Bre Scullark started a line of luxury candles called Brvelle.
Leaving the business
A number of the girls have gone on to attain professional degrees in one field or another. Sara Albert-Hallmark (cycle six) went into law, while Mila Bouzinova (cycle nine) got an M.A. in economics from Fordham. Oh, and Kim Stolz is a vice-president of equity derivatives sales at Citibank, but she always was cut from a different cloth.
PROJECT RUNWAY

Fashion design
While not all of Project Runway's alums have enjoyed the mainstream success of season four winner Christian Siriano, many of the show's contestants have gone on to respectable careers in the fashion industry. In fact, almost all the contestants have continued to work in fashion in some shape or form: like season one's Austin Scarlett, who was the creative director of the bridal couture line at Kenneth Pool and recently released his own wedding and evening gown collection; season eight's Gretchen Jones, who was recently chosen to be lead designer at Pendleton Woolen Mills; and season three's Malan Breton, who showcases his collections regularly at New York Fashion Week.
Costume design
If it's not the runway, it's the stage: Kara Saun (season one) designed costumes for shows like The Sing-off and MTV's America's Best Dance Crew; Mondo Guerra (season eight) did it for the Denver production of Hairspray; and season seven favorite Emilio Sosa was nominated for a Tony for his work on the Gershwins' Porgy & Bess and was called "one of the hottest costume designers in New York theater" by New York.
Reality TV
After Project Runway, season one's Wendy Pepper proved she is a woman of many televisable talents, appearing on Celebrity Poker Showdown and Battle of the Network Reality Stars. Season two's Santino Rice is a judge on RuPaul's Drag Race, while season one and two's Daniel Franco auditioned for season nine of American Idol. (And while he didn't make it, he did get featured in the Adam Lambert look-alike montage.)
TV fashion personalities
Some of the more telegenic alums continue to peddle their fashion wisdom on the small screen, like Nick Verreos (season two), who often serves as a fashion expert and commentator, and covered the Emmy and Daytime Emmy red carpets back in 2008.
Other design work
Santino Rice helped redesign Camel cigarette boxes, and Robert Best (season three) returned to his old job at Mattel and designed a line of Mad Men Barbie dolls. Oh, and his season three co-star Kayne Gillaspie designed a line of dog couture.
Publishing
A number of alums have written fashion-related books, while others have found jobs in the magazine world: Season eight's Sarah Trost works as a fashion columnist for Frontiers magazine, while season three's Laura Bennett blogged about fashion and parenting for the Daily Beast.
Teaching
Project Runway alums have often turned to teaching after their stint on the show. Nick Verreos teaches at FIDM, Jay McCarroll (season one) is a faculty member at Philadelphia University, and Laura Kathleen (season nine) teaches fashion design at a St. Louis High School. Season seven's Anna Lynett Moss teaches fashion courses at the women's prison on Rikers Island. Meanwhile, season three's infamous rosette-aficionado Angela Keslar was briefly spotted teaching a rosette-making workshop at Etsy Labs back in 2007.
TOP CHEF
Open a restaurant
Of all the skills-based reality-TV shows, Top Chef alums tend to fare the best in their chosen field. Season champs have opened a number of restaurants, such as season one's Harold Dieterle, who has a slew of restaurants, including Kin Shop, which prompted our Adam Platt to call him "easily the most talented" chef to emerge out of the show in his review. Stephanie Izard of season four has the Girl and the Goat in Chicago; season six's Michael Voltaggio has the ink restaurants in L.A.; season seven's Kevin Sbraga's Sbraga in Philadelphia. Non-winners who made respectable runs during their tenure have gone on to open popular restaurants, like Dale Talde, who has Talde, Thistle Hill, and Pork Slope in Brooklyn, and Leah Cohen, whose Pig & Khao earned two stars from the New York Times. Tiffany Faison has Sweet Cheeks Q in Boston and Mike Isabella D.C. restaurants like Graffiato. Bryan Voltaggio, runner-up to brother Michael, has four restaurants and scored a James Beard nomination in 2009.
Head chef
Some stay at their old jobs, like Dakota Weiss (season nine), who is the executive chef at the W in L.A., and Heather Terhune (season nine), the executive chef at Sable Kitchen & Bar in Chicago. Others find new employment: Ed Cotton (season seven) works at Sotto 13 and Cliff Crooks (season two) is the executive chef at ESquared Hospitality. Those like Richie Farina, who was promoted to executive chef at Moto after the show, just move up the food chain. And even though former executive chef of Comme Ça Kuniko Yagi (season ten) was kicked off prematurely (after winning the first elimination challenge, no less), her former employer David Myers installed her as chef at Hinoki and the Bird.
Reality and talk TV
Some of the personable contestants have gone the TV food show route, like Carla "Hootie Hoo" Hall, who is one of the co-hosts of ABC's The Chew. Fabio Viviani hosted Chow Ciao on Yahoo! and is a recurring guest on cooking segments for shows like Good Morning America, Ellen, and others. After opening a slew of restaurants in San Diego, Brian Malarkey had a brief stint as a judge on The Taste (it's The Voice with spoons) and Brooke Williamson will act as a mentor on MTV's upcoming show House of Food.
Write a cookbook
Angelo Sosa, Mike Isabella, Hall, the Voltaggio brothers, Talde, and Viviani all have cookbooks to their name. Antonia Lofaso (season four and All Stars) wrote The Busy Mom's Cookbook, and Marisa Churchill (season two) authored a dessert book, Sweet and Skinny. Candice Kumai (season one) has fashioned herself a health-food expert as the host of Lifetime's Cooking Yourself Thin and author of multiple books, including Clean Green Drinks and Cook Yourself Sexy.
SO YOU THINK YOU CAN DANCE
Broadway and Off-Broadway musicals
When Newsies went to Broadway, the production scooped up four alums: Alex Wong (season seven), Evan Kasprzak (season five), Jess LeProtto (season eight), and Thayne Jasperson (season four). Jasperson also went on to join the ensemble of Matilda: The Musical a year later. Natalie Fotopoulos (season two) is on the U.S. tour of Wicked; Neil Haskell (season three) was most recently in Bring It On: The Musical; and Kourtni Lind (season four) appeared in Spider-Man: Turn Off the Dark. Moving beyond the ensemble, season nine Cole Horibe's fluid martial-arts-inspired dance moves landed him the part of Bruce Lee in Tony Award–winning playwright David Henry Hwang's latest: Kung Fu.
Come back to SYTYCD, or another dance show
Starting with season seven, rather than pair dancers with one another, the show employed a pool of "All-Stars," which has included season eight champ Melanie Moore, Allison Holker (season two), Alex Wong (season seven), and a number of others. The most successful of them has been Travis Wall, runner-up in season two, who has received Emmy nominations in choreography for his work. Others dance and do choreography for Dancing With the Stars, like Lacey Schwimmer (season two), Chelsie Hightower (season four), and Dmitry Chaplin (season two).
Music videos
After West Coast hip-hop heads like Ryan Conferido (season one), Hok Konishi (season three), and D-trix (season three) finished their respective runs, their dance crew Quest became the season three champs of America's Best Dance Crew. (D-trix later became a judge on ABDC and also an all-star for SYTYCD.) Later they became staples in LMFAO music videos like "Party Rock Anthem." Comfort Fedoke (season four) made cameo appearances in hip-hop music videos like Ludacris's "What Them Girls Like" and T-Pain's "Freeze."
Dance movies
After a runner-up finish in season four, Stephen "tWitch" Boss became a recurring character in the Step Up franchise, with Step Up 3D, Step Up Revolution, and the upcoming Step Up: All In. Season four winner Joshua Allen also appeared alongside him in Step Up 3D. Boss's partner in that season, Kherington Payne, landed a role in the 2009 reprisal of Fame.
Backup dancers for a concert tour
Mark Kanemura (Season four) became a Lady Gaga favorite, and Kupono Aweau (season five) and Sasha Mallory (season eight) became a part of Madge's crew. Season ten girls champ Eliana Girard is currently on Taylor Swift's Red tour.
Dancing anywhere you can
Season three winner Sabra Johnson has continued to dance in companies from Cedar Lake in New York City to the Staatstheater Darmstadt in Germany and then Austria. Season two winner Benji Schwimmer continued to compete in swing dance competitions, winning the world title nine times.
Teach or start your own studio
Ashle Dawson (season one) is a guest faculty member in jazz and Latin fusion at the Broadway Dance Center. Season one winner Nick Lazzarini began Shaping Sound, which also includes Travis Wall and Melanie Moore. Victor Smalley (season six) is one of the co-owners of Stars Dance Studio in Miami, which had a season of Dance Moms: Miami on Lifetime.
RuPAUL'S DRAG RACE
Stick close to RuPaul
A number of others — including Jujubee, Raven, Morgan McMichaels, Ongina, and Mariah — reentered RuPaul's luxurious folds as instructors of RuPaul's Drag U, a spinoff show where drag queen professors teach hapless women how to do their makeup.
Record music
It's de rigueur for each winner to release a couple of dance tracks to her name. Sharon Needles released PG-13, which had modest success on the dance charts. Many have taken to releasing music videos on YouTube, like Manila Luzon's "Hot Couture" and "The Chop," which co-stars Latrice Royale, released after the duo was eliminated from the All Stars season. The most successful YouTube stars are undoubtedly Willam Belli (season four) and his crew, which includes season five contestant Detox. The girl group does lascivious parodies of Hot 100 songs, like "This Boy Is a Bottom" set to the stylings of Alicia Keys's "Girl on Fire" and "Chow Down (on Chik-fil-A)," a response to the Chik-fil-A controversy made to the tune of "Hold On" by Wilson Phillips.
TV acting
As Willam was quick to point out, she had a long history of bit parts before she came onto the show, and continued to take small roles afterwards, most notably appearing in Ryan Murphy's The New Normal. Shangela from seasons two and three has appeared in a number of shows after her last run on Drag Race, including Glee, Community, and The Bold and the Beautiful.

Keep on keepin' on
The vast majority of drag queens continue to do shows around the country. Season one winner Bebe Zahara Benet recently did a show at Joe's Pub in New York. Currently, season two also-rans Jujubee, Raven, and Pandora Boxx are on tour. Morgan McMichaels (season one) has been working the comedy club circuit, and Milan (season four) appears in a weekly New York City drag show hosted by current contestant Bianca del Rio. Shannel (season one) hosts a RuPaul's Drag Race watch party in Santa Ana.
Social media divas
Former contestants on RuPaul's Drag Race tend to have the best Twitter and Instagram accounts, because they have the right blend of narcissism, humor, and shade. To wit, Yara Sofia (season three) and Phi Phi O'Hara (season four) teamed up to make fun of season five villainess Roxxxy Andrews in an Instagram video, which then sparked a Twitter war between Phi Phi and Roxxxy. All Stars winner mama Chad Michaels had to intervene and stop the nonsense. This talent historically does not pay that well.
THE VOICE

Performing or opening for their mentors and idols
Last year, season two's Tony Lucca — he of former Mouseketeer fame — spent the summer opening for both Kelly Clarkson and his mentor Adam Levine's band, Maroon 5, on the Honda Civic Tour. Dia Frampton, season one's runner-up, toured with the Fray in 2011. In January, last season's winner Tessanne Chin opened for reggae  stars like Shaggy, Sean Paul, and Elephant Man, and last month she performed at Miami's 9 Mile Music Festival alongside singers like Lauryn Hill, Mavado, and Damian Marley. Blake Shelton's season two mentee, RaeLynn, sang backing vocals on her coach's 2013 single "Boys 'Round Here," which peaked at No. 16 on the "Hot 100" chart. Season two's Mathai, a former The Glee Project contestant, collaborated with rapper Lecrae on his track "Free From It All" in 2012. There's even hope for contestants who didn't make the live shows: Gwen Sebastian, a member of season two, toured with mentor Blake Shelton and his wife Miranda Lambert after her ouster from the show.
Hosting and acting
Season three's runner-up, Terry McDermott, became The Voice's social media live show host during its fifth season. Javier Colon, the winner of season one, began hosting InsideVoice on the Back9Network early last year. Season two's Kim Yarbrough made smaller appearances on 2 Broke Girls in 2012 and Southland the following year. Frenchie Davis, an American Idol and Voice season one alum, continued her Broadway career as the star of 2012's God Doesn't Mean You Get to Live Forever. Season four standout Judith Hill recently appeared in the Academy Award–winning documentary 20 Feet From Stardom.
Becoming entrepreneurs
Season two's runner-up Juliet Simms now owns and operates a friendship-bracelet company called Never Take It Off.
Professional experts on The Voice
Amanda Brown, the first "stolen" contestant in the show's history, parlayed her experience from season three into a writing job at Parade magazine, reviewing episodes from season four.