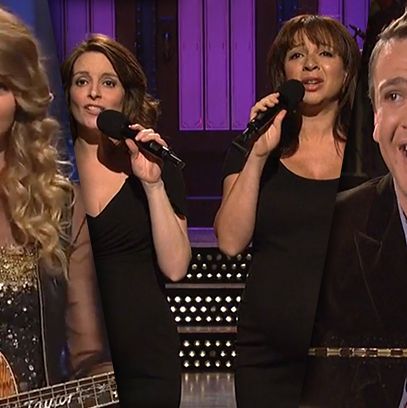 Anna Kendrick's delightful monologue from this weekend's SNL reminded us how enjoyable a good monologue song can be. And how enjoyable they always have been. Sure, the first monologue ever was stand-up, but even hosts such as Elliott Gould were known to do a little ditty from time to time way back when. Here are 11 of the best from the last decade. (Of the ones we could find online, that is. Because of copyright issues, many musical monologues are impossible to find.)
2/7/2004: Megan Mullally sings a song about how she can do more than make jokes with gay characters, backed by the entire male cast. 
10/30/2004: Kate Winslet sings "Pick Yourself Up" and comedically tries to prove that the show is live. She tap dances! 
5/19/2007: Zach Braff sings "New York State of Mind" but subs in New Jersey.
3/7/2009: Dwayne Johnson sings a song about how he's still tough.
11/7/2009: Taylor Swift sings a song about what she's not going to sing about in her monologue. She actually wrote the song, which basically no host ever does. She didn't know she didn't have to.
11/21/2009: Joseph Gordon-Levitt performs a very energetic version of Donald O'Connor's "Make 'Em Laugh" from Singing in the Rain. 
10/2/2010: Bryan Cranston sings a barbershop ditty to try to get people to remember his name. 
5/7/2011: Tina, with Maya Rudolph, sings a song to (and with) her unborn fetus.
11/19/2011: Jason Segel sings a song with the Muppets, in which it's revealed the Muppets think they are also hosting.
5/21/2011: Justin Timberlake sings about how he's not going to sing, he's just going to host. 
11/10/2012: Anne Hathaway sings the Les Miz song "One Day More" with the cast, but makes it about Sunday being their day off.