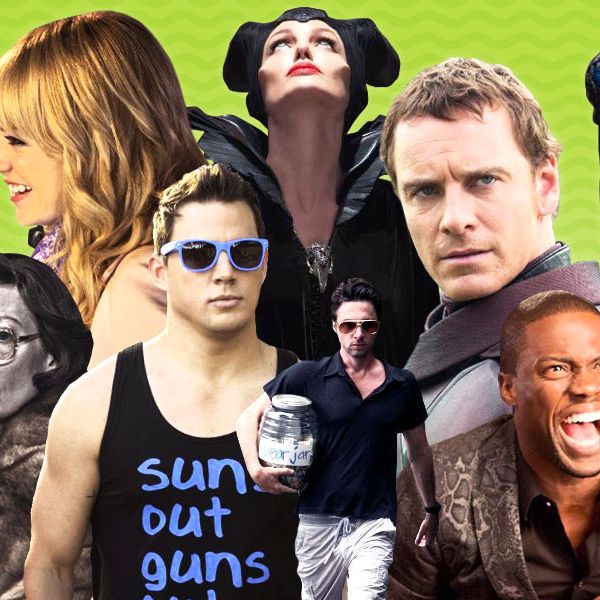 Man, there are a lot of movies coming out this summer. How is any mere mortal supposed to track them all, watch them all, and (most important) discuss them all online? To pull all that off, you may need a cheat sheet, and so Vulture has put together this handy-dandy guide to this summer's big blockbusters and intriguing indies, all catalogued for maximum interest and organized from A to Z. What are the 26 things about the summer movie season you ought to know about before everyone is obsessed with them? Read on, and brush up on your ABCs.
A — Angelina Jolie. She's been absent from the screen since 2010, but Angelina Jolie will be staging a two-part comeback this year: In addition to this winter's highly anticipated World War II tale Unbroken (which she directed), she's donning horns to play the titular villainess in the Sleeping Beauty side-story Maleficent.
B — Boyhood. Richard Linklater's innovative coming-of-age drama shot in tiny increments for nearly twelve years, so you'll get to watch star Ellar Coltrane age from grade-schooler to college freshman — a transformation that packs quite a wallop.
C — Caesar. Sure, there are some new humans added to the mix in the sequel Dawn of the Planet of the Apes (Jason Clarke, Gary Oldman, and Keri Russell among them), but we might start rooting against our own kind if it means victory for Andy Serkis's fascinating, complicated simian protagonist Caesar.
D — Dinobots. These robots shaped like prehistoric animals will make their big-screen bow in the fourquel Transformers: Age of Extinction, though we suspect that they'll see even more action in toy stores.
E — Emma Stone. While Jennifer Lawrence won her Oscar and became our biggest new movie star, her counterpart in BFF-dom, Emma Stone, has had a rough time of it: The only live-action roles Stone has had over the past two years were in Gangster Squad and Movie 47. Let's hope that this summer, The Amazing Spider-Man 2 and Woody Allen's Magic in the Moonlight can help restore her luster.
F — Fluffy. No, The Fluffy Movie isn't the latest computer-animated kids' comedy. It's a stand-up comedy concert film based on the alter ego of rising comedian Gabriel Iglesias (he's not fat, you see … he's fluffy).
G — Gareth Edwards. Those Godzilla trailers have got us mesmerized, thanks to the patient, unnerving long shots orchestrated by director Gareth Edwards (Monsters).
H — Hiccup. The How to Train Your Dragon 2 protagonist is now a teenager in this five-years-later sequel to the 2010 hit, but who needs a driver's license when you're already flying around on an adorable beast like Toothless?
I — Indian Food. Helen Mirren will attempt her own take on that lucrative Exotic Marigold Hotel recipe in The Hundred-Foot Journey, where she plays an acclaimed chef who must reluctantly recognize the greatness of the young man cooking in the Indian restaurant just across the street.
J — Jenko. We know that Channing Tatum is so much more than a dumb hunk, but the thing is, he's so good at playing dumb hunks, and he'll hopefully remain in top form as Jenko in the summer sequel 22 Jump Street.
K — Kevin Hart. He's become Hollywood's hottest comic actor, and his recent successes may power Think Like a Man Too to higher box office heights than its surprise hit predecessor.
L — Lion. The undisputed star of the recent Hercules trailer, and maybe the only combatant who could go up against Dwayne Johnson and still leave us unsure of who would emerge unscathed.
M— Moose. Step Up: All In brings back several of the characters from throughout the Step Up franchise, but the only returnee we care about is adorkable, athletic Moose (Adam G. Sevani). Fortunately, he's onboard.
N — Nerdfighters. Fans of author John Green call themselves Nerdfighters, and their ranks are likely to swell after this summer's adaptation of the beloved Green book The Fault in Our Stars, starring Shailene Woodley and Ansel Elgort.
O — Outback. The beautiful, severe Australian wilderness will factor heavily into Tracks, where Mia Wasikowska and Adam Driver brave the outdoors with little but a few loyal camels, and The Rover, where it's the setting for a crime thriller starring Guy Pearce and Robert Pattinson.
P — Philip Seymour Hoffman. The late actor stars in two Sundance entries out this summer: John Slattery's small-town dramedy God's Pocket, and the languidly paced spy movie A Most Wanted Man.
Q — Queer Cinema. There isn't much same-sex loving on the big screen this summer, but at least we'll have the affectionate Ira Sachs–directed Love Is Strange, which casts John Lithgow and Alfred Molina as a longtime couple facing hardship after marriage.*
R — Roger Ebert. The most famous film critic of all time gets his own big-screen moment in the touching documentary Life Itself, which chronicles Ebert's last few years and looks back at his entire terrific career.
S — Splinter. In Teenage Mutant Ninja Turtles, Tony Shalhoub voices Splinter, the Turtles' sword-wielding, mustachioed rat mentor. Just a very normal role for Tony Shalhoub.
T — Thanos. Remember the forbidding purple hulk that silently smirked during the post-credits scene in The Avengers? That's Thanos, and this Marvel super-villain is strongly rumored to be the nemesis of the still far-off The Avengers 3, though he'll appear in the meantime in this summer's space epic Guardians of the Galaxy. No word yet on who's playing him, though.
U — Ungh! Get ready to hear James Brown's favorite exclamation all summer, after Chadwick Boseman plays the hardest working man in show business in the Tate Taylor–directed biopic Get On Up.
V — Valli, Frankie. Speaking of music biopics, how about Jersey Boys, a coming-of-age story about Frankie Valli and the Four Seasons? Based on the smash hit Broadway musical, it's helmed by 83-year-old Clint Eastwood.
W — Wolf. In the Wachowskis' wacked-out sci-fi epic Jupiter Ascending, Channing Tatum plays a half-man, half-wolf, albino bounty hunter. Typecasting at its worst.
X — X-Men. The latest installment in the series, Days of Future Past, employs time travel to throw together dozens upon dozens of superheroes, including Patrick Stewart's Professor X and Ian McKellen's Magneto, as well as their younger versions (played by James McAvoy and Michael Fassbender, respectively).
Y — Yona. There are a lot of great characters in the sci-fi parable Snowpiercer, including Chris Evans as a tormented hero tangling with the officious, creepy Tilda Swinton, but one of the most memorable has to be Ko Asung as Yona, perhaps the summer's most adorable drug-addicted teenage girl.
Z — Zach Braff. The Garden State director has finally made his follow-up film, Wish I Was Here, thanks in large part to the still-ardent fans who opened their wallets for him via Kickstarter. Past those willing faithful, will there be an audience curious enough to match Garden State's $26.7 million gross?
* This post originally identified Alfred Molina's character in Love is Strange as Ira Sachs. Sachs is the movie's director.