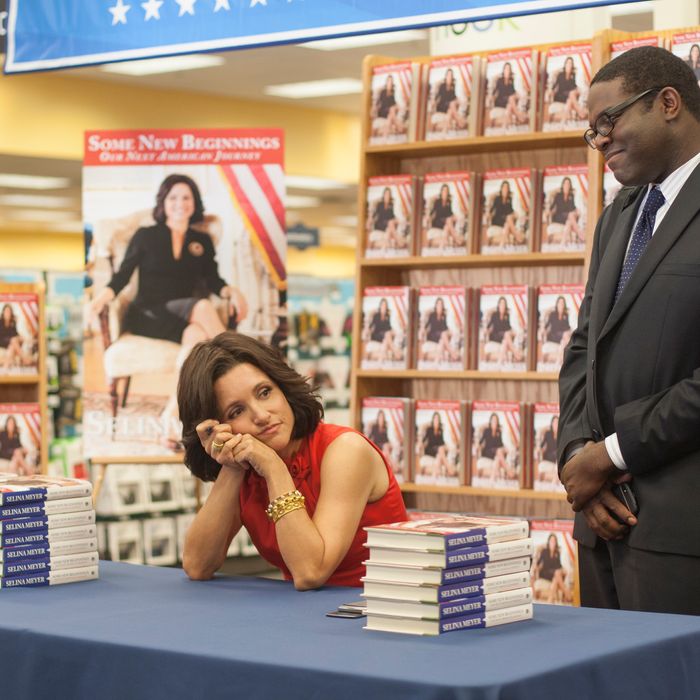 HBO's 2013 VEEP season 301 Characters: Julia Louis-Dreyfus- Selina Sam Richardson- Richard
Photo: Paul Schiraldi/HBO
Veep returns for its third season on Sunday, and yes, Julia Louis-Dreyfus and Tony Hale are great. And yeah, the show's raunchy lingo is a treat and a half. Sure, the Emmys are well deserved, and indeed, we all enjoy a good political skewering. But there's so much more to Veep than gleefully inventive insults and the best damn wigs on TV. Let us now praise Veep's underacknowledged areas of brilliance.
1. Gary Cole
Cole plays the manipulative Kent Davidson, one of the president's pollsters who always seems to get his way — just one of many people who antagonize Louis-Dreyfus's Selina Meyer. Cole has played simmering bad guys and twangy sidekicks a lot, and even played a combination of the two as Bingo Bob Russell, the VP on West Wing. But here it's all detached, elegant panache.
2. Reaction shots
Veep's calling card is its stylized, profane dialogue. But don't overlook how much goes unsaid: Veep loves, loves, loves an exaggerated take. To borderline I Love Lucy levels. Anna Chlumsky's Amy gives a lot of hate-face, but Matt Walsh's Mike is just as expressive.
3. The role of touch
Again, the writing on Veep is masterful, but the moments that deeply affect the characters tend to be nonverbal. Given the constant insults and disparagement, of course these characters have thick skins. But every once in a while, someone touches someone else — gently, maybe unexpectedly — and it really matters. This is particularly true for Gary (Tony Hale) when Selina deigns to touch him, or simply lets him hold her hand. We know Selina's terrible to her personal aide, Selina knows she's terrible to him, and Gary mostly knows that too. But in these moments where they briefly touch, you kind of get why Gary sticks around. They have a bond.
4. Kevin Dunn
Dunn got more attention for his role on True Detective than he does for his role on Veep, and that's a damn shame, since he's terrific as Ben Caffrey, the president's chief of staff. (A far, far cry from the noble Leo McGarry.) There's a lot of franticness on Veep from Jonah, from Amy, from Gary, from Dan. Often from Selina herself. Ben has a completely different energy, even if he's just as grumpy as everyone else.
5. Comedy royalty
Come for UCB co-founder Matt Walsh. Stay for Dave Pasquesi, half of legendary improv duo TJ & Dave. (Pasquesi plays Selina's ex, Andrew.) Dan Bakkedahl, Brian Huskey, Peter Grosz, and Jessica St. Clair aren't too shabby, either.