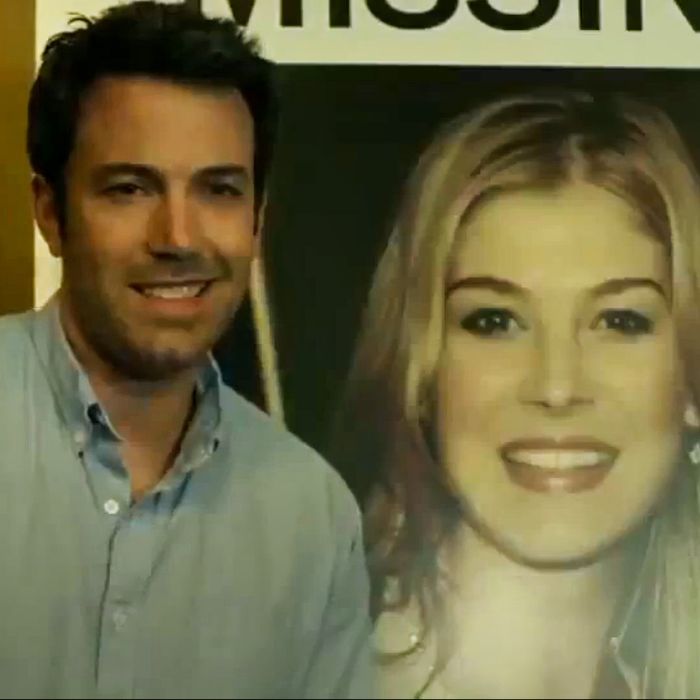 Last night, the very first look at David Fincher's Gone Girl adaptation made its way into the world. For fans of the book — or fans of fucked-up and barely lit domestic dramas directed by David Fincher — this is an event. And so we call to order another meeting of the Vulture Trailer Society in order to obsess over the footage. Eight thoughts, below.
1. Clue One
… is really the only indication we get of the, shall we say, weird shit that is to come. (Vague spoiler alert from here on out.) It is obviously counterproductive to ruin the whole twisted plot in the trailer, and a Lifetime-y "missing wife" send-up is probably your best move. (Even if it means no "Blurred Lines" Girl.) But it does raise the question of how, exactly, the movie will handle the book's double-perspective narration — and, more specific, whether we will be able to get into Amy Dunne's magnificent, Cool Girl head. It would be a waste if she were sidelined.
2. Cool Girls
This has nothing to do with the trailer, but while we're vaguely on the topic: How often do you think about that book passage? I think about it at least twice a week; I could send you a list of all the Cool Girls in my personal and professional lives. (Also, on the celebrity tip: consider Olivia Wilde.) It is a deeply important piece of woman-related writing and certainly worth a reread. [Gets off soap box.]
3. 1-855-4-Amy-Tips
If you call, you'll get an audiobook of sorts; the website on the billboard works, too. (It is 86 degrees in Missouri right now; let's all move there.)
4. A cover of "She," made famous by Elvis Costello, a.k.a. the Notting Hill song
Did you also spend this entire trailer waiting for Hugh Grant to hop over a Notting Hill garden wall and save the day?
5. Ben Affleck's Awkward Run
Ha-ha.
6. Ben Affleck's Mets Hat
I don't think he was a Mets fan in the book? You have to assume that Ben Affleck refused to wear a Yankees hat, I guess. Also, it has a symbolic purpose. (Sorry to all the Mets fans.)
7. Angry Rosamund Pike!
This was sort of unexpected casting, even though Rosamund Pike has proven herself a treasure again and again. (Rewatch An Education sometime, or the underrated 2005 Pride and Prejudice.) After about three seconds of angry yelling in the foyer, I am sold.
8. Was Their House That Nice in the Book?
Whatever, who cares, I would hang out in that bathtub, too.